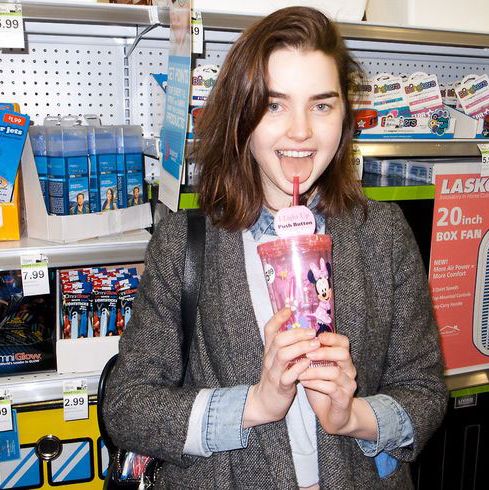 "If you haven't already, you should try Japanese sweet potatoes."
Photo: Terry Richardson
Ali Michael has walked the runway for Burberry, Balenciaga, and Christian Dior, as well as fronted campaigns for CK One and Urban Outfitters. But it's through her social-media accounts that she's really made a name for herself. Michael is totally uncensored: She'll post photos of her "casual bodega look" and unusual delivery orders, and tweet things like, "If you want an idea of how much I cook my never-been-used spatula is now my cat's litter-box scooper." As you can tell, food is a frequent topic of hers, and Michael has a pretty dark sense of humor about her day-to-day eating in New York. This week, she sought out burnt food (a favorite), grabbed Karlie's Kookies at Milk Bar, and felt pangs of conflict over the potentially harmful effects of instant coffee and bubble tea.
Thursday, March 5
My morning routine is waking up around 7:30 a.m., when my cat paws incessantly at my face and meows at me until I get up. I (try to) drink water as soon as I get up because apparently that's good for you. My Zojirushi rice cooker beeps around 7:45 a.m.: I have a timer on it to make oatmeal ready at that time. I prepare it the night before and I program it to cook on its own. I eat that almost every morning for breakfast with cinnamon, walnuts, figs, and coconut oil in it.
I love coffee, and am also addicted to it. Because of that, I find it extremely hard to have the patience to make coffee in the morning. I feel like in order to operate any sort of machine, I need caffeine beforehand. So how am I supposed to operate the coffee machine before having coffee? I have this German coffeemaker that I bought off eBay because it was aesthetically pleasing, but I accidentally knocked this one part off a while ago and I can't figure out how to put it back on. So I have been drinking instant coffee every morning for a while. I am sure that this is causing permanent damage to my body, especially because I pour in enough for like probably six servings into one cup.
At noon, I work out with my trainer, whose gym is conveniently located above a Juice Press. After I work out I feel like I am going to die, so I typically go downstairs and get a protein shake that I made up: almond milk, banana, ice, hemp protein, spirulina, and cinnamon. It is delicious, and also a swampy-green color that is very satisfying to me.
After running some errands, I get home around 4 p.m. I'm hungry, but have dinner plans at 7:30, so I don't want to go too crazy. I eat a Fage 0 percent yogurt with honey. My friend asks to go to dinner a little later, so I eat one of these beet-carrot-apple Popsicles I bought at Life Thyme Market. This sounds disgusting, but is actually delicious and fun because it turns your mouth red and bloody-looking.
My friend and I end up meeting at Takahachi around 8 p.m. Takahachi is one of my favorite places to eat here. The chef, Jack, is an angel. I always sit at the bar because I think tables and making eye contact with people is weird, but also because I get to talk to Jack. I almost always get gomae, a tamago sushi, salmon sashimi, shishito-pepper skewers with no sauce, and a salmon-skin hand roll. Salmon-skin hand rolls are one of my favorite foods in the world. I have always loved eating skin. If we ever got a turkey for holidays, as a kid, I would sneakily eat all of the skin off.
I get home and eat a square from some bar of dark chocolate that I got at Whole Foods.
Friday, March 6
I wake up and have my usual oatmeal and detrimental-to-my-health instant coffee. I'm working a half-day starting at 11 a.m. and planned on going to the gym before, but decide to sit on my ass instead.
I get to the job and the catering looks awesome. I usually bring my own food on shoots because I don't like eating food when I don't know what's in it. Sometimes catering is bad, but this looks really good. The breakfast has granola, yogurt, scrambled eggs, bacon, smoked salmon, a cheese plate (?!), poached eggs on English muffins … but I already ate, so I take a piece of smoked salmon.
They bring out lunch a few hours later. I'm not that hungry, but they have this thing that looks burnt, and I want it. I love burnt food. Someone tells me it's some kind of quinoa burger. I eat it, and I guess it had quinoa in it, but I really have no idea. Around 5 p.m., I'm hungry again and eat a yogurt I brought with me.
I get off at 6 p.m. and am supposed to meet a friend, but I have no desire for any human interaction. I order from 12 Chairs — this place below my apartment. I live on the sixth floor of a walk-up building, so I don't feel that bad about ordering delivery from a place downstairs, even though I probably should. I get a Swiss-cheese-and-spinach omelette, because for some reason that sounds good, and falafel, because that sounds good, too. When it comes, I eat the eggs and realize that eggs and falafel is a very strange combination. I save the falafel for another time.
Saturday, March 7
Oatmeal and coffee for breakfast.
I wake up and am in so much pain from my trainer the other day. Holy shit. I don't know why it's ten times worse than it was yesterday, but it is. It literally hurts to move at all. I go to the gym and struggle mentally and physically to do 15 minutes on the StairMaster and some half-assed floor exercises. I get a protein shake on the way home, and once I'm there, I hang out with my cat. I eat a yogurt around 3 p.m. and get hungry again after a while, so I eat leftover falafel from last night. It is still delicious.
I go to dinner with friends at Izakaya — this place in the East Village that is one of my favorite restaurants ever. There's a lot of stuff that you're kind of supposed to share with whoever you're with. I get the burdock salad as an appetizer, which I don't want to share with anyone, and then share the chicken nanban (this is heaven) and some other things with the group.
Sunday, March 8
Oatmeal and coffee. Why am I this boring?
I go to the gym and eat yogurt when I get home. I walk around Chinatown for a while and am tempted to get bubble tea, which is one of my favorite things. But I remind myself of the article I read when I Googled, "Is boba bad for you?" the week before. It said something about it being carcinogenic or something. Is this true? I don't have the answer, so I don't buy it and am sad.
Around 7:30 p.m., I go to my friend's apartment and we order delivery. Actually, I order delivery: One friend had already eaten and my other friend made poached eggs in tomato sauce, which I find disgusting because I don't like tomato sauce. Before actually ordering the delivery, I have a mental breakdown of where I want to order the delivery from. One of my most outstanding traits as a human is my indecisiveness. It drives myself and others insane. It's weird because I'm extremely stubborn about some things, but with food, if I get too hungry, I just can't make up my mind. I am unable to decide whether to get sushi from Hasaki, meatballs and salad from Sauce, or soba from Souen.
After a long and hard internal battle, I order from Hasaki. I do not regret it except that it is expensive. They have the best seaweed salad: five different kinds in the best dressing. They also have the best red miso soup. I get a salmon-skin hand roll and another roll that is eel and avocado wrapped in cucumber.
I strategically stay over until 11:45 p.m., and my friends and I walk to Milk Bar to get cookies before they close at midnight. Unfortunately, I was recently introduced to Karlie's Kookies. I was in multiple spelling bees, and this baked good's spelling makes the fact that I'm addicted to it even more annoying. I go home and eat half because I have incredible self-control, until I eat the other half ten minutes later.
Monday, March 9
Fucking oatmeal, obviously, for breakfast. God, I hate myself.
I thought I was working out with my trainer at noon, and realize when I get there that it isn't for an hour. I walk around aimlessly, and then at 12:45, as I'm walking back to the gym, I get extremely hungry. I get a protein shake downstairs, and it's not ready until 1 p.m., which means I show up to my workout with the protein shake and drink it as I work out. That was kind of gross, but I needed something in my stomach. I get home around 3 p.m., eat some yogurt with honey, go to a casting, and get a "Super Duper Greens" (ugh) juice at Juice Generation. I don't like green juice with a bunch of fruity shit mixed in. Apple or pear is the only fruit I want in it.
I go to a tailor on Rivington Street to drop off some clothes. It's only going to take 30 minutes, so I pop in to Babeland next door. I mention this because I eyed some candy underwear on a shelf there. I had my own pair once that were not used in a romantic or edible way, but actually worn over Hanes high-wasted briefs that I Sharpied "HELP" onto. My friend videotaped me in this outfit and uploaded it to the internet. It's hard to find, so I think it's okay that I mention it here. My point is that I didn't eat the candy underwear, but I was curious about the idea when I saw them at Babeland.
I go home and bake a lotus root with Japanese sweet potato. If you haven't already, you should try Japanese sweet potatoes. I put them in the oven at 350 degrees and keep checking them until I think they're ready. This is very easy to do, but the hardest thing about it is making sure my cat does not go Sylvia Plath and jump into the oven when it is open. I eat the sweet potato for dinner with some rotisserie chicken from Life Thyme, which is probably a weird combination, but I'm not sure.
Tuesday, March 10
I totally mix it up and have granola with almond milk for breakfast! It's this kind called "Hemp & Greens." This granola makes me sound like a stoner, but I'm not. I guess it just has hemp protein in it or something, but it's really, really good.
I am shooting a video where I will be in full-body latex all day today, so I have to be mindful of that. I don't eat a normal full lunch, but also don't want to be robbed of happiness. So I eat a Ladurée pistachio macaron that I bought last night in preparation for this moment. It is delicious. Pistachio is my favorite flavor of macaron but I think that's mostly because of the color. I usually only want chocolaty desserts, but this is an exception.
I eat a bit of grilled chicken and salad from the catered lunch, because it's another good spread today. And around 4:30 p.m., someone brings Toblerone bars, so I have a couple of pieces of those and pray that the Latex forgives.