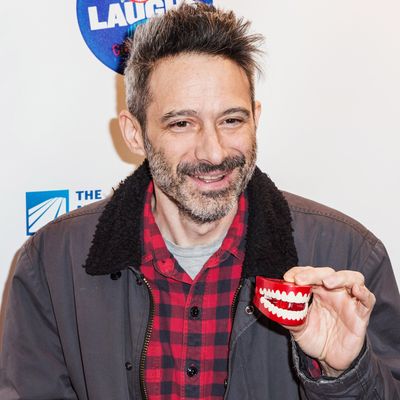 Photo: Joe Russo/imageSPACE/SplashNews
At the Garden of Laughs comedy benefit at Madison Square Garden on Saturday night, all Adam "Ad-Rock" Horovitz wanted to discuss was his specialty sandwich for Num Pang (not his role in Noah Baumbach's While We're Young). "The sandwich story is better!" he quipped. So how did this collaboration come together? It was actually the result of his dog.
That's right: "I know one of the two owners because our dogs played together in the dog park, and he asked me if I wanted to do this," Horovitz said. "I did!" It's therefore fitting that the Ad-Rock Sandwich, available until April 15, benefits two different dog shelters in New York: the Brooklyn Animal Rescue Coalition and the Badass Brooklyn Animal Rescue.
Horovitz admitted that he ate one of his creations earlier that day, and was very pleased. "Go to that place; it's really good," he added.