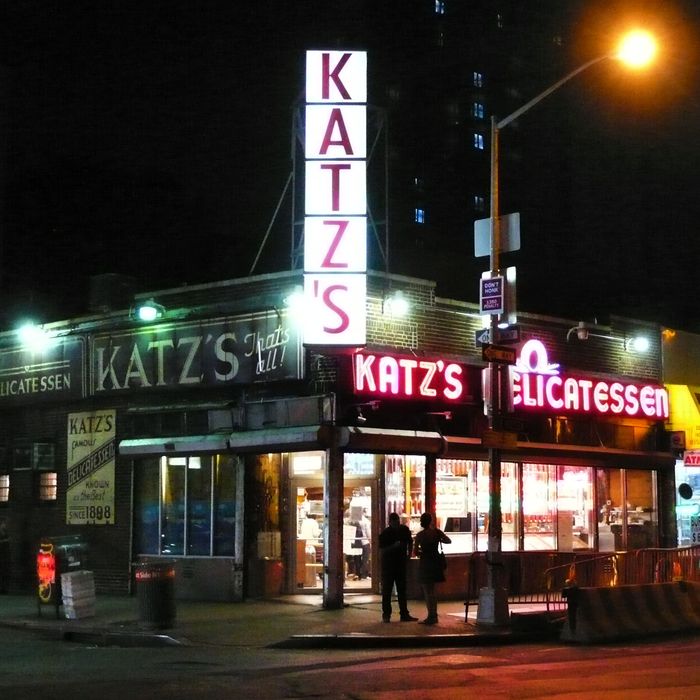 The restaurant only moved to a 24-hour weekend schedule in 2012.
Photo: Yuichi Shiraishi/CC/flickr
Grub Street never needs a reason to celebrate our city's esteemed roster of delicatessens, but since this week marks the New York release of the new documentary Deli Man, we're going all in on the subject today.
The loud orgasms echoing through Katz's Deli are almost definitely fake. It's a little after 4 a.m., and a group of two men and two women are at the famed When Harry Met Sally table, re-creating the equally famous scene shot in the restaurant. The other customers don't really seem to care much, and I suspect this is something of a gleefully obnoxious ritual at Katz's this time of night. At least it probably has been since around 2012, the year the restaurant first made the move to staying open all night on Friday and 24 hours on Saturday, which co-owner Jake Dell says is a big shift from the days when "you had to get the hell out of the neighborhood before it was too late." Of course, that doesn't mean the overnight crowd is necessarily as buttoned-up as the tourist-heavy daytime rush. To see for myself how an entire night plays out at the Lower East Side's most iconic deli, I showed up mid-afternoon on a Friday with plans to stay no fewer than 14 hours.
When I arrive around 5 p.m. it's 15 degrees outside, so cold that some of the Katz's meat cutters have doubled up on branded sweatshirts while they deal with the early evening crowds. One of the cutters is brandishing his carving fork to deal with a customer who has just ordered bologna. It's playful, sort of, a slightly forceful way to let this camera-toting tourist know that he doesn't really want to order bologna at Katz's. "Here," says the cutter, handing over a small china plate with a few glistening slices of pastrami. "This is what we're known for."
But the customer just grins sheepishly and tells the cutter he's already finished not only a pastrami sandwich, but also a corned beef, and now he'd like to try the bologna. The cutter doesn't smile back, exactly, but he does float the guy a few free slices of bologna and sets to work on the sandwich.
By 6:40 it's clear that the bone-chilling temperature isn't going to keep anyone away, and by 7, it's packed: tourists in matching suede moccasins, a blonde woman in business-casual texting someone, and a middle-aged guy doing laps around the dining room, probably trying to work off the mammoth sandwich he just finished. There are some people rocking faux-snakeskin loafers, and others wearing preppy sweaters with pleated jeans. A handsome guy in a Moncler coat checks his reflection in the glass of a framed Jon Voight photo on the wall. A high-cheekboned lady with no makeup glides through the room in a fur-lined cape. Over in the corner, a posse of teenage girls with glittery faces and matching Doc Martens share plates of the deli's thick-cut fries. A Dutch dad, meanwhile, scans the walls for framed photos of celebrities he knows. He finds one, taken in the mid-'90s, with three Wu-Tang members. "I like it raw!" the Dutch dad exclaims in recognition.
In other words, everyone goes to Katz's, which has been open for 126 years. Part of its enduring charm is that it's the quintessential masterpiece of New York City scrappiness: Way back in 1968, the Underground Gourmet called it "the largest, busiest, noisiest and sloppiest delicatessen in Manhattan and very possibly in the world." That's high praise, really. Even now, employees constantly wheel carts full of plates or pastrami around the restaurant, various lines of customers look more like scrums, and neon signs supplied by going-defunct breweries like Schmidt's still illuminate the wood-paneled dining room, which the cutters will tell you looks the same now as it did 100 years ago, which isn't technically correct but true enough.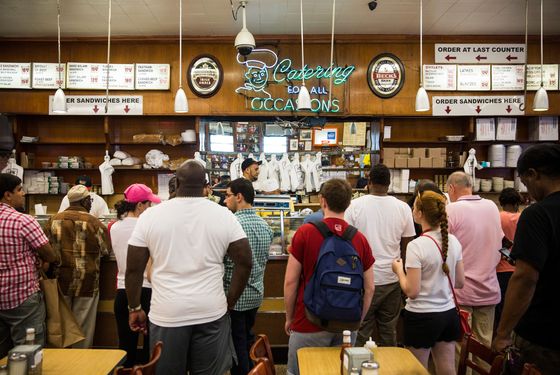 One thing that has no doubt stayed more or less consistent over the years is that there's never any true "rush" of customers at Katz's because it's essentially crowded around the clock, not only with customers but also with its massive staff. More than 120 punch cards sit next to the time clock, and grizzled Russian and Albanian cutters have been joined by Dominicans and guys from Puerto Rico. "That's the beauty of it," Jake Dell says of the restaurant. "It's a melting pot, right?"
After a certain hour, the restaurant also starts to feel true to the spirit of New York's grimy nocturnal history, one that now only appears in glimpses. Just before midnight, as some cutters clock out, clutching their plastic quart containers full of tips, the restaurant has cleared enough that two porters can play chicken with their trolleys — full of dirty dishes and empty Cel-Ray cans — in the back area by the bathrooms. Near the water fountain, a man in a slick raincoat fills his glass, then rubs his hands together under the spigot and slicks his hair back. He looks like a villain from an '80s action movie, about to blow something up.
One couple seems to forget they are in the middle of a horrible fight as soon as they start eating pastrami. A bro swipes a silver-sequined fedora from the unattended table next to his and attempts a Michael Jackson-style flip, landing the hat on the floor. A guy in mountain-climbing gear wanders around the back looking like a badly wind-burned Mike Bloomberg.
It's a motley midnight crew, but 2 a.m is when the really drunk people start to roll in, and a waitress with a pierced lip warns me that's when it can get rowdy, too. "You heard what happened last week?" she asks. "A girl got punched in the face. It was by another girl."
By 2:30 the entire restaurant is full again, and by 3 a.m. the crowd has gotten even stranger: Sorority sisters in matching outfits are struggling to remove the green plastic wristbands they got at a club. There's a guy in a bomber jacket sitting back by the emergency exit, a bodyguard keeping watch on the table. There's a folk musician standing in aisle loudly complaining about NYU and the restaurant's crowd. (No punches are thrown on this night, though.)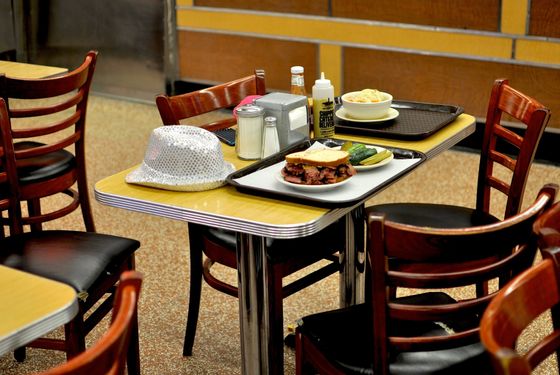 In one corner, grown men debate the deeper meaning of #TheDress: "It sums up humanity for the last 30,000 years, one person not being able to see what others see," one says to his companion. A woman at a neighboring table drops by to weigh in — she's team "white and gold" — and the man decides it's time to summon a waitress to settle the debate once and for all. Her verdict: The dress's real color is dependent on "light and shit," though she also offers a crucial caveat: "I'm not a scientist."
An hour later — last call at the bars — a steady stream of drunker, less assembled customers stream in. There's also a guy on break from his graveyard shift somewhere nearby and a prep-school kid who might be the modern-day equivalent of Holden Caulfield camping out at Katz's. The drunker customers frantically search for their misplaced tickets, and a group of 15 people tries to put three tables together before some surprisingly patient managers tell the guys it isn't happening. "We need the aisle," one says before moving the tables back to their original spots. It's at this point that the orgasm-fakers arrive.
But by 5:30 a.m. it's quiet again, as the morning staff arrives. A trickle of customers drift in for coffee and eggs. At 7, a man and woman enter — it looks like their first time here — and they aren't quite sure where to go. A worker explains they can get self-service, and there's a separate line for ordering pastrami, and one for ordering something like a bagel platter with lox. The man looks at the helpful staffer and still has one last question: "Can we get both?"