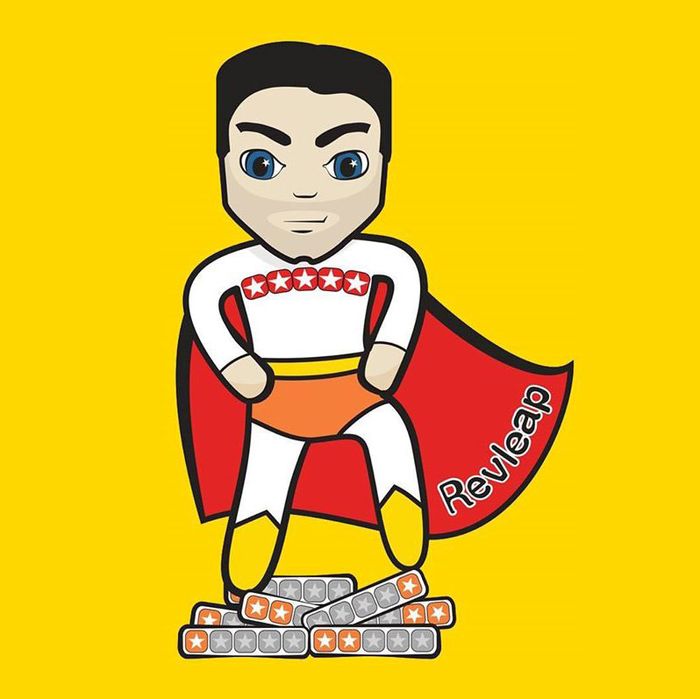 The start-up's "Super Five-Star Man," who ostensibly destroys bad reviews.
Photo: Revleap/Facebook
Yelp is going after a company it believes is "gam[ing] the system" by selling a service that fills clients' pages with nothing but positive reviews. Or at least by claiming it can — Yelp says the start-up, called Yelp Director, can't deliver four- and five-star anythings that "stick to the front page of Yelp," or really do anything else it promises for that matter, so it's effectively just a massive online scam.
Nevertheless, Yelp's lawyers are trying to shut down Yelp Director and two affiliated sites, Revpley and Revleap, by suing them in federal court for about a half dozen things, from false advertising to cybersquatting. In pitch emails cited by the suit, Yelp Director allegedly told prospective clients it had "invented a software that allows you to proactively generate a large number of 4 and 5 star reviews from your customers in a way that makes them stick to the front page of Yelp." Other "services" were more fantastical still: For a fee, Yelp Director could somehow quarantine reviews below four stars in a "Control Center."
Yelp maintains this suit isn't just about Yelp Director skewing the review site's ratings, but that it's just doing the public a solid here by suing scam artists. "Some business owners unfortunately fall for them and end up paying dearly," a Yelp exec writes in a blog post, "both with their bank accounts and their online reputations."