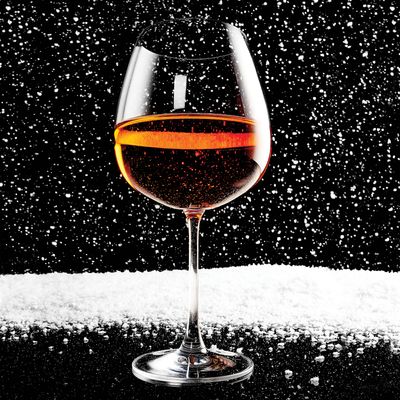 Snowy rosé.
Photo: Bobby Doherty/New York Magazine
Drinking rosé in winter is like wearing a fur hat on the 4th of July, or so goes the conventional wisdom. Unless, that is, you happen to be dining at Claudette in Greenwich Village. "I've never seen so much rosé consumed during a snowstorm as I have this winter," says Carlos Suarez, co-owner of the Provençal restaurant, where the wine list introduces the rosé section with the question, "Who says summer must end?"
Denial is undoubtedly strong motivation for swirling that salmon-hued glass while outside crosswalks pool with slush. Wine can be as transporting as food, and rosé is very much in keeping with the culinary themes at places like Claudette and the coastal-Italian-inspired Santina. But the pink drink is being taken more seriously in all quarters of the wine-drinking world. "It seems to have entered the annals of legitimacy as a real wine," says Gramercy Tavern wine director Juliette Pope. For her, as for many of her peers, rosé is less fashionable summertime prop than versatile food wine, with the refreshing acidity of a white and a modicum of the rich fruit and tannic structure of a red. "The key is the range of styles," she says.
Color and body vary widely, depending on factors like grape variety, terroir, and winemaking methods; it's often the darker-hued, fuller-bodies wines that beverage managers have started to market as "winter rosés." (It should be said, too, that these styles are often the last to sell out, as summer demand is highest for the lightest, freshest current vintages—which is why you'll find verticals of the age-worthy Sancerre rosés from cult Loire producers François and Pascal Cotat on Patrick Cappiello's deep list at Pearl & Ash.)
At Wylie Dufresne's Alder, sommelier Siobhan Lowe created her winter rosé category in late 2013 to help sell a hearty Spanish specimen. "I'm pretty sure I stole the idea subconsciously from Lee Campbell," says Lowe, who later noticed a "Rosé for Winter" designation on the Reynard sommelier's list. Another proselytizer, the Simone's Tina Vaughn, is such a devotee she named the Upper East Side restaurant after her favorite Provençal producer, Château Simone. Her latest obsession, Domaine Hauvette Les Baux de Provence "Petra" rosé, comes from a biodynamic vintner so intent that her wine be taken seriously that "she doesn't even release it until October." And this makes all the difference: For sommeliers and consumers to give rosé its due, first winemakers have to. The NoMad wine director Thomas Pastuszak differentiates between mere red-winemaking by-products and "intentional" rosés, and prizes those made from Rhône varieties like Mourvèdre and Syrah for their ability to evolve in the bottle. "Rosé is not a vegetable," says Pastuszak. "It's not seasonal. It should be enjoyed year-round."
*This article appears in the February 23, 2015 issue of New York Magazine.