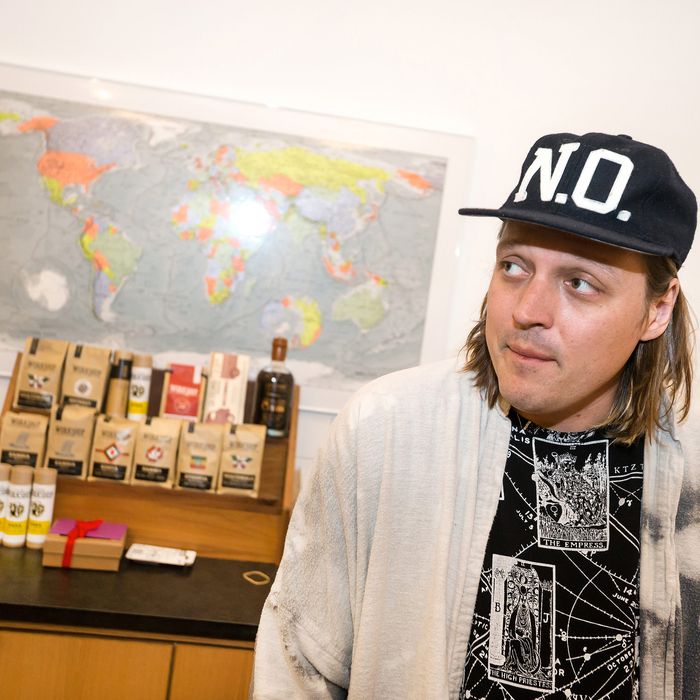 Butler, during his recent temporary barista stint.
Photo: Noah Fecks
Win Butler, the Arcade Fire front man, makes for an unlikely looking barista. At six-foot-four, the musician towers over not just any coffee-making equipment, but other employees and patrons, as well. Yet this past weekend, on a snowy Valentine's Day, Butler hopped behind the counter at La Colombe's four-month-old Hudson Square café to pour coffee for fans who dropped in to see him.
Unlike fellow musician and collaborator James Murphy (who released his own espresso with Blue Bottle last year), Butler isn't a coffee wonk. "He's very into it," Butler says of Murphy. "I'm more just like, This tastes good. I will drink this. I'm not that complicated." The reason for the temporary barista stint was to drum up attention for a new Haitian RaRa coffee that La Colombe has made in collaboration with Butler. The band has close ties to Haiti (the parents of Butler's wife and bandmate Régine Chassagne fled in the 1960s) and has long served as activists for causes related to the country. And as with La Colombe's other collaborations, proceeds of the Rara will go toward causes that help re-invigorate the Haitian coffee economy (the country was once a leader in world coffee exports), as well as benefiting the La Colombe Coffee Academy, which trains local farmers in coffee agronomy and harvesting, and the Partners in Health NGO, which provides health care to developing countries.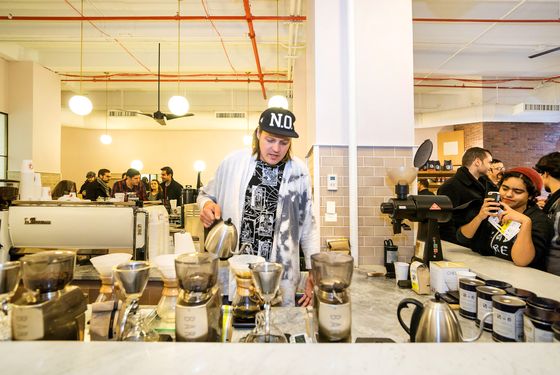 But first, at La Colombe, people just want some coffee. A gathering, plaid-heavy crowd waits patiently while Butler is trained in proper pourover technique: lining up the filter so the thicker side is at the spout of the Chemex, pouring water over the coffee and letting it sit to open up the bloom, slowly circling the water stream outside toward the center. Even as he gets the hang of it, it's clear he doesn't spend much time drinking pourover at home. "I need more caffeine than that." In fact, he says he's an espresso guy.
The coffee-pouring session doesn't last long — about an hour. Butler has a busy weekend planned. In addition to a couple of DJ sets, the following night saw him show up at SNL's 40th anniversary show (where, alongside Candace Bergen, he introduced Miley Cyrus), and he also took part in the NBA All-Star Celebrity Game, where he managed to score an impressive eight points and 12 rebounds. There was skill (and his height advantage), but — back to the topic at hand — was there any pregame Rara, as well? "Of course," Butler says, grinning. "It's also a performance enhancer."