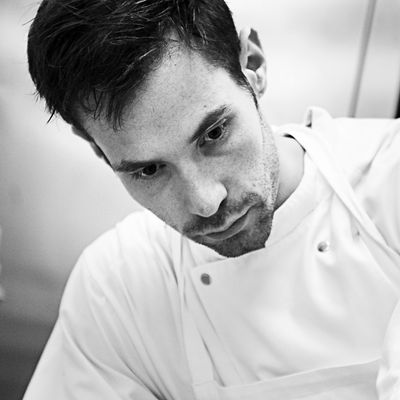 The 32-year-old Dane will take over after Matthew Lightner leaves next month.
Photo: Signe Birck
Yesterday, news dropped that chef Matthew Lightner plans to leave Atera, the Tribeca tasting room that, over the past three years, he and owner Jodi Richard turned into one of Manhattan's finest spots for highly technical, surprising, and oftentimes absolutely delicious food. While Lightner hasn't yet revealed what he plans to do after his last night on March 28 — he only told the Times, "The concept is coming together" — his replacement was also announced: 32-year-old Danish chef Ronny Emborg.
Emborg is currently the executive chef at Copenhagen's Michelin-starred Marchal, and given his Danish roots, it's perhaps unsurprising to learn that his cuisine is heavily based on the new Nordic tradition. Admittedly, "new Nordic" is a catchall phrase that at this point feels as unspecific as something like "molecular gastronomy," but Emborg's style employs many traditional techniques, such as smoking and fermenting, to turn out plates that put a heavy emphasis on visual appeal.
His 2013 book, titled The Wizard's Cookbook, is also stunning:
He appears to favor the same kind of trompe-l'oeil that Lightner made something of a calling card at Atera — aioli manipulated to look like an egg, dessert that resembles pebbles, truffles that appear to be black walnuts — and, it sounds like things at Atera won't feel too different once Emborg takes over the kitchen. He tells Eater that the menu's price, and scope, will for now remain the same ($225 for around 20 tasting courses), and he'll emphasize preparations that stress "lightness and rawness."
If Emborg can successfully carry the torch at Atera while putting his own stamp on the menu (which he's reportedly rewriting completely, though the current staff will remain at the restaurant), and Lightner's new project ends up being equally ambitious, New York will just wind up with yet one more high-caliber spot that elevates diners' expectations.