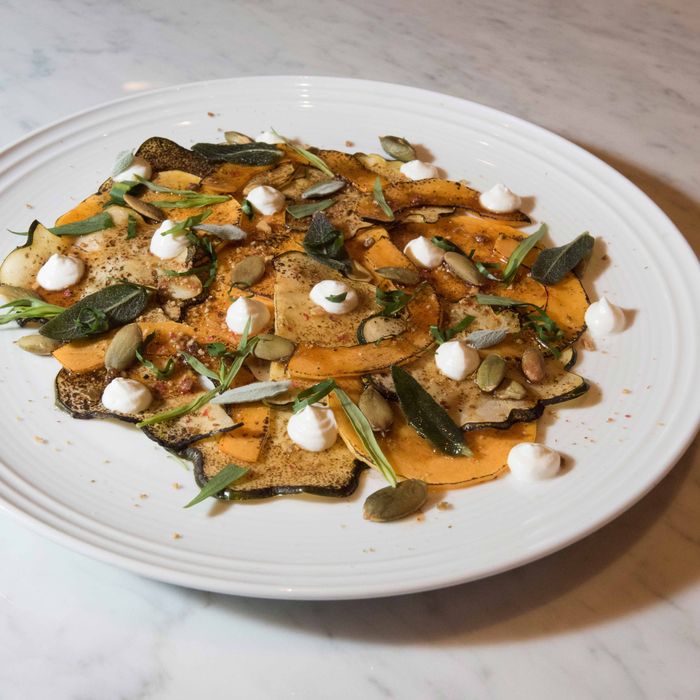 Santina's squash carpaccio.
Photo: Gabrielle Plucknette
Using vegetables in preparations that are classically made with meat — tartare, carpaccio — isn't exactly a new concept, but in these current veggie-mad times, chefs are tackling the idea with simultaneous vigor and finesse. The recent few months have seen the debut of dishes like smoked-carrot rillettes, raw-persimmon carpaccio, and even a mushroom-based baracoa. They're much more exciting and complex than most salads, or yet another sautéed vegetable side dish, and equally virtuous. Here are ten of Grub's top picks:
Squash Carpaccio
Where: Santina
Price: $9
The food at this Torrisi-owned restaurant is much lighter than at the others — and this dish is a prime example of that. It's made with butternut and delicata squashes, spiced honey agrodolce, pumpkin seeds, sage brown butter, winter savory, chives, pink peppercorns, and crème fraîche.
Mushroom-and-Squash Barbacoa
Where: Cosme
Price: $26
Barbacoa is a form of slow-cooking meat over an open fire, but Enrique Olvera has made this a totally vegetarian dish. (You can get your meat fix through the duck carnitas.)
Beetroot Tartare
Where: Little Park
Price: $15
This has quickly become a must-order dish at Andrew Carmellini's newest restaurant. Note that it's not vegetarian: There's smoked-trout roe, rye, and horseradish in it, too.
Raw-Persimmon Carpaccio
Where: Contra
Price: Part of the $55 tasting menu
Okay, so there is some meat in this dish — the vegetables get topped with country ham, as well as a butternut-squash vinaigrette.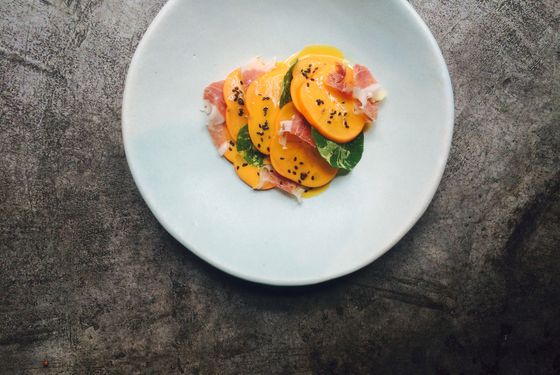 Smoked-Carrot Rillettes
Where: The Bar Room at the Modern
Price: $14
Comté cheese, mustard, and rye bread make for the perfect accompaniments.
Radish Carpaccio
Where: Navy
Price: $8
This vegetarian dish is new to Camille Becerra's menu: She takes Asian pears and radishes (watermelon, red, and black), slices them super thinly cross-ways, and serves them raw in a citronette dressing.
Romanesco Tartare, Cured Carrot, and Squash Sashimi
Where: Colonie
Price: $3 each
Over in Brooklyn Heights, chef Andrew Whitcomb offers a variety of off-menu "vegetable charcuterie" dishes: Romanesco Tartare includes pickled shallots, preserved lemon, and sunflower seeds; the Cured Carrot gets dried for a month until it is firm, and then shaved paper thin; and Squash Sashimi is frozen, shaved thin, and then drizzled with hazelnut oil and Maldon salt.
Carrot Tartare
Where: The NoMad Bar
Price: $15
Do you know what pairs well with the cheeseburger here? This already-classic creamy carrot dish — a riff on Daniel Humm's Eleven Madison Park recipe.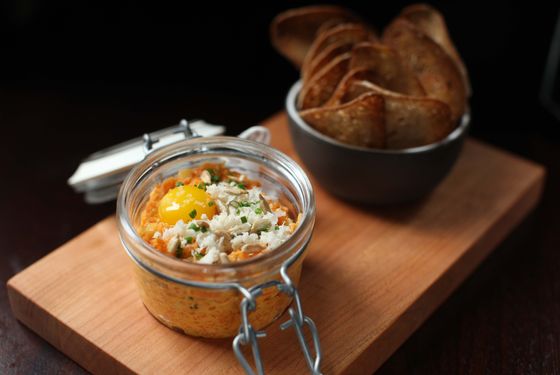 Radish Carpaccio
Where: Edi & the Wolf
Price: $12
Raw, spicy radishes get paired with baby leeks, avocado, pumpkin-seed oil, and spiced ricotta cheese, for a very virtuous dish.
Beet Tartare
Where: Toro
Price: $15
Here's yet another beet tartare — this time, with morcilla, idiazabal cream, and onion-berry capers. Not too shabby.