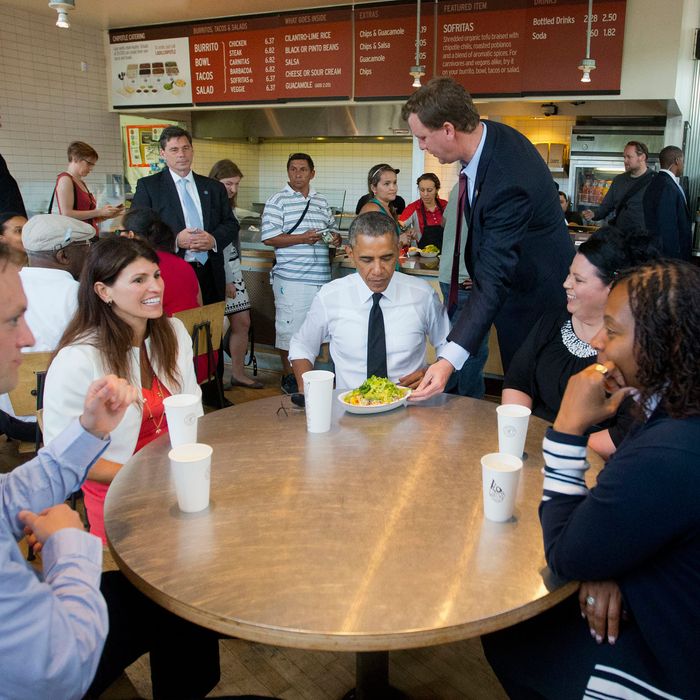 No matter how much the president likes it.
Photo: Pablo Martinez Monsivais/AP/Corbis
Chipotle! Anyone who has ever even thought for one split second of opening a restaurant chain has no doubt seen the lines of office workers and students snaking out the burrito chain's doors and thought, Yeah, I want to open something like that. Here's how John Imbergamo, a Denver-based restaurant consultant, puts it in Bloomberg's massive Chipotle oral history: "Everybody is dying to be the Chipotle of fill-in-the-blank. Everybody wants to be the Chipotle of pizza. Everybody wants to be the Chipotle of Indian food. Everybody wants to be the Chipotle of Middle Eastern food. Everybody wants to be the Chipotle of God-knows-what."
This statement is extremely accurate: Late last week, The Wall Street Journal asked, "Could Golden Krust be the next Chipotle?" This week, Wonkblog weighed in with a story called "The Chipotle effect: Why America is obsessed with fast casual food." The New Yorker recently touched on the subject as well, pointing out, "As Starbucks did for coffee, Chipotle and Shake Shack have changed people's expectations of what fast food can be."
Is it possible that Chipotle succeeds just because people really like burrito bowls? Not necessarily. As Chipotle founder Steve Ells himself says in that big oral history, "This model is cuisine agnostic. Any kind of food can be applied." And as Ells's chain has proven, there's a huge market for this kind of restaurant, so someone can potentially make gobs of money selling a slightly elevated fast-food staple at a gentle premium. (Just yesterday Chipotle announced another rosy financial report, prompting the Times to call the chain "the darling of the millennial generation," as investors wondered why the earnings growth wasn't even higher.)
So it makes sense that other people want in on the action. But the "Chipotle of …" market is, alas, already saturated: You clearly won't open the Chipotle of Mexican-ish food because that's Chipotle (sorry, Qdoba, but it's true). You won't open the Chipotle of pizza because Chipotle is already testing the waters with a concept called Pizzeria Locale. You probably won't be able to open the Chipotle of noodles because Chipotle has that covered, too, with ShopHouse. Sweetgreen and Chop't lead the "Chipotle of salads" race, so you'll have trouble making up ground there as well. The Chipotle of sushi is still in its infancy, but you surely won't open the Chipotle of burgers because that also already exists, and it's called Shake Shack, or Five Guys, or In-N-Out. You can't even open the Chipotle of vaguely European premade sandwiches because Pret-a-Manger has spent years trying to make that particular idea work in America.
Name a food, and it's almost certainly been Chipotlified: There are Chipotles of Italian food, as well as Chipotles of pasta. The Chipotle of chicken fingers is in Ohio, of all places. Panda Express is testing out the "Chipotle of Chinese food." IHOP's exploring an idea for opening "the Chipotle of pancakes."
Actually, that last one sounds great. But still, when everything gets compared to Chipotle, that comparison no longer means much. It's time to just accept that even restaurant chains — a phrase once basically synonymous with industrially processed ingredients — have finally realized there's value in actually caring about the quality of the food they serve. Chipotle is proof it works, but the next blockbuster success story won't be built on Ells's existing idea; it will be built by people with big new ideas of their own.