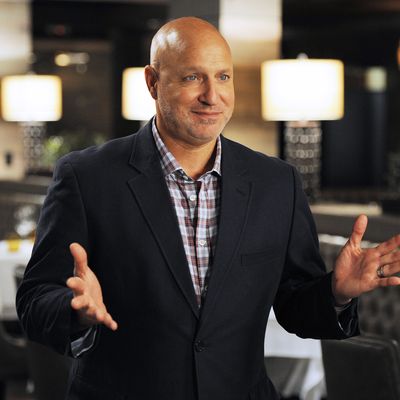 GMOs and hunger are next up on his elimination challenge.
Photo: Jeff Daly/Bravo
MSNBC has tapped Tom Colicchio to be the network's new "food correspondent," a first-of-its-kind role for national TV news. According to an announcement from the channel, Colicchio's segments — on topics such as food policy and safety, or animal welfare — will run on Rachel Maddow, Hardball, and the rest of the channel's lineup (Grub eagerly awaits exchanges with noted Twinkie devotee Joe Scarborough). The chef will also get his own half-hour show called Stirring the Pot that will air on MSNBC's new live-streaming site Shift, and he'll helm something called "Everyone Eats," a series of "exclusive interviews over lunch" where famous newsmakers will presumably have to answer tough questions and avoid dribbling sauce on their laps.
Colicchio has been a frequent MSNBC guest for some time, but this formalizes the arrangement for a guy who's never shied away from the "food activist" label. Just last week, he was on the Hill urging Congress to pass a GMO-labeling law, so viewers can probably expect a report on that topic:
His role will mark the first time a national news outlet has committed a beat reporter to the food movement — yet another job for the restaurateur and star of Bravo shows Top Chef and Best New Restaurant. Colicchio tells the L.A. Times he plans to use the role to dig "a little deeper than food as entertainment" and start "a more in-depth discussion about what it takes to get food from seeds to the table." As Michael Pollan tells the paper, "This is a big deal," since Colicchio is one of the few people with "a sufficiently broad grasp of the issues to connect the dots between food and all these issues."
[LAT]