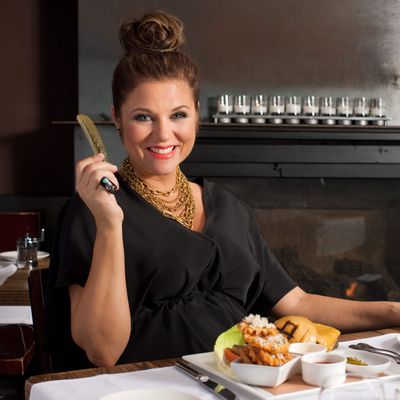 "Every time I'm in town, I go to Quality Meats, and I always gets the roast chicken."
Photo: Melissa Hom
Of course Tiffani Thiessen is best known for her role as Kelly Kapowski on Saved by the Bell, and the show directly helped nourish her understanding of different food cultures. "I come from a family of strong women who cook, and they do it well," she says. "Then it heightened, as I was fortunate enough to travel to Europe and other countries for Saved by the Bell, doing press for the show. I started to love French and Italian cuisines." So it's fitting that Thiessen now has her own Cooking Channel show, called Dinner at Tiffani's. "I'm not a professional chef, and I don't sell myself as one — I just love cooking and entertaining," she points out. This week, she cooked for her family in Los Angeles (where she lives), hit Miami for an appearance at the South Beach Wine & Food Festival, and finally wound up in New York to stop by hot spots like Dirty French and ABC Kitchen.
Friday, February 20
My goal, especially while being pregnant, is to eat healthy and clean during the week, and have a little more fun on the weekend. So today, my breakfast was granola and skim milk. I used to never be a breakfast person, but now I always eat something at home before going to the gym. I like to make my own granola, because I can make sure it's not too fattening.
Lunch was a kale salad with a sparkling water. I grow my own lettuces and kale and things like that! My daughter is four and a half, but she's a good eater. And because we grow our vegetables, she's a great veggie eater.
For dinner, I went to Katsuya with my husband and daughter. She was requesting to eat at "the chopsticks place." I had shishito peppers, sautéed green beans, creamy rock shrimp, and a baked-crab roll with no rice. The baked-crab hand roll is my most favorite, and I can eat 20 of them if I allow myself.
Saturday, February 21
I headed down to Miami for the South Beach Wine & Food Festival, where I did a cooking demo. Breakfast and lunch were both on the airplane. Not one of my favorite dining experiences. It was a frittata type of thing, but it almost tasted like a potato. It was awful! But I did eat all the fruit.
For dinner, I went to Yardbird and had fried chicken with cheddar biscuits. I had some research and read all about the restaurant, and my assistant and I were lucky enough to get a reservation. It was divine! We also had key-lime doughnuts for dessert, which came with a key-lime coconut pudding on the side.
Sunday, February 22
I had hotel room service for breakfast: oatmeal with fresh berries and orange juice. Not my favorite, but it was okay.
At my demo, I made an awesome flat-bread pizza, but I didn't get to eat any of it. By the time I got to lunch — at BLT Steak — I was starving. I ordered the lobster salad and scarfed it down, because I was so hungry. The restaurant is known for its popovers, which I'd never had before, so I indulged in one of those. It was cute — they give you a card with the popover recipe on it.
Airplane food, once again, for dinner. I think it was a turkey sandwich — very dried out, not-so-appealing turkey sandwich. I should have packed up my food from my demo!
Monday, February 23
I arrived in New York late, and went straight to bed. The next morning, I had breakfast at the hotel's cafe: oatmeal and bananas, and grapefruit juice.
Every time I'm in town, I go to Quality Meats, and I always gets the roast chicken. I actually couldn't finish it all, so I brought some back to the hotel to enjoy as a morning snack throughout my stay.
Dinner was at ABC Kitchen, which is another favorite restaurant of mine in New York. My girlfriends and I shared a lot of food — I didn't eat it all by my lonesome, I swear! We had a pizza with prosciutto, dates, Fontina, Parmesan, and ricotta; the roasted carrot salad with avocado; beets with fresh yogurt; and spaghetti with black truffles. I was very lucky that the girls let me have two pieces of pizza because I'm pregnant. A perk!
I'm a big wino, but I can't drink, of course, because I'm pregnant. I love a Sancerre. My eating habits are pretty much the same, except I have to limit some things. Compared to the other pregnancy, my cravings are different, though. When I was pregnant with my daughter, I craved sweets, but now that I'm having a boy, I'm craving saltier, more savory foods. It's funny.
For dessert, they brought out a cookie plate, and we ordered the special sea-salt caramel sundae with popcorn and hot fudge. And we shared the carrot cake. It was one of the best carrot cakes I've had in a long, long time.
Tuesday, February 24
Another early breakfast at the hotel café: granola with yogurt and blueberries, and a glass of orange juice.
For lunch, I went to Luke's Lobster and ordered a lobster roll. It was lovely. I also had a sparkling water, which is my go-to drink these days. It makes me feel fancy!
Dinner was at Dirty French with my foodie friends. It was my first time eating there, and it was really fun. We started with their amazing grilled oysters. I was so happy to be able to eat oysters, because they weren't raw. They were beautifully presented! I absolutely loved them. And then we had the chicken, which is kind of like a Peking duck. They're served with crepes, and you fold them like a fajita with sauces and fresh mint. I could eat probably four bowls of their crispy kale salad. And dessert, they brought us beignets with caramel sauce.