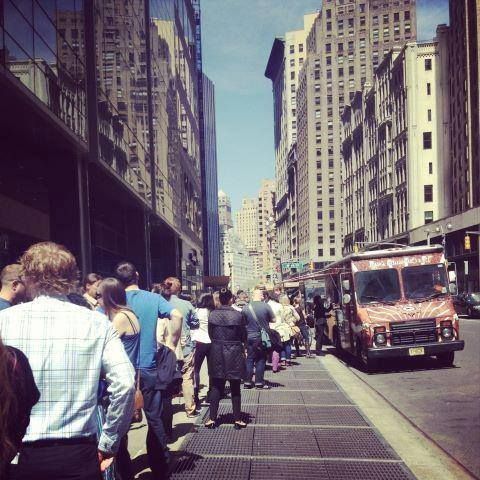 New Yorkers consistently lined up for Cinnamon Snail's tofu subs and raw pizza.
Photo: Courtesy of the Cinnamon Snail
Since the Cinnamon Snail launched five years ago, New Yorkers have lined up for the truck's vegan offerings. Its crème-brûlée doughnuts and maple-mustard-tempeh sandwiches appealed to even the most die-hard carnivores, but what made the operation most special was the man at the heart of it: founder and chef Adam Sobel — who seemed thrilled to introduce people to his eclectic food while maintaing an always-sunny disposition.
But, behind the pleasant demeanor, operating a food truck has never been easy for Sobel. On Saturday, he announced via Facebook that he's halting operations at the end of the month, once his permit expires. We reached out to Sobel to find out how he came to this decision, why the city's laws make food trucks unsustainable, and what's next for him.
How's your day going?
We've been having kind of a crazy morning. We drove in this crazy-ass snow, got parked, and then our generator wasn't working. We had to drive all the way to Queens to drop it off to get fixed and pick up a backup generator … and then there wasn't parking for us when we got back to where we were, so we had to park somewhere else. Food-truck life!
It sounds like you just listed some of the reasons why you're shutting down operations.
Yeah — this is what it's about. It looks good from the outside, but it's hard work. I used to get, like, all upset about these kind of problems, but they're inherent to running a food truck.
I was sad to hear the news. I have great memories of eating your food. How are you feeling?
It's kind of sad, because this has been my baby, but I don't feel like we lost or anything. We kicked a lot of ass, and it was great, and now it's just time for something else. In light of the problems I was telling you about, I was beginning to feel like, on some level, there was just no light at the end of the tunnel. I've literally had every kind of crazy thing happen.
No matter how good we get at doing this, and no matter how good our food is, and no matter how many backup plans we have for different emergencies, with a food truck there's never an end in sight with those kinds of problems. And those problems make it really tough to actually make any kind of profit. Especially the way we were doing it — offering organic food, at pretty affordable prices, that was very labor-intensive to cook. But still, at the end of the day, all those problems are not even why we're moving on: It's really this whole permit nonsense.
Can you explain the permit madness in more detail?
The short story is that there's a limited number of permits, and you can't obtain them through the city. There's a waiting list, and you can't even get onto the waiting list because everyone who had a permit when the caps got placed can just keep renewing them for, like, $100 a year. So rather than let permits expire, they illegally rent them on the black market, and charge 100 times whatever they paid for it. That's why permits rarely go back into the system and become available to people on the waiting list. It's why you don't see Starbucks or corporate food trucks on the streets of New York.
It's really tragic. Street vendors are an integral part of New York City's food culture, and this system has criminalized people who make food on the street, because they're renting permits and it's real shady.
That's a huge headache.
As bad as it is for us to deal with, we're, by comparison to most street vendors in the city, very privileged. Almost all street vendors in the city are not U.S. citizens, and they may not know their rights, or have access to loans. Since before we even had a truck, we've been involved with the Street Vendor Project in trying to make some changes happen for that industry, because it's really unfair.
How many food trucks have you seen come and go in the last few years? There's very few that are even as old as we are, other than an odd Halal cart or something. It takes an incredible amount of perseverance. You have to be a little bit crazy, or in our case, just really impassioned by an ethical goal.
For us, this was never just making money — it was very much about providing vegan food to people who would never go into a vegan restaurant, and helping dispel a lot of people's misconceptions about how this food tastes. I think we've been really lucky and really successful with that mission. Whatever we do next is going be guided by that same mission, and we're to make this food attractive to people who don't already get it, and affordable to people who don't already understand its value.
Was it always this rough?
Yes, but we kind of knew that getting into this. Well, maybe I didn't when I was first building the truck, because we kind of made it up as we went along, but it's been okay. There are easier, more profitable things I could have done, but maybe they wouldn't have been as effective in turning people onto a compassionate lifestyle, and helping people understand the purpose of this food. It's all been worth all the sacrifices and difficulties.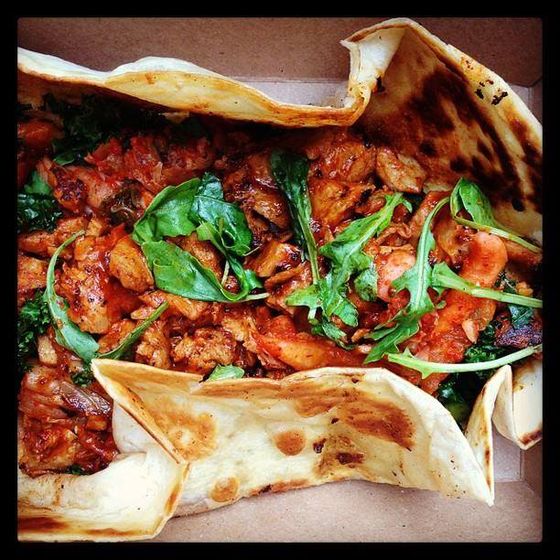 Do you think it's the end of days for food trucks? Have we reached a point where they're no longer sustainable?
Look, the permit thing is crazy no matter what, but that's nothing new. It's been crazy like that since the early '80s, but it did get a little bit worse a few years back, when the city made it so that you can't vend from a metered location. We get a ticket for that every day.
It's not that it's not a sustainable business model, but for us, having done it ethically, and making the food all from scratch — our sauces use fresh Thai basil and lemongrass and organic ingredients — it becomes as complex and complicated as possible. We have our bakers working all night making pastries fresh for the truck. A lot of food trucks don't require a huge prep kitchen, so they have a lot lower overhead. But for us, yeah, it was definitely very costly. Certainly not less so than having a restaurant. Our kitchen is quite expensive, maintaining the trucks and their permits was very expensive, and there are constantly other things to deal with that restaurants don't have to deal with — like having some mechanical problem with the truck that prevents you from even operating that day, after you already made all your pastries and baked all the bread.
Now that you've been through this, are you planning on opening a brick-and-mortar location next?
There are a lot of different opportunities that I want to explore. We're talking about whether or not we want to do a location of the Cinnamon Snail as it is, but I'm personally more excited about starting a completely new concept that also happens to be vegan and organic. The people really love the food we make at the Cinnamon Snail, so it would be crazy not to also do something Cinnamon Snail-related … This is a very family-run business, and it's been a very stressful 24/7 operation. Part of figuring out what we're gonna do from here is taking a step back and being honest with ourselves about the kind of balance we want in our lives.
When's your last day?
Our official last day in New York is the 28th, and we may do one final day in Jersey, where we don't need the permit, on March 1. We may keep one of our trucks to do events in the future, because I know people would freak the hell out if we showed up with the truck. I've had a bunch of concepts I've been honing in my mind — for instance, I'd love to do a high-end vegan restaurant at some point, but I don't think it's the best immediate predecessor. That's not going to serve the same people in the same way.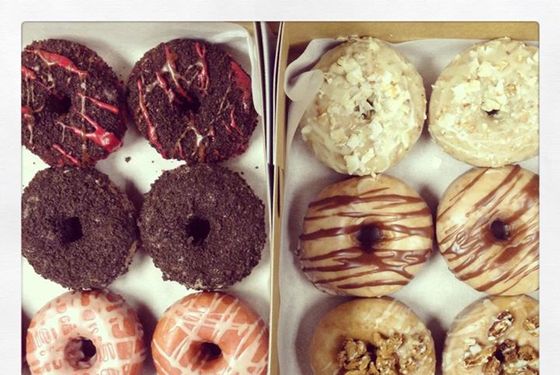 One of the reasons I think the Cinnamon Snail thrived is that it embraced ingredients like tofu and tempeh, but didn't try to mimic meat. You celebrated what they actually tasted like.
I agree. It's never been a goal of mine to make it taste just like you're eating meatballs. I find that to be a morbid obsession that some people have with vegetarian cooking — trying to make it taste like a dead animal, except it's not a dead animal. Nor do I find that kind of food to be very nourishing, and that, in my purpose of cooking food, is a very important thing. I want it to be food that leaves you feeling satisfied and good. I don't want it to be stuff that clogs up your colon and looks like a piece of meat.
Though the vegan doughnuts turned out to become a huge hit!
Yeah, the doughnuts were like the gateway drug for people. I don't want people to be eating deep-fried dough that much, but if it's going to lure them in and the next time they're like, "Oh, let's try this seitan breakfast burrito," and then, before you know it, this food doesn't have to become the stereotype that it's health food-y or fake.
Have your customers been understanding?
I thought people were going to be more mad at me than anything. We try to let our social media be an active forum to show customers what we go through, and for them to tell us what they want. Most people who are really big fans of us have seen all the times we've had to replace an engine, or gotten into an accident, or had the police chasing us out of a spot. People know that it's required this superhuman level of devotion. There are literally so many things that I have in mind that I think would be so freaking cool, and I just have to figure out which of those freaking cool things is the right thing to do next.