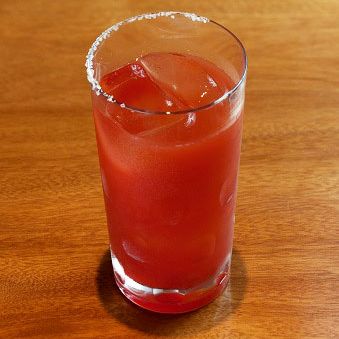 It looks unassuming, but that's kind of the point.
Photo: Nobuyuki Sato/Bar Mimitsuka
The first thing you should know about the best Bloody Mary in the world is that you won't find it in Paris; or Portland, Oregon; or Austin, Texas; or even in the glorified gin dens and gilded hotel bars of New York City. You will find it in Tokyo, in the basement of a nondescript building in the Ginza shopping district, at a discreet little drinking establishment called Bar Mimitsuka.
Like all the best places in Tokyo, Bar Mimitsuka is an "introduction only" operation, which means you'll need to go there — at least initially — with someone who knows one of the bartenders. In my case, it was a knowledgeable boozehound friend who visits the seven-seat bar regularly to enjoy Old Fashioneds (presented with hand-carved "diamond" ice cubes), or the fabled martini, which the head bartender, Fumiyasu Mimitsuka, stirs together with a ratio of two-thirds Beefeater gin, one-third Tanqueray, a whisper of Cinzano vermouth, served alongside a potent chaser of Chartreuse. But mostly my friend goes to Bar Mimitsuka for the Bloody Marys, which are to run-of-the-mill, horseradish-clogged brunch bloodies as fresh-squeezed Florida orange juice is to a can of Sunkist soda. "You will see," my friend says as we settle in and watch Mr. Mimitsuka begin his preparations.
He starts with the tomato itself, grabbing two and muddling them in a crystal glass, then running the juice through a strainer into a second glass. He adds several ounces of French vodka to that. There is no dreckish pepper mix in his pure concoction, no dash of Worcestershire sauce, and certainly no horseradish. There's no garnish of lemon or celery, either. Instead, toward the end of the process, he adds only droplets of a housemade chili oil that can vary in strength (1 for mild, up to 10 for extremely spicy) according to each customer's preferred level of heat.
Shortly after I order mine — level 5 heat — the drink appears with a single cube of ice. It is understated, though half the glass is rimmed with what appears to be Himalayan rock salt. It looks less like a cocktail and more like a vegetable smoothie. It tastes that way, too: deeply refreshing, even healthful, with the faintest kick of booze and heat at the end. Just off my own grim 14-hour flight, dimly recalling that tomato juice is an effective jet-lag cure, I take another sip, then another after that. My host sips his own drink — spice level 8 — with a look of happy contentment on his face.
We order a second round, and then a third, and as I thank my friend profusely, I agree to pick up the check. Which brings me to the second thing you should know about this unequaled Bloody Mary: Each one costs the equivalent of $13, which means it's less expensive than many more baroque versions poured back here in the States. In fact, ounce for ounce, and considering the workmanship involved, it's one of the most reasonably priced pours in the entire drinking world, too — unless, of course, you factor in the price of airfare to Tokyo.