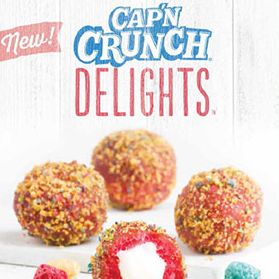 These are great times for marijuana: New studies suggest it's far less harmful than once thought, states and districts like Washington, D.C., are legalizing it with abandon, and now Taco Bell's R&D; team has given the world these new Cap'n Crunch–crusted doughnut holes.
Of course, this is one of Taco Bell's many branded partnerships: Within the past year, the company has introduced Sriracha Quesarito, biscuit tacos, Flamin' Hot Fritos "dip," Starburst smoothies, and Cinnabon Delights coffee and zeppoles. But Cap'n Crunch Delights — cream-filled doughnut holes that capture the flavors of sweet cereal milk and Cap'n Crunch's Crunch Berries — sound totally irresistible.
Right now, the product is in its test phase (in stores near Bakersfield, California), but if all goes according to plan, it'll be introduced nationwide and available all day and night … which, of course, means it's the ne plus ultra snack to satiate the munchies.