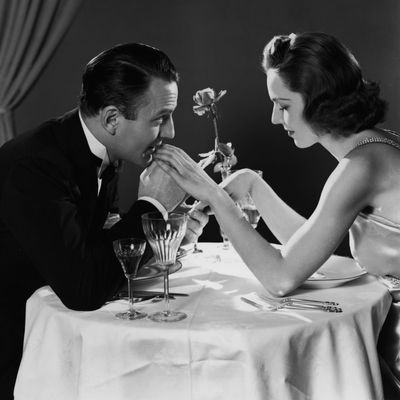 Caviar and truffles aren't as profitable as you'd think.
Photo: Camerique Archive/Getty Images
Common wisdom among seasoned diners is that there are two times each year when you really don't want to find yourself in a restaurant: New Year's Eve, and Valentine's Day. Amateur nights, the thinking goes, with dining rooms that are packed to the gills with bridge-and-tunnelers you might rather not eat next to. Plus, don't most chefs load up on prix fixe, no-choice menus to beef up profits and gouge their captive audiences? Turns out, not really. In talking to people in the industry, it seems Valentine's Day — which, in case you forgot, is this week — isn't necessarily the blockbuster moneymaker that everyone assumes.
The biggest economic factor is completely dependent on the calendar. Valentine's Day does mean a full dining room, so in years when February 14 falls earlier in the week, nights when dining rooms might not otherwise be packed, there is a healthy boost to profits. "Not double," says chef Joel Hough of Il Buco and Il Buco Alimentari, "but you do much better." Yet during years such as this one, when Valentine's Day falls on a Saturday, it doesn't automatically translate to more money. In fact, some chefs say it means a loss. "One-hundred percent, we make less on a Saturday Valentine's Day than a regular Saturday," says Abram Bissell, the chef at the Modern.
Others agree that weekend Valentine's Days don't yield a big bump. "You see a little bit of a spike of people getting a nicer bottle of wine, but it's not so substantial," says Gabriel Stulman, whose restaurants will offer a couple of specials but otherwise stick to business as usual. "It's not like, Oh, wow, we're doing so much business."
One part of the equation is that diners tend to linger longer than they might on typical nights, making it difficult to turn tables quickly. "You don't want to rush people out," Hough says. "You want people to enjoy their experiences." He says that Il Buco handles about 200 diners on a typical Saturday, but on Valentine's Day, the restaurant will only see 150. "But," he adds, "you make that up with the prix fixe."
Ah, the Valentine's prix fixe menu — a divisive strategy, among both diners and operators. For some owners, offering only a single set menu is a way to guarantee each cover will be profitable. And, chefs say, it's also a chance for them to do something a little different than they might otherwise. "It goes against what we do on a day-to-day basis," Hough says (reservations for Il Buco's $110 menu booked up a month ago). "It's exciting because it gives me an opportunity play around."
But even the economics of a prix fixe can be difficult if a chef chooses to lard up the menu with pricey aphrodisiacs. "Yeah, your check average is higher, but your food cost is also higher," Hough says. "You're putting caviar and oysters and venison on the menu because it's a special occasion."
The problem is that it's tough to force people into a menu full of special foods while also pricing it accordingly: "You can never mark up truffles what you'd need it to cost," Bissell points out. "People would say, 'I'm not gonna pay that much for a black rock from the ground, no matter how much I love it." But he also points out you can't put together a Valentine's menu and not offer something like truffles, so he has to face up to the reduced profitability: "I absorb some of that."
Bissell sees the Valentine's menu as something of a loss leader, though — a chance to impress people enough to hopefully convert them into regulars. "I know I have 'this much' money to work with, but if I write my menu based on that, then I'm focused on profitability, not what's going to blow someone's mind; especially with holidays, we want people building memories."
Less charitable operators, however, do understand that even on a Saturday, there are strategies to employ in order to maximize profitability. The first is to turn the night into an event even beyond the holiday itself. Nobody has been more successful at that this year than Zahara Tangorra, who owns Cobble Hill's Brucie, and received a ton of press for the Kimye-themed meal she'll host this year. (There will be rump roast and a butt-shaped ice luge.) She says she'll see 300 covers this Saturday, as opposed to the usual 200. "We never do prix fixe — I don't like it," she confesses. "But from a kitchen standpoint, we can make sure we have the best quality. It's hard to do double a normal busy night à la carte."
Other owners — especially at the smaller, neighborhood places people tend to think of as "romantic" anyway — say offering only a special menu isn't worth alienating regular customers. "We don't do anything different," says Buvette's Jody Williams. "We are forbidden from doing heart-shaped anything. I just want to stab myself." For her, the secret to taking advantage of the holiday comes in the form of increased sales during the very early or, especially, very late hours of the night. "From midnight to 2 a.m., everyone will come by for tarte tatin; we'll prep a couple more bowls of chocolate mousse," she says. "People are on a date, and things are going well, and they're thinking, What's next?"
As everyone takes a different approach to handling the holiday, some operators just seem resigned to the Valentine's traditions: Diners expect to go out and have a set menu with some bubbly, so why not just let them have it? "I really see that day as a service," says Ivan Orkin, who will offer a small set menu at Ivan Ramen. (Yes, you can do a ramen prix fixe on Valentine's day.) For $85, people can get a half-bottle of Champagne, some apps, ramen, and a cute goodie bag full of hard-to-find Japanese sweets. "We just thought to put it into a package and make it a fun event."