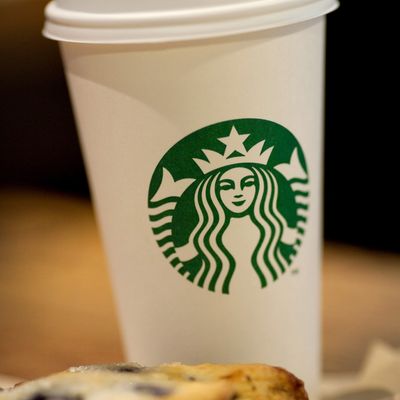 Activist journalism, now brought to you by Starbucks.
Photo: Emile Wamsteker/Bloomberg via Getty Images
Even though the stores themselves will stop selling CDs, the universe of things you can buy from Starbucks is nevertheless expanding to include "social-impact content." In real terms, that means Starbucks plans to launch a media start-up that produces documentaries for TV or even films capable of changing culture "through creative storytelling." In fact, veteran Washington Post reporter and former Baghdad bureau chief Rajiv Chandrasekaran announced on Twitter that he's leaving the paper to run the new operation.
He tells the Columbia Journalism Review it's not about selling coffee, so that apparently means no Mugatu-style "Buy a PSL!" subliminal messages during a bit on child-labor laws:
This is not going to be PR or marketing work. This is Starbucks and Howard Schultz recognizing the power of storytelling and wanting to help contribute to the national understanding around a set of key issues.
What kinds of issues, exactly? Chandrasekaran co-authored Howard Schultz's new book about what we can learn from war veterans, titled For the Love of Country, so the first one will be what we can learn from war veterans, not surprisingly. Eventually, they'll branch into more topics, which it sounds like they'll open to funding from other business partners. So far there's no word on the name, but Starbucks said Chandrasekaran jumps aboard at the beginning of March.
[Seattle Times, CJR]