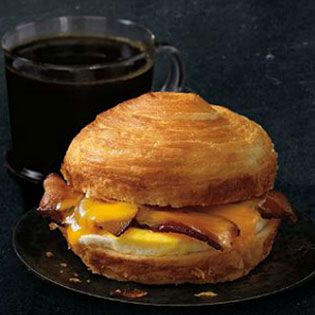 But does it have pork roll on it?
Photo: Courtesy of Starbucks
The future of Starbucks continues to look less and less like coffee. In fact, the latest vision is part of what Bloomberg calls a "meat strategy." That means stores in Orlando and San Diego are now testing protein-packed food options like chicken-and-artichoke or barbecue beef brisket sandwiches, as well as a prosciutto and mozzarella Pinwheels Bistro Box. But the week's biggest reveal is, of course, a new breakfast sandwich (they're big these days): the so-named Double-Smoked Bacon, Cheddar & Egg sandwich, which is exactly what it sounds like, packed onto a croissantlike bun.
What's the reasoning behind adding what is, essentially, the Starbucks version of a Burger King Croissan'wich to the menu? A spokesperson tells Bloomberg that it's all part of relying less on coffee, and coffee alone, for sales — 18 percent of U.S. sales come from food already. The company's chief strategy officer explains that they're "no longer a one-trick pony … that era has long passed."