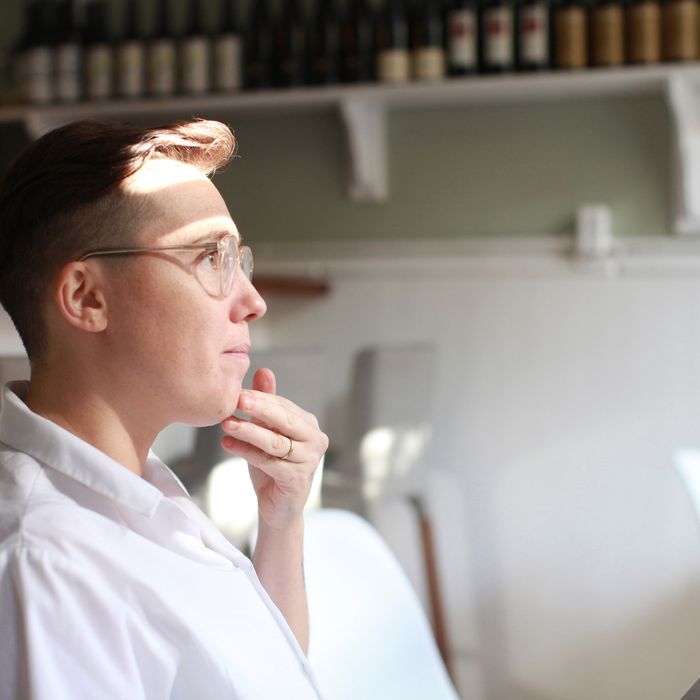 Elise Kornack is on a roll.
Photo: Melissa Hom
Each year, Star Chefs — an organization that tracks restaurant-industry trends — celebrates up-and-coming chefs through its Rising Stars Awards. Past honorees include Sqirl's Jessica Koslow, Battersby's Joseph Ogrodnek and Walker Stern, and the NoMad's Thomas Pastuszak — and while the honor isn't quite as big a deal as, say, the James Beard Awards, it's still quite an achievement.
This year's New York winners include Take Root's Elise Kornack — who's clearly on a roll, as Adam Platt also named her one of his "Best New Chefs" — as well as Betony's Bryce Shuman, Cosme's Daniela Soto-Innes, and North End Grill's Tracy Obolsky. Plus: Grant Reynolds gets a nod for his work as a sommelier at Charlie Bird, and Matt Danzer and Ann Redding for their concept at Uncle Boons. Here's the complete list of winners — and if you want to meet them IRL, there are tickets available to the gala on February 25.
Chefs
Tom Allan, The Modern
John Daley, New York Sushi Ko
Elise Kornack, Take Root
Richard Kuo, Pearl & Ash
Matt Lambert, The Musket Room
Bryce Shuman, Betony
Daniela Soto-Innes, Cosme
Travis Swikard, Boulud Sud
Community Chef
Joseph "JJ" Johnson, The Cecil
Concept
Matt Danzer and Ann Redding, Uncle Boons
Liz Gutman and Jen King, Liddabit Sweets
Pastry Chefs
Tracy Obolsky, North End Grill
Mina Pizarro, Juni
Hotel Pastry Chef
Erin Kanagy-Loux, Reynard at the Wythe
Restaurateur
Jeff Zalaznick, Major Food Group
Artisans
Dillon Edwards, Parlor Coffee
Austin Hall, She Wolf Bakery
Basil Lee and Kevin Stafford, Finback Brewery
Fred Maurer, Dickson's Farmstand Meats
Bartenders
Natasha David, Nitecap
Chris Lowder, The NoMad
Sommeliers
Matthew Conway, Marc Forgione
Grant Reynolds, Charlie Bird
Sustainability Chef
Andrew Whitcomb, Colonie