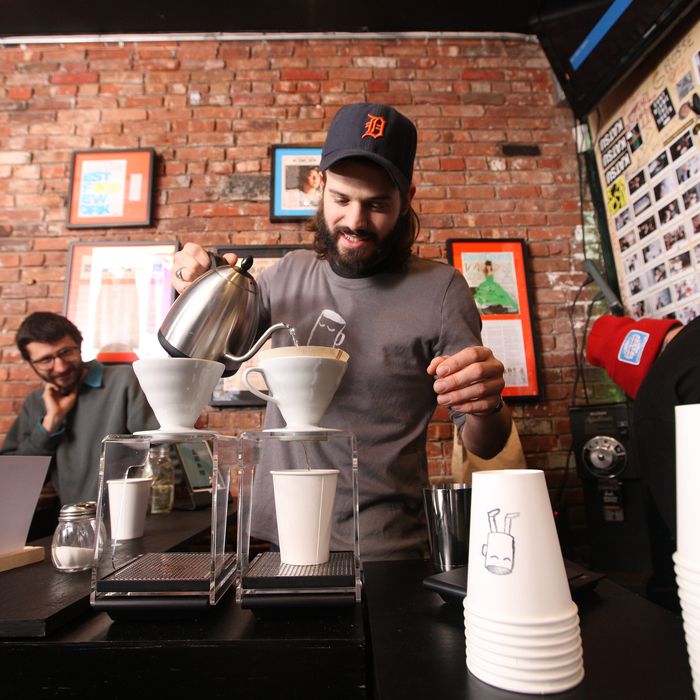 Stand co-founder Daniel Zettner.
Photo: Melissa Hom
One of the most challenging aspects of opening a place in New York — whether it's a restaurant, gallery, or coffee shop — is making an actual brick-and-mortar location work (and paying the accompanying rent). But the people behind Stand Coffee hope to get around that by tapping into the sharing economy: Owners Bryan Hasho and Daniel Zettner serve specialty coffee during the off-hours of New York stores and restaurants. To start, they've set up a coffee stand in the back of Eddie Huang's Baohaus from 7 to 11 a.m., seven days a week.
"With three quarters of all coffee consumption coming before noon and most restaurants opening at noon, it seemed obvious to us," says Hasho, who worked at Blue Bottle before starting this somewhat-transient venture. "It's definitely the way to go — to have a coffee shop where most of the operations fold up within 15 minutes."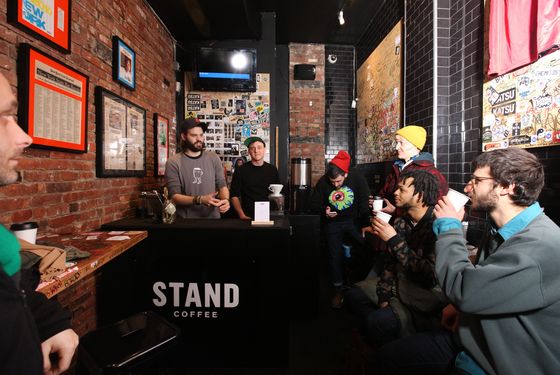 First, they got in contact with Café Grumpy, which they insist makes the "best coffee in the city," to buy beans. (At the moment, there's no espresso — just three coffees and one cold brew.) Then they sent Huang a totally cold email. "He got back to us immediately and worked it out," Hasho says. "He has been nothing but wonderful and supportive. And, honestly, there's not even a ton of upsides for him." Stand Coffee doesn't pay Huang rent, but they do have a profit-share agreement.
They have bigger plans, though, like scaling the operation and treating Stand as a bakery commissary. "It'll be like loading up a big truck with all of that day's fresh goods, only in this case we'd be delivering the whole coffee shop, and our barista would be meeting us there," Hasho explains.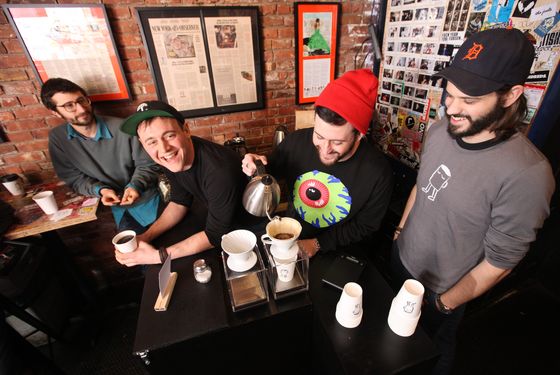 Another idea is to use this low-commitment concept to get high-quality caffeine into coffee deserts. "I'd like to explore neighborhoods and spaces that are underrepresented," he continues. "This was our first high-rent experiment, but next I want do something in Flatbush."
At the moment, though, it's a tight operation. Hasho says, "The beauty of this is that it requires almost no fixed expenses." The actual stand — which Zettner built by hand on his roof in the middle of winter — only cost $400 (coffee equipment not included). As for staff, Stand pays its baristas an hourly rate and cuts them in on the profit share, so everyone is invested in the project. "There's no reason why this couldn't scale up," Hasho says, confidently.