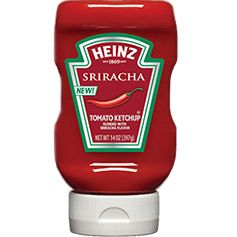 "About time," says America.
Photo: Heinz
General opinion has long held that there are two indisputably perfect condiments, marvels of culinary engineering that no reasonable person can improve upon: Heinz ketchup and sriracha hot sauce. Yet not so long ago, if you took to Google to search for the phrase "Heinz sriracha," to see if by some chance the two had ever been combined, you would likely wind up on an import site, looking at some traditional Thai sriracha that Heinz apparently markets outside the U.S. That all changed today, though, when Heinz North America sent out a media blast informing the world that they now sell sriracha-spiked ketchup — officially dubbed "Heinz Tomato Ketchup Blended with Sriracha Flavor" — for the condiment-craving masses.
According to the press release, this will basically become the stuff you put on everything you eat from now until the end of time:
"We are thrilled to announce that Heinz Tomato Ketchup Blended with Sriracha Flavor will join the beloved Heinz Ketchup portfolio," said Joseph Giallanella, Brand Manager of Heinz Tomato Ketchup. "Building off of our successful line of flavored ketchups, fans told us that they would love another bold take on their favorite condiment. The new offering adds a new kick to your favorite foods and recipes, pairing well with cheeseburgers, French fries and hot dogs, and is the perfect flavor boost for chicken and eggs."
Why stop there? Got a grilled-cheese sandwich that needs to be bolder? Sriracha ketchup. Feeling like your pizza is missing a little … something? Sriracha ketchup. Are you stranded in a cabin in the woods and your food supply has been depleted to the point where the only thing left to eat is a dead gopher and you're looking for something — anything — that will make the gopher seem at least marginally palatable?
Sriracha ketchup.
$2.69 per bottle, now available at your local Target or Walmart. Or, if you want to go all-in — and you do — pick up a ten-pound bag of the stuff.
God bless America.