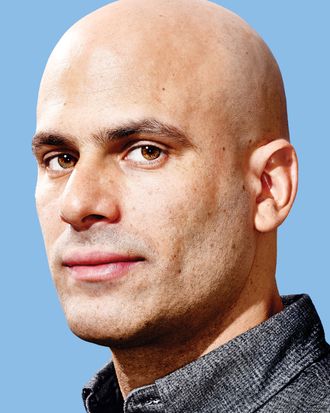 Obama's former personal chef Sam Kass.
Photo: Bobby Doherty/New York Magazine

In my mind's eye, I'd imagined welcoming the First Family's former nutrition guru to New York City with a gracious, high-calorie luncheon in one of Manhattan's white-tablecloth restaurants, followed, possibly, by a stroll through the Greenmarket to inspect the morning's crop of duck eggs. But Sam Kass, who's just moved to town after six eventful years in the White House as, among other things, the Obamas' gardener, craft brewer, and private chef, has suggested, in his ebullient, persuasive way, that we visit one of his favorite new neighborhood enterprises, the online farmers'-market delivery service called Good Eggs. Which is how we find ourselves out among the truck depots of rain-drenched Bushwick, rummaging around in a giant fridge filled with bags of rainbow carrots and just-picked rutabagas.
"Look at the stems—they're freshly broken, which means they've just been picked today," says Kass, waving a plastic container filled with a "gourmet medley" of lettuces from a rooftop farm in Brooklyn. Kass has been a New Yorker for only a few weeks (he married the MSNBC host Alex Wagner last fall, then quit his government posts at the end of December to move into their Dumbo apartment). Compared with the scruffy, wool-capped warehouse staff, he still exudes a professional Washington, D.C., sheen. His jeans are pressed, his boots polished.
Good Eggs opened in Brooklyn a little over a year ago, by way of San Francisco, and thanks to a Series B round of funding, it plans to expand its bespoke farm-to-table delivery service to Manhattan. Kass, who seems to know everyone in the local-food movement, found out about it from his friend Greta Caruso, who is one of the founding partners and used to work with Alice Waters. "I was visiting San Francisco, and here's my old friend Greta, who's just done this really cool thing," he tells me as we move through the warehouse, down rows of shelves stocked with kale chips and chai. We stop to chat with Josh Morgenthau, the grandson of the New Deal architect Henry Morgenthau Jr., who runs the New York operation, then join the employees eating lunch at picnic tables as the wistful, bouncy tones of Panda Bear float through the big room. Kass takes a bite of dal and grins merrily. "Welcome to Brooklyn," he says.
Kass has known the Obamas for a long time, and his father was Malia's teacher at the University of Chicago's Laboratory School. When he was in college, he aspired to be the center-fielder for the White Sox and only later drifted into cooking and nutrition. He worked as a kitchen grunt in Chicago and in Vienna, where he recalls watching in horror as one of the sous-chefs larded a sauce with huge gouts of butter. "They all called me 'Yankee' in the kitchen," he says. "The chef, who really knew his business, said, 'Listen, Yankee, if the guest walks out and drops dead of a heart attack, it's not my problem. The guests ask me to cook food that's delicious, not food that's good for them.' It was a real moment for me."
In case you were wondering, Kass's breakfast this morning was two soft-boiled eggs dabbed with a little hot sauce, a cup of dark-roast Stumptown coffee, and a bowl of granola. He and Wagner usually cook at home, though they are also avid restaurantgoers. One of his Washington duties—which included running the First Lady's child-health initiative, Let's Move; serving as the White House's first-ever policy adviser on nutrition; and cooking the Obamas a healthy family dinner five nights a week—was to suggest where the Obamas might dine in New York. Dan Barber's farm-to-table establishment Blue Hill was one of his ideas, as was the New York food cognoscenti's darling of the moment, Estela.
Not surprisingly, Kass is a big fan of neo-Brooklyn cuisine, although he's never visited that poster child of the borough's great restaurant reawakening, Roberta's. It's just a few blocks from the Good Eggs warehouse, so, after finishing our dal, we drive there for a second lunch. When we're settled at our table, I ask several prepared questions about the First Family's eating habits, which Kass deflects in an amused, practiced way. No, he won't comment on the president's favorite junk food or his least favorite vegetables. He will say that, despite Obama's lean physique, the president likes good food, though "he just doesn't like froufrou, fancy food—if he can't tell what it is, he's generally not interested." Yes, Michelle has a special fondness for kale, though, like all devotees of the seasonal and the local, the Obamas tend to eat whatever is at its peak. "The family enjoys healthy food, but they're not health nuts," he says. "I never served any flaxseed at the White House, with all respect to flaxseed."
A big romaine salad soon arrives at our table, along with a serving of weirdly pale mashed sweet potatoes, delivered by a gentleman whose beard has been dyed on its fringes to the color of automotive antifreeze. Kass describes his new life as "momentarily uncluttered," and you get the feeling that he's fine with that. "Now I'm the private chef of Alex Wagner," he says between mouthfuls. "That's a high-stress job!" He would like to stay in the realm of whole food and nutrition in the private sector and is in no hurry to get behind the stove; he's "looking at a few TV opportunities" and planning a trip to Paris as part of a State Department culinary-diplomacy program. The sustainability movement has made great progress, he says, but it has a long way to go, and as more food clatters down onto our table (a gently charred sausage pizza, orecchiette in a rich pig's-tail ragù), he equates the nutritional challenges facing soda-swilling America to those facing fatso restaurant critics like me.
"In America, there's just this plethora of food all around us," Kass says, as I shovel orecchiette onto my plate. "Food is constantly being advertised and promoted. It's right here in front of us, so of course we're going to eat it." Because the orecchiette is in front of me, I start eating it, although—between slightly smaller bites than usual—I timidly ask for a few diet tips. In his reassuring, upbeat way, Kass suggests I go easy on desserts and bread and advises me to try putting out bowls of fruit at home. "I'm guessing portion control is the biggest issue for you," he says, holding up a depressingly small plate. "Fill a plate this size with all the things you'd like to try in the restaurants you visit, then have the servers remove all the food from the table." He takes a bite of the orecchiette, which has a pleasing, porky crunch and a little snap of heat at the end. "Oh, boy, this is good," he says. "You're not getting this in D.C. This is the New York difference right here. It's a little oversauced, but it's delicious."
*This article appears in the February 23, 2015 issue of New York Magazine.