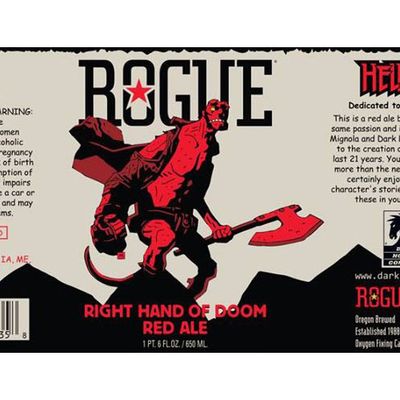 Rogue didn't even have to change its color scheme for this one.
Photo: Rogue Ales
Dark Horse's cult comic Hellboy is turning 21 this year, and so to celebrate the occasion Rogue Ales of Portland, Oregon, will brew a beer in the hellion's honor. Right Hand of Doom Red Ale will undoubtedly delight fanboys: The beer features a spiffy original label by Hellboy creator and ex-Portlander Mike Mignola and is "dedicated to the B.P.R.D." — the Bureau for Paranormal Research and Defense where Mignola's Hellboy works as an agent.
It's yet more evidence of Rogue's apparent master plan — one that could easily be a real-life Portlandia plot — to win over every single niche interest group in the Northwest. They have a beer that commemorates the Portland airport's famously ugly carpet, and others dedicated to the stoner doughnuts at Voodoo. Takeout-food junkies got Sriracha Hot Stout, and facial-hair fanatics even received the gift of beard-yeast beer. Comic Con-goers, meanwhile, can preorder their Hellboy keepsake bottles right now for shipment starting February 23.
[Rogue Ales, EW]