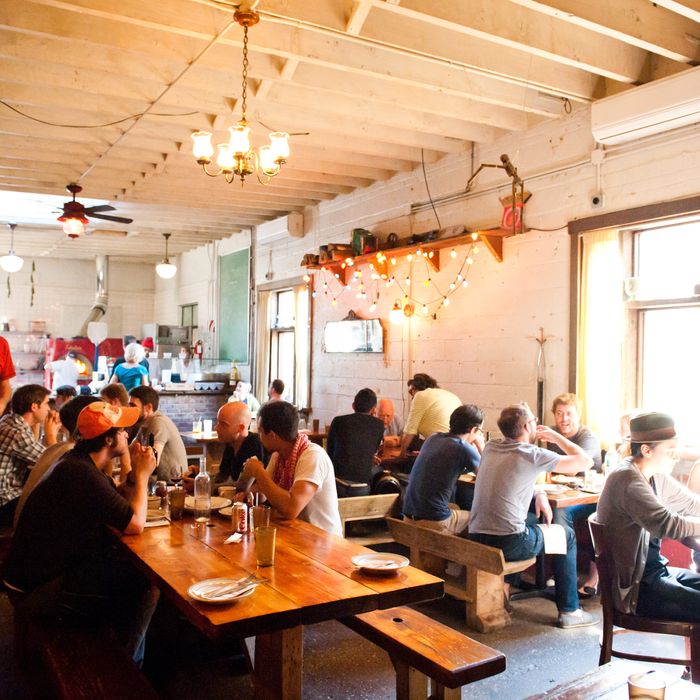 Pizza wars.
Photo: John Joh/Flickr
According to a damning new lawsuit, all is not well at Roberta's: Brandon Hoy and Carlo Mirarchi recently fired their third original partner, Chris Parachini, when they couldn't see eye-to-eye on expansion plans — which potentially include a pizzeria inside the upcoming Ace Hotel on the Lower East Side, a restaurant in Asia, and an outpost in the Rockaways. They offered Parachini a generous buyout plan, but the negotiation broke down. Parachini projects his partners will earn $10 to $15 million over the next decade through the Bushwick location alone — and he requested $5.4 million for himself.
The situation escalated at the end of December, when Parachini showed up unexpectedly at the restaurant and started ordering around the staff. Hoy told the Post that he was concerned about a physical altercation, and he and Mirarchi filed an emergency order to keep Parachini away from Roberta's. The order got approved, but Parachini now needs to be paid a salary and allowed to access the books while the lawsuit progresses. It's all scheduled to come to a head in the courtroom in late March, when 15 employees will testify against Parachini.
Despite all the drama, it's quite impressive that these three started Roberta's with just $43,000 and have grown it into a multi-million-dollar business — without diluting the brand, selling out, or expanding too quickly.
[NYP]