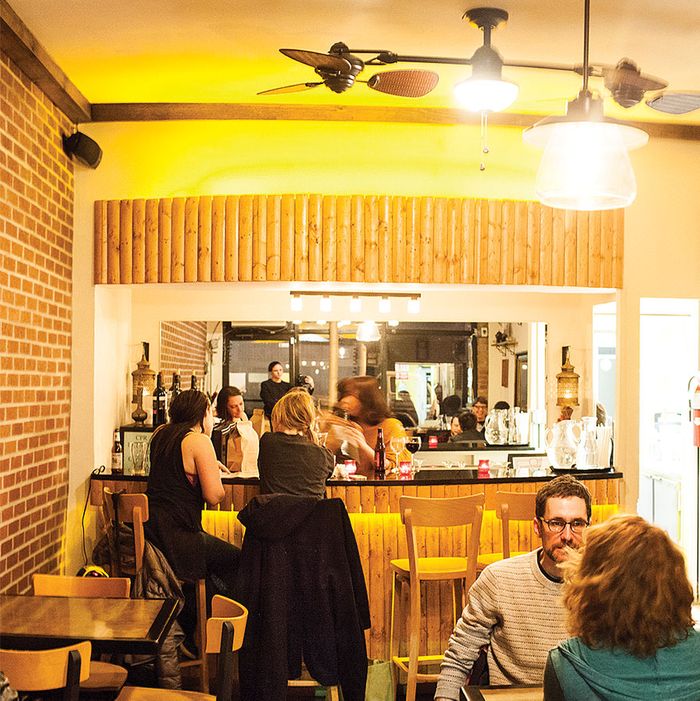 Kao Soy
Photo: Carolyn Griffin/New York Magazine
Certain expectations are created when a restaurant takes as its name a signature dish. The trick, of course, is to exceed them. Kao Soy, which opened in September on Red Hook's main drag, has managed, with its robust, undiluted Thai cooking and unfailingly friendly service, to do just that—even for those blithe souls who, unlike the Underground Gourmet, are immune to the charms of the joint's estimable headliner.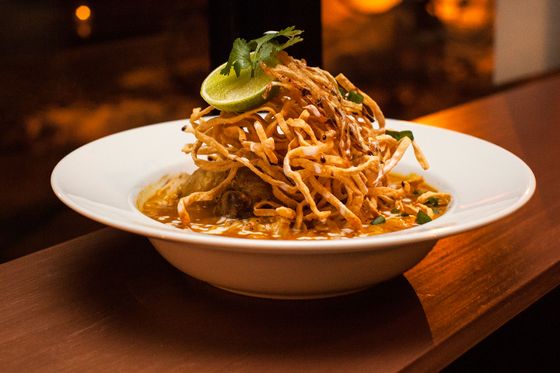 For the uninitiated, kao soy, otherwise known as Chiang Mai noodles, after its Northern Thailand hometown, is a comfort food supreme, a mild, turmeric-hued, coconut-milk-based curry noodle soup redolent of spices that suggest roots in Burma or South China. There are boiled noodles for slurping and fried ones for crunching, plus chicken (at Kao Soy, two tender drumsticks) and, on the side, small bowls of shallots, preserved mustard greens, and roasted-chile sauce to be mixed in at will. The version served in this unassuming little storefront is top-notch, if a tad unconventional: Its crispy bird's nest of noodles is crowned with a papaya fritter dotted with coconut milk.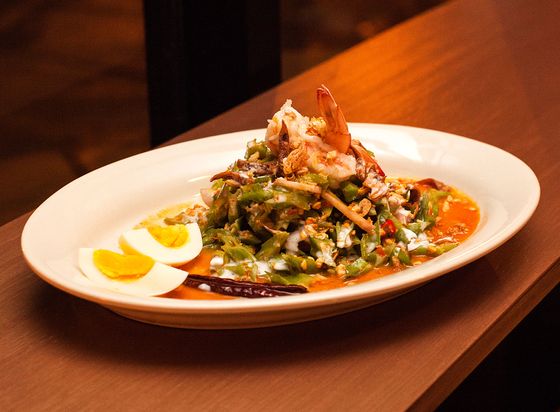 The recipe comes from the ancestral family files of co-owner and Chiang Mai native Kanlaya Supachana, whose father was an enthusiastic home cook. Supachana credits him as the source for many of the restaurant's quirks and attractions, like the fried chicken drumstick that accompanies, somewhat inscrutably, the Northern Thai staple called kang hung le, a sweet and tangy stew of pork belly and shoulder. Other specialties of the house include crisp banana-blossom fritters that resemble shaggy Thai latkes; an unusual snack combining boiled peanuts in the shell with salt-dusted steamed purple sweet potatoes; a searingly spicy stir-fry of cod and Thai eggplant; and a briny, bracing salad of slivered mango with cashews and fried baby anchovies scented with Kaffir-lime leaf and fish-sauce funk.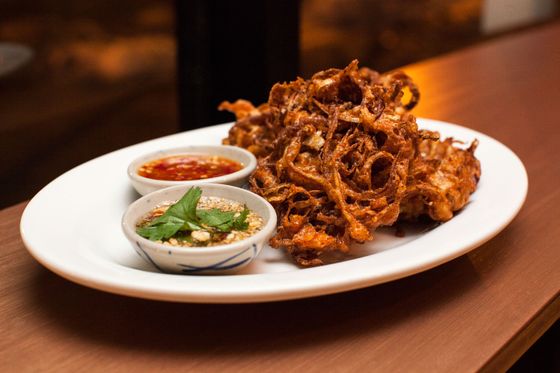 Buried among the various curries and noodles is a sleeper dish with the power to dethrone the restaurant's namesake—but then again, "sai-oua" doesn't have quite the same ring: The grilled pork sausage (another Chiang Mai highlight) is coarse-grained and crumbly and so thoroughly permeated with herbs and spices you might be tempted to overlook its accompanying green-chile dip. That would be a mistake. The vibrant and pulpy nam prik noom is one of several pungent relishes that define the cuisine and elevate Kao Soy's homespun fare. But even a chile-lime dipping sauce can't rescue a hanger steak that lacks beefy flavor and comes with a seasonally confused trio of Brussels sprouts, asparagus, and sugar snap peas. That's a rare disappointment, though, and almost erased by the attentive, smiling service, which includes advice on how to eat in proper Thai fashion, down to the advanced art of using pinches of sticky rice as a utensil instead of a fork.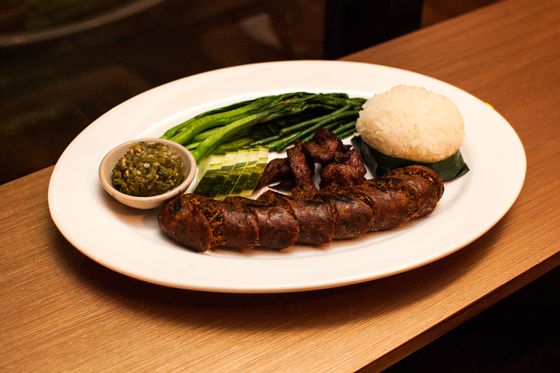 *****
Another new restaurant that's named itself after an iconic Thai dish is Lan Larb Soho, which specializes in larb, the fiery minced-meat salad of Northeastern Thailand's Isan region, though the word salad does not give this tongue-scorcher its due. (The place is run by Isan native Ratchanee Sumpatboon, who apparently wants to do for larb what Danny Meyer has done for cheeseburgers: She also oversees another Lan Larb in Murray Hill and Larb Ubol in Chelsea.)
Here, the dish consists of a mound of finely chopped meat doused with lime juice and fish sauce and mingled with an abundance of dried chiles, lemongrass, scallions, cilantro, and red onion, not to mention a sprinkling of toasted rice powder for texture. On the side lie a few cucumber slices and a wedge of raw cabbage to quell the heat. Among Lan Larb's larbs, you have a choice of chopped pork, duck, chicken, or catfish, as well as sliced-beef and sliced-pork renditions. The duck, with its rich flavor and tiny crackling-like bits, is the best. But there's also a surprisingly good—though vexingly mild—tofu larb hidden away like an outcast in the menu's vegetarian section, and a great moo krob (crispy pork) larb featuring a pile of crouton-size fried pig nuggets as light and crunchy as sugar wafers.
Though larb is the thing, Lan Larb is no one-hit wonder. The som tum (papaya salad) is at once spicy hot and refreshingly cool. The grilled Isan-style sausage served with roasted peanuts and slivers of ginger is snappy, smoky, and mottled with fat. Some of the entrées are impressive: The pla krapong rard prik, a deep-fried whole red snapper bathed in a sweet-tart chile sauce, is good to the last shred of crispy-skinned meat. But yen ta fo (rubbery fish balls, rubbery squid, limp noodles, and squishy fried tofu in a Pepto-Bismol-pink broth made from bean-curd paste and, presumably, red food dye) is like the Cosmopolitan of Thai noodle soups—more eye-catching than delicious.
Décor-wise, no one will ever mistake Lan Larb for something designed by AvroKO. The tabletops are plastic and the walls are bare. There's a modest smattering of folksy knickknacks on a shelf behind the cash register, and that's about it. No beer or wine license, either. But you can easily remedy that situation with a quick BYO trot across Grand Street to Puro Wine, the niche South American shop, where a bottle of Cono Sur Bicicleta goes for $13. According to its label, this Chilean Riesling pairs well "with seafood and white meat dishes, particularly with Thai influences"—not least, the U.G. discovered, with larb in its infinite variety.

Kao Soy
283 Van Brunt St., nr. Pioneer St., Red Hook; 718-875-1155, kaosoyny.com
Hours: Monday to Thursday noon to 10 p.m., Friday to 10:30 p.m.; Saturday 1 to 10:30 p.m.; Sunday 1 to 10 p.m.
Prices: $6 to $25.
Ideal Meal: Banana-blossom fritters, kao soy, and herbal pork sausage.
Note: The drinks list goes beyond Singha into Belgian saison and Finger Lakes Riesling territory.
Scratchpad: Two stars for the rare focus on the lesser-known food of Northern Thailand and another for the care with which it's served.


Lan Larb Soho
227 Centre St., nr. Grand St.; 646-895-9264, lanlarb.com
Hours: 11:30 a.m. to 10:30 p.m.
Prices: $5 to $21.
Ideal Meal: Duck or crispy pork larb, som tum with crab, pla krapong rard prik (crispy whole fish).
Note: The larb-averse will find plenty of Siamese standards, from Bangkok-style curries to pad Thai.
Scratchpad: One star for what might be the city's widest selection of Isan-style larbs and another for the whole-fish specials.
*This article appears in the February 23, 2015 issue of New York Magazine.