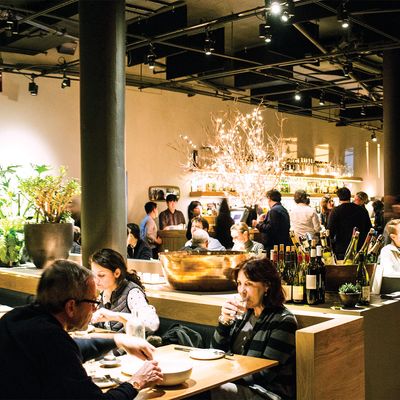 Cosme
Photo: Carolyn Griffin/New York Magazine
Long ago, when New Yorkers slavishly took their fine-­dining cues from venerable old gourmet capitals like Paris and Rome, Michelin-starred chefs who came from far away to set up restaurants in the city were received like visiting popes. But lately the city has been a graveyard for flowery, ambitious cooks from abroad. New York is exporting its own highly influential restaurant "style" now (thank you, Mario Batali, David Chang, April Bloomfield, and Brooklyn), and due in large part to the buzzing, interconnected world of globe-trotting gastronauts and top-100 lists, ambitious cooks no longer have to come here to secure an international reputation. Sure, the occasional sushi god arrives in Manhattan to rounds of polite applause, but if chefs want to make it in New York these days, they have to adapt to the city's increasingly quirky, particular, meat-and-potatoes tastes or risk being hooted out of town.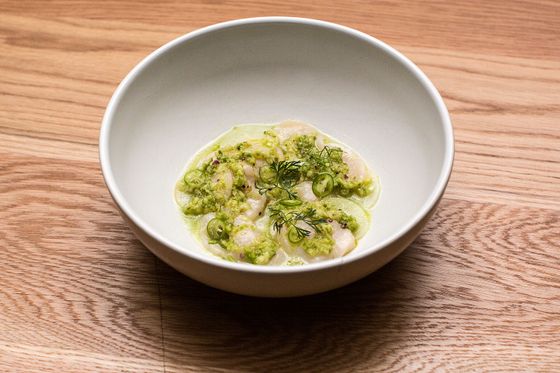 You can tell that Enrique Olvera, who comes from Mexico City, did plenty of local fieldwork before opening his much-buzzed-about new restaurant, Cosme, in a dim, vaulted space in the Flatiron District. Unlike his Mexico City restaurant, Pujol (No. 20 on the 2014 San Pellegrino World's 50 Best Restaurants list, for the record), there's a properly chaotic bar zone up front, designed, somewhat haphazardly, for those favorite New York pursuits: counter dining, cocktail guzzling, and blindly milling about. Shelves on the walls of the sepulchral, gray-toned room are stocked in the decorative market style with cookbooks and bottles of wine (they're inventory and aren't for sale). The dining-room tables are cut from slabs of spare blond wood (yes, one of them is communal), and the servers bustle to and fro wearing trendy bistro aprons, like the employees at your local Williams-Sonoma store.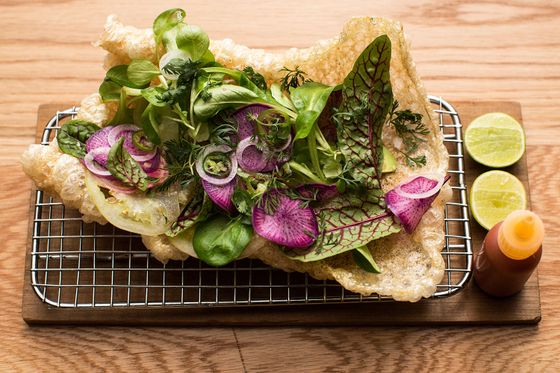 Olvera has also clearly tailored his menu at Cosme to New Yorkers' current obsession with the clean, the comforting, and the non-ornamental. There are only 19 dishes on the menu, not counting dessert, and they're served in wide bowls or on clean white plates. In accordance with the local custom, many are designed for sharing, and like in many popular bar restaurants, one's enjoyment of them can depend a good deal on where one happens to sit. The poor souls bumping shoulders in the dimly lit bar zone may object to paying $17 for a single, not-very-large uni tostada to go with their margaritas. However, if you've obtained a seat in the dining room, you may notice that the blue corn in said tostada has been milled to an exceptional powdery lightness and that the uni is mingled, ingeniously, with chunks of avocado and barely visible bits of bone marrow.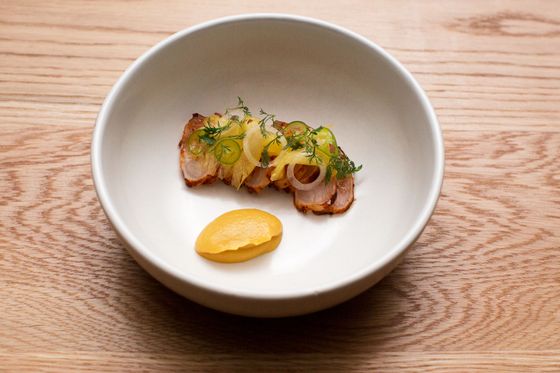 "This is a tostada of the gods," someone at my table exclaimed as we examined Olvera's other elaborate finger-food creations, most of which you won't find at your local burrito joint. These include bowls of tart, citrus-spritzed scallop crudo and hamachi, and a very good version of the Veracruzan seafood cocktail vuelve a la vida, which is touched with horseradish and scooped into a fresh avocado. The crackling-pork-skin chicharrón at Cosme has a light, almost pastrylike texture to it and is dressed with coriander and translucent nickels of radish. The lone tamal on the menu is infused almost indelibly with steamed eggplant (and garnished, deliciously, with whipped ricotta), and instead of the usual wad of lamb or goat, the house barbacoa is constructed with a rich mix of mushrooms and squash and served with a stack of fluffy white-corn tortillas that Olvera's cooks stamp out by hand in the basement.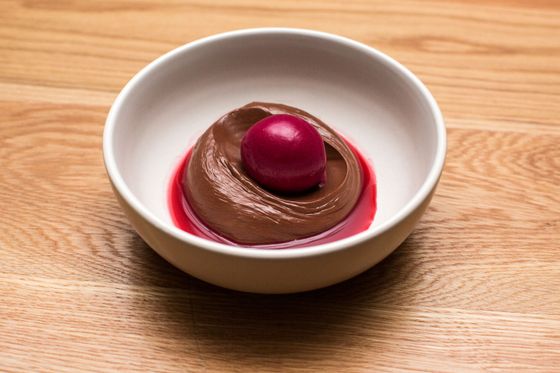 Olvera comes from Mexico but has a degree from the Culinary Institute of America in Hyde Park, and his recipes are informed by a grab bag of influences from all over the map. At this Flatiron taco joint, the tacos al pastor are made with slices of delicate, lard-seared cobia, and the pineapple is puréed like some extravagant tropical form of applesauce instead of scattered over the taco in chunks. My serving of New York strip steak was much too meager for its $35 sticker price (the steak is cut into small taco-ready squares), so if you're in the mood for an extravagant feast, I suggest the lobster pibil instead (the pinkish morsels are propped over a black-bean purée mingled with chorizo), or the magisterial duck for two, which the chefs braise to a sticky softness in citrus, condensed milk, and Mexican Coke, among other things, finish in a sizzling cast-iron pan, and hoist to the table with wedges of lime and more corn tortillas.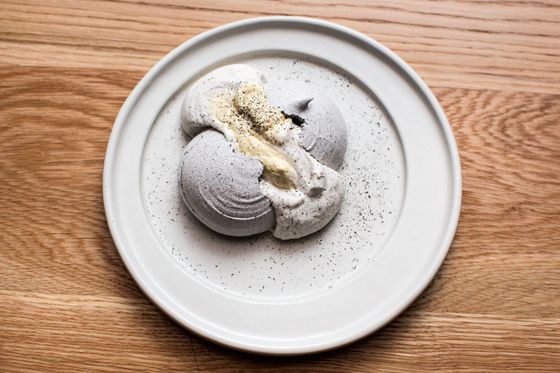 Like many of his cronies on the vaunted World's Best Restaurants list, Olvera has an international brand to tend to, and there are already signs that after a fast start, Cosme has leveled off into a kind of fitful state of cruise control. The service seemed increasingly frayed on my visits, I never saw a special on the menu, and the bar area is starting to resemble a grim parody of a hot downtown restaurant circa 1992. You can comfort yourself, however, with a whole array of well-executed cocktail options (try the classic grapefruit-infused Paloma), and with a series of desserts that range from the merely delicious (tart lemon cake with quince sorbet) to the inspired (try the cool, dense sweet-potato flan tinged with coffee). Best of all, though, is pastry chef Jesus Perea's much-hyped (and -Instagrammed) husk meringue, which manages by some strange miracle to taste like fresh-milled corn, a meringue cookie, and the finest Parisian crème anglaise more or less at the same time.



Cosme

35 E. 21st St., nr. Broadway; 212-913-9659; cosmenyc.com

Hours: Sunday to Thursday 5:30 to 11 p.m., Friday and Saturday till midnight.

Prices: $12 to $58.

Ideal Meal: Uni tostada, vuelve a la vida, mushroom barbacoa and/or eggplant tamal, duck for two, husk meringue.

Note: The excellent drinks program currently includes 32 mezcals. Order a tasting, and be sure to ask for a chaser of chocolate-and-chipotle agua fresca.

Scratchpad: One star for the unique Mexican cooking, one for the desserts, and one for the booze.

*This article appears in the February 9, 2015 issue of New York Magazine.