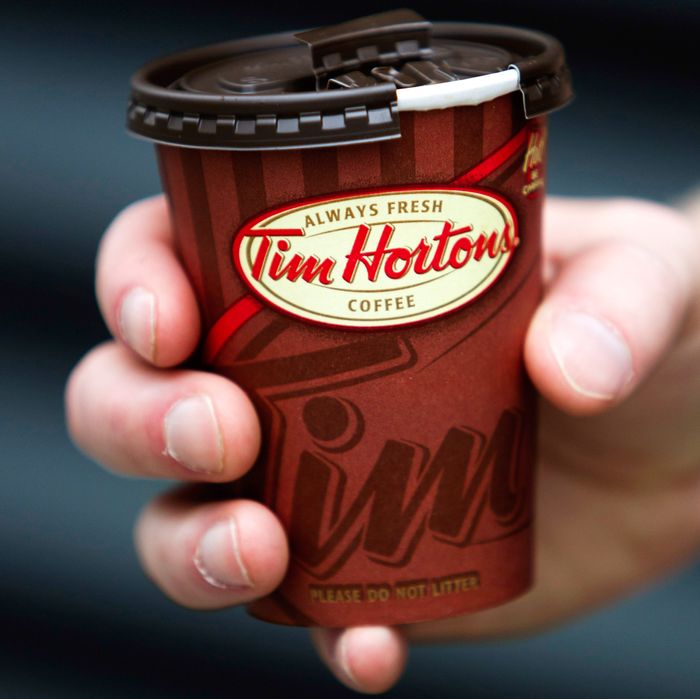 Soon, the company's only "perk" will be the coffee.
Photo: Bloomberg/Getty Images
This whole merger with Burger King hasn't been such a boon so far for Tim Hortons. A few weeks ago, Brazil-based majority owner 3G Capital "blindsided" employees at corporate headquarters and regional offices with some 350 layoffs, and now the notoriously Spartan investment firm has told executives to say buh-bye to the company's private Gulfstream 100. The Globe and Mail reports the jet, which has a used value of about $4 million, has been listed with Toronto-based aircraft broker J.A. Spears & Associates.
Former CEO Ron Joyce, who retired decades ago, tells the paper that when he was growing the chain, a private plane was of course "a necessary tool for me to get around all over the country," but apparently now it's just superfluous. He categorized the move as 3G just "cutting overhead."
For what it's worth, 3G's downsizing already hit Burger King, too. An open-plan workplace replaced the swank executive offices formerly derided by lower-level employees as "Mahogany Row," and long-distance calls now get made via Skype. Of course, according to a long Bloomberg profile, BK execs had to contend with having their own corporate jet sold, too, so at least they've probably got some frequent-flier tips for the Tim Hortons staffers.