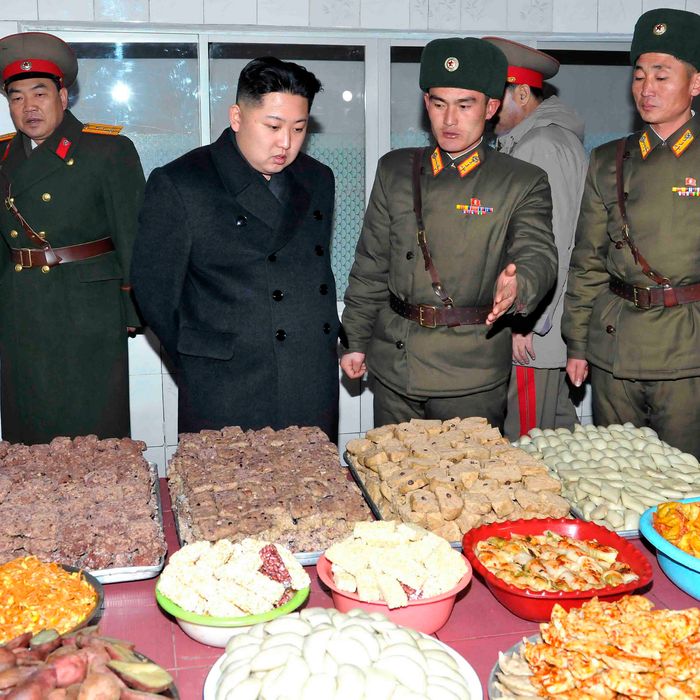 The freshness looks … questionable.
Photo: KCNA/Corbis
For as mysterious as Kim Jong-un remains, it's clear that the North Korean leader almost certainly loves cheese and, from time to time, a nice stroll among some mushrooms. That might all help explain why many of the country's real, just-released "patriotic slogans" — a propaganda tool that's "typical of most totalitarian states," according to one expert — appear to demonstrate an odd commitment to locavoreism, environmental concern, and the Slow Food movement (or, at the very least, try to convince citizens that the country isn't affected by malnutrition and famine). Here are Grub's favorites:
· Let us turn ours into a country of mushrooms by making mushroom cultivation scientific, intensive, and industrialized!
· Let this socialist country resound with Song of Big Fish Haul and be permeated with the fragrant smell of fish and other seafoods!
· Make fruits cascade down and their sweet aroma fill the air on the sea of apple trees at the foot of Chol Pass!
· Grow vegetables extensively in greenhouses!
· Speed up the work to make foodstuff factories fully automated, germ- and dust-free!
· Produce larger quantities of meat, eggs and milk holding high the banner of science-based livestock farming!
· Let us carry through the great Generalissimos' instructions on "grass for meat"!
[BBC]