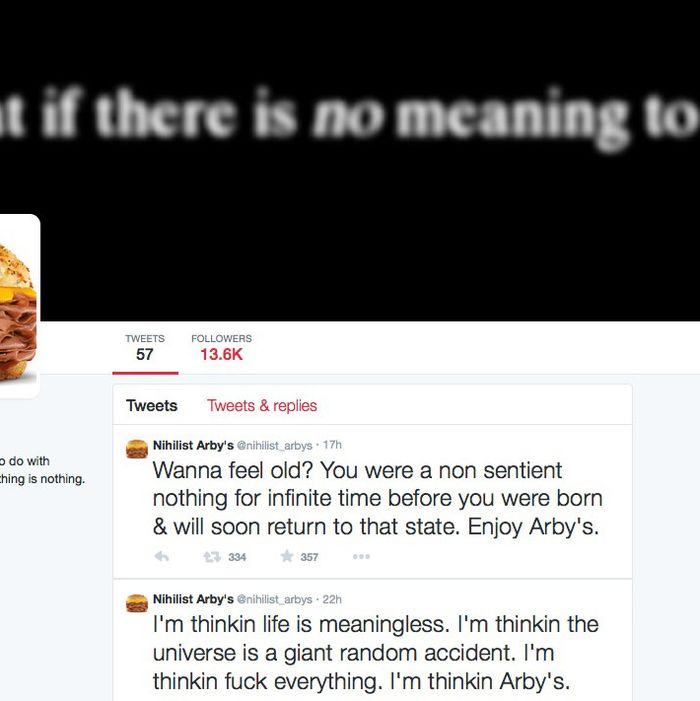 So good.
Photo: @nihilist_arby's/Twitter
It's no surprise that the Nihilist Arby's account has become a Twitter sensation. But unfortunately for Arby's, Adweek looked at some Twitter analytics and reports the parody account is now beating the pants off the real one: It has a 113 percent per follower "engagement rate" — one of those internet metrics that seems important now but that we probably won't care about in five years — for the past four weeks, but the main thing to note is that basically all of its tweets get a slew of retweets:
Your sad existence will pull your soul to pieces, and we do the same thing to animals and put em on buns, because fuck it. Arby's: fuck it.— Nihilist Arby's (@nihilist_arbys) January 27, 2015

Arby's, by comparison, may have hit the jackpot by trolling Jon Stewart, but it has an "engagement rate" of just 4.3 percent while routinely churning out duds like this:
It's an after dinner mint for when you're feeling fancy. #MintShake pic.twitter.com/RBnBJ87Ooh— Arby's (@Arbys) February 13, 2015

The irony, though, as Adweek points out, is that Nihilist Arby's success might just directly correlate to increased sales at the real Arby's. Because, seriously, who actually leaves you more interested in these new limited-time jalape–o hush puppies?
.@twistofnate correct. Hush puppies, however are, much like you, and indeed all of us, here for a limited time.— Nihilist Arby's (@nihilist_arbys) February 4, 2015

Hushpuppies. Free. To a good home. Today only. Get coupon here: http://t.co/dN4xz7n4Yr pic.twitter.com/ENj44VMXtT— Arby's (@Arbys) February 5, 2015

[Adweek]