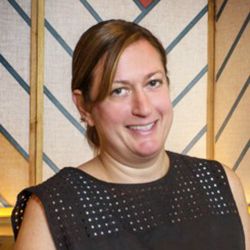 Lilia will open this summer.
Photo: Paul Wagtouicz
This week, Missy Robbins announced her full-on return to professional cooking: She's opening an Italian restaurant in Williamsburg — called Lilia — with Matt Kliegman, the co-owner of the Smile and Black Seed. It's a much-anticipated comeback, as Robbins stepped down from A Voce and A Voce Columbus (where she earned Michelin stars) in May of 2013, before briefly helping launch Laura Maniec's second location of Corkbuzz. She's been adamant about not wanting to rush the process of opening her own restaurant — so we reached out to talk to her about her plans.
We've talked before about you taking the time to find the right project. Why is this the right fit?
Matt found the space, but I was a little hesitant to go to Brooklyn. My life is really in Manhattan: I live here and my goal was to open in the West Village. That was really the dream. But, as the search went on, I wanted to be open-minded. I always said that I didn't want to open a restaurant just for the sake of opening a restaurant. I wanted to find a really cool space and do it with the right people.
And when I saw the space, it was really unique and amazing. It's a former auto-body garage, and it just has this amazing height on the ceilings, and amazing windows. In Williamsburg, there's a real opportunity for me to do something very different than I've done before. I've worked in all sorts of high-end neighborhoods my whole career, and very high-end places. This still allows me to cook my food, but also be a part of a community that I'm not totally familiar with, and get out of my comfort zone.
How long did it take you to decide?
It took me a long time to make the decision. It was a lot of contemplation and a lot of getting to know Matt. I started talking to Matt in the summer, actually.
There are no guarantees in life. I met with a lot of great people over the last year and a half, and there were a lot of opportunities out there. Matt brings something a little different to the table. He's a downtown guy, and had a raw enthusiasm for this project.
And when's your projected opening date?
We're shooting for early summer. Construction's working.
You've said that you're going to serve "your food." Can you elaborate?
I know that's a weird thing to say, but I'm 43 years old — you can't just all of a sudden change the way you cook. First of all, we're going to have a really beautiful, wood-burning grill, which will be a big centerpiece. I still really want to focus on pasta. And there'll be a big focus on fish and vegetables. The food will be very similar to what you've seen me do before, but a little toned down. The place is definitely more casual than A Voce.
So a lower price point, too?
It'll be a little lower than A Voce. We want to be a fabric of the neighborhood, and we have this to-go café component as well — a very small café. We're a couple blocks from McCarren Park so, you know, we hope we get a lot of traffic from that.
I remember you said that during your time off, you prioritized your health. Will that translate to your cooking at the restaurant?
That's more of a personal thing, but I definitely think that my viewpoint on food has changed a lot, and that it will translate to the cooking. But pasta is like my first love. I want to cook really great, crave-able food again, but I don't use a crazy amount of butter, anyway. I turn more toward vinaigrettes and acids and herbs and chiles to look for flavor, rather than sort of heavier ingredients.
Does fine dining still appeal to you?
I left to reassess what I wanted. That doesn't mean that I never want to do fine dining again — I do. It doesn't mean that I don't want to work in Manhattan — I do. To me, this is a great stepping stone, and it's a fresh start … Once you see the space, you'll understand.
How do you think the restaurant world has changed since you left?
I don't know that I pay that much attention to it, to be honest with you! But I definitely think people want to create accessible restaurants. Restaurateurs seem to want to make people comfortable and want to create the sort of environments where people want to come often.
I don't think that means that fine dining isn't happening, because it's certainly happening — and it's exciting what's happening in it. And again, it's not that I never want to do that again. But I want to have fun. That's part of it, also. I've worked really hard my whole life, and I've taken this time off, and one of the things that I accessed was that I sort of lost the fun of being in the restaurant, and I'd like to get that back. Getting to open and create something from the start, and having one restaurant for a while — which will be the case — will be really cool for me.