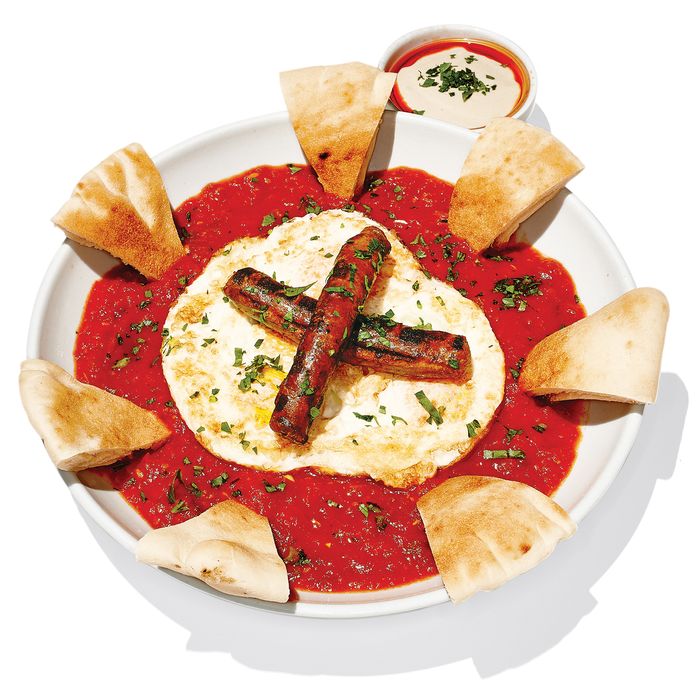 It took veteran food writer and former Times restaurant critic and New York contributor Mimi Sheraton a decade to write her characteristically authoritative culinary guidebook, 1,000 Foods to Eat Before You Die (Workman; $25), which, as you'd expect, reads like the bucket list to end all bucket lists for food obsessives. But what if your time on Earth (and, specifically, in New York) was limited, say, to the end of next week? "I probably wouldn't have much of an appetite," says Sheraton. Still, at our request, she managed to narrow down her highly opinionated 914-page tome to five favorites with some select runners-up. Working your way through the book is undoubtedly a lifelong project, but since you never know what the future holds, you might want to knock these off first.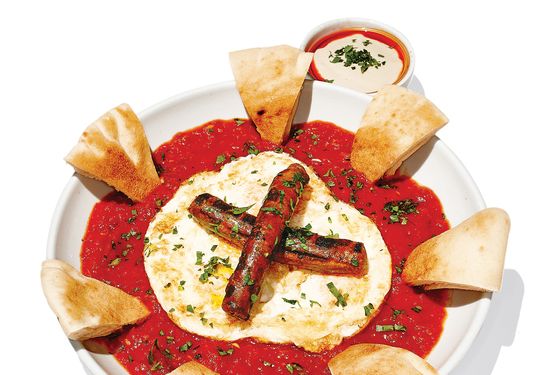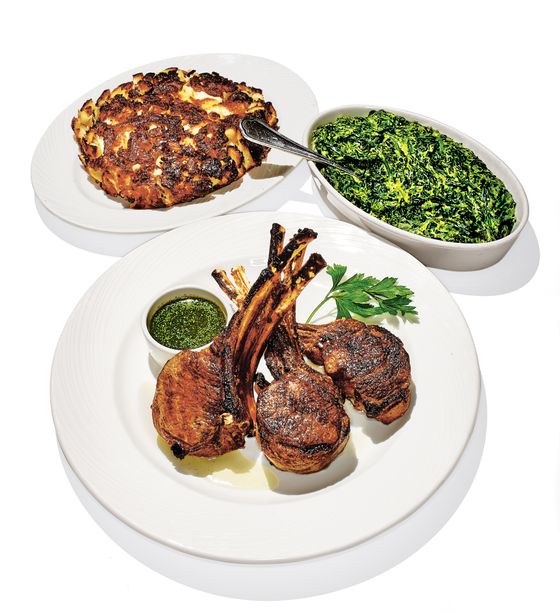 Double-Rib Lamb Chops at the Palm
Sheraton wrote for this magazine in the 1970s, back when the office was located on Second Avenue and editorial meetings were sometimes held, incredibly enough, in the Palm's upstairs dining room. She gave the restaurant a four-star review shortly after she became the Times critic in 1976, and still loves the place, but not for the obvious reason. "Lamb is my favorite red meat," she says, "and the double-rib lamb chops at the Palm are pure heaven. I like them very rare with creamed spinach and hash-brown potatoes. I pick them up and gnaw at the bone." What does she think of the restaurant's recently installed calorie counts right there on the menu? "It's obscene!"
837 Second Ave., nr. 45th St.; 212-687-2953.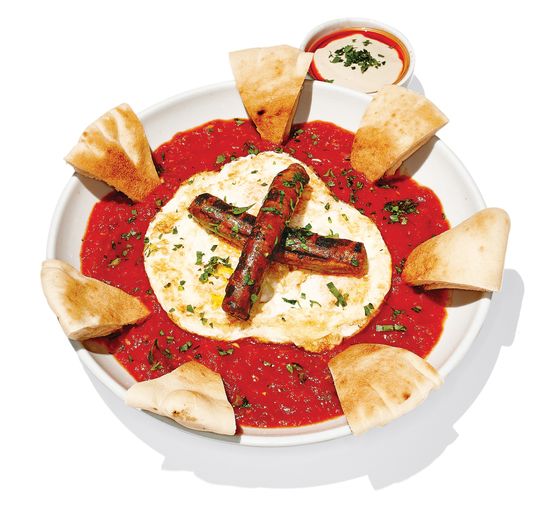 Chakchouka at Mémé
Sheraton considers the food of the eastern Mediterranean and North Africa as very much up-and-coming, owing in no small part to the influential Israeli chef Yotam Ottolenghi. "It's sort of the next step from Italy, Greece, and Spain," she says. Chakchouka (also spelled shakshuka), or eggs cooked in a sauce of tomato and peppers, is especially popular in Israel and one of Sheraton's favorite representative dishes. She had her first taste at a restaurant called Dr. Shakshuka in Old Jaffa outside Tel Aviv and says the version at Mémé in the West Village is just as good. "It's seething. It's spicy. If it isn't hot enough, they can give you some harissa," she says. "You can have it with merguez, but I don't. They serve it for some strange, happy reason with three eggs. I always say I want the egg whites set and the yolks runny."
581 Hudson St., nr. Bank St.; 646-692-8450.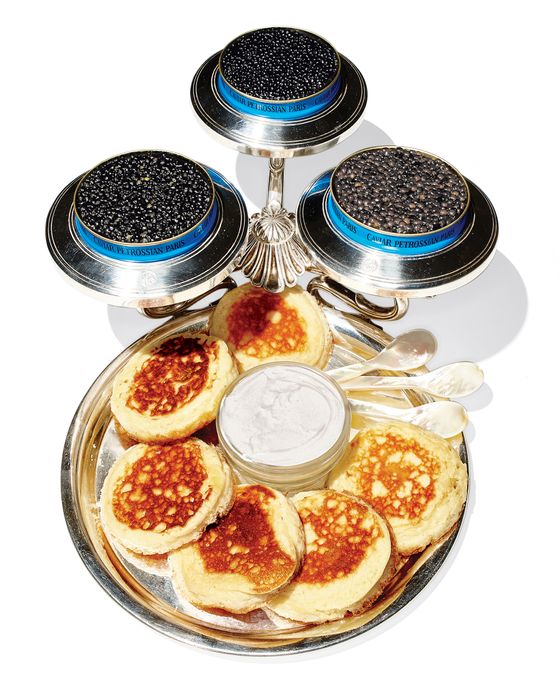 Caviar and Blini at Petrossian
A grand old-fashioned caviar tasting with buckwheat crêpes is at the top of Sheraton's list of things you should do before it's too late. Beluga caviar is illegal in the U.S., but Petrossian's farmed American and Chinese alternatives suffice. And while the best caviar requires little more than a thin slice of toast and a squeeze of lemon, Sheraton makes an exception for blini. "They have a nice cushiony effect, a nice neutrality that carries the roe's saltiness and the slightly musty flavor that good caviar has." Nothing wrong with enjoying a tin of caviar and a bottle of ice-cold vodka at home. But according to our expert, to partake of this exceptional treat in an elegant café or restaurant is "something out of Gigi or the Belle Époque."
182 W. 58th St., nr. Seventh Ave.; 212-245-2214.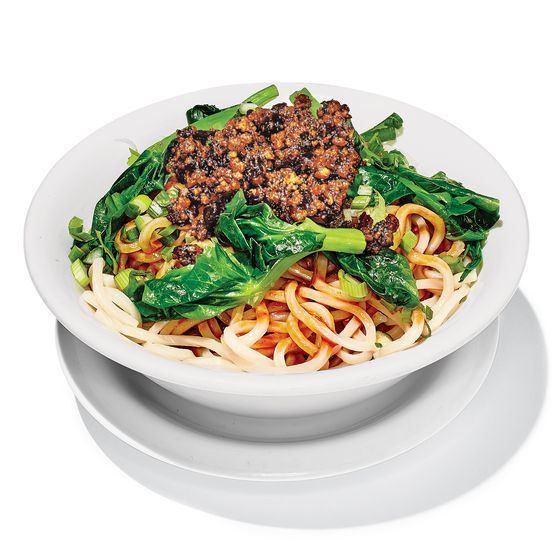 Dan Dan Noodles at Wu Liang Ye
For a while, Wu Liang Ye had a few New York branches, but this is the only one Sheraton ever thought was truly great, which is probably why it's the only one that still exists. "I think it's the best Sichuan restaurant in New York," she says. "And I love the crazy setting in that sort of Victorian townhouse." As for the dan dan noodles—Sheraton, more than a bit of a heat freak, considers them perfectly chewy with a nice bite against the teeth and suitably incendiary. "They know me, so they really make it spicy."
36 W. 48th St., nr. Sixth Ave.; 212-398-2308.
Escargots à la Bourguignonne at Bar Boulud
Where did Mimi Sheraton first eat snails? "I can tell you exactly," she says. "It was at a place called Brittany du Soir on Ninth Avenue. I was an assistant junior editor-home-furnishings writer at Seventeen, and my editor took me to a lunch at the restaurant, where James Beard was introducing some new Presto cooking appliance. The first course was escargots in their shells. I was gone at the first bite." Today, she recommends Bar Boulud, where the pedigreed gastropods are prepared in the classic style, with plenty of butter, garlic, and parsley, and served with potato croquettes. "I break open each croquette and use that to mop up each cup of leftover butter. When I run out of potatoes, I reach for bread."
1900 Broadway, nr. 64th St.; 212-595-0303.
**************
And Five Runners-Up, Should Time and Appetite Permit
Clams on the half-shell at Grand Central Oyster Bar
"Clams are my Brooklyn summers at Manhattan Beach and Sheepshead Bay when Lundy's was Lundy's and had an outside clam bar," says Sheraton. "Whenever we came back from the beach, me and my friends, we would stop at that window and get half a dozen cold, wet clams after a day in the saltwater and the sun. And now the Oyster Bar in Grand Central is the closest to that experience for me—standing up at the outside window, not sitting down."
Lower level, Grand Central Terminal; 212-490-6650.
Spaghetti Cacio e Pepe at Sandro's (off-menu)
"I love the sort of dryness, and since I love peppery things, I love biting into the little nuggets of coarsely ground black pepper against the cheese that gets just a little bit creamy. I had it first in Rome at a place called Matricianella. Sandro's is my favorite Italian restaurant. If I'm going to be serious, that's where I go."
306 E. 81st St., nr. Second Ave.; 212-288-7374.
Pizza Rustica at Numero 28
I'm not too big on the very new, very wet pizzas that are supposed to be what they have in Naples. I like the old New York style, which if I want I would go to John's. But halfway between them is No. 28 on Carmine Street, and they do just the right kind of crust: It's crisp and blistery at the end but not too thick in the middle. They have very good tomato-flavored smears on top, and I like the Rustica, which has little bits of green pepper and crumbled sausage meat—not pepperoni, because pepperoni gets too hard and leathery. I like to sit in the tiny little room where the oven is, especially on a cold winter night.
28 Carmine St., nr. Bleecker St.; 212-463-9653.
Chawanmushi at Brushstroke
I love that warm, custardy flavor. It's very sensual. And I like when it has little bits of ginkgo nuts and shrimp and herbs in it. When I wrote a book called The Whole World Loves Chicken Soup, chawanmushi was a version of that, and the Chinese have a version where they steam the egg custard and have a clam at the bottom. I love the silkiness; there's something dreamy about chawanmushi. And the little cups are cute.
30 Hudson St., at Duane St.; 212-791-3771.
Babka at Breads Bakery (a post-publication discovery)
The babka bowled me over, the way that moist cake wraps around the chocolate. You can't get neat slices, but that's all right; you kind of pick it up in crumbles. Now that I'm living alone and finishing a whole babka is difficult, I buy the chocolate rugelach, which has some of the same qualities of the dough and the fudginess. The place is lethal for me. I try not to get fat again. I lost 70 pounds after I left the Times.
18 E. 16th St., nr. Union Sq. W.; 212-633-2253.
*This article appears in the February 9, 2015 issue of New York Magazine.