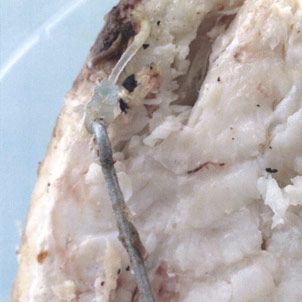 Not good.
Photo: Courtesy of Jay Dankner
While it's not as bad as a dead frog, it's still horribly unpleasant to find a piece of metal in a dish. That's just what happened at Villagio on the Park, a fairly upscale restaurant on Central Park South, where a female customer discovered a two-inch-long metal fish hook — with a piece of fishing line attached — inside her $42 grilled branzino.
The hook ended up cutting her mouth, and causing so much emotional turmoil that she now refuses to eat fish altogether. She's suing the restaurant for both physical injuries and psychological trauma, and apparently Villagio on the Park has refused to pay for even her medical bills.
On the bright side, the restaurant can definitely turn this PR nightmare around: "We sell fresh-caught fish! So fresh that we don't even have time to remove the hook!"
[DNAinfo]