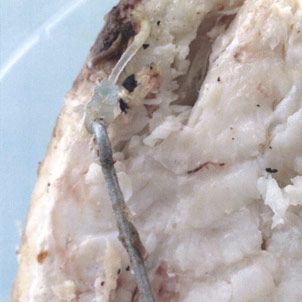 Trouble.
Photo: Courtesy of Jay Dankner
Yesterday, news broke that a customer at Villagio on the Park discovered a two-inch-long metal fishhook inside her $42 grilled branzino and went on to sue the New York restaurant for physical injuries and psychological trauma.
Now the owners are fighting back: Apparently their branzino is farmed and always caught in nets. That's a stronger argument than, "First, the hook was 3 inches long. How does that go in your mouth and you don't notice it?" — something partner Alexander Kalas also said. (Some people take big bites, okay?)
That same partner says he refused to settle the case for $50,000 — calling it extortion — and said he and his team are filing a counter-suit because they believe that the customer planted the fishhook. Oy vey!