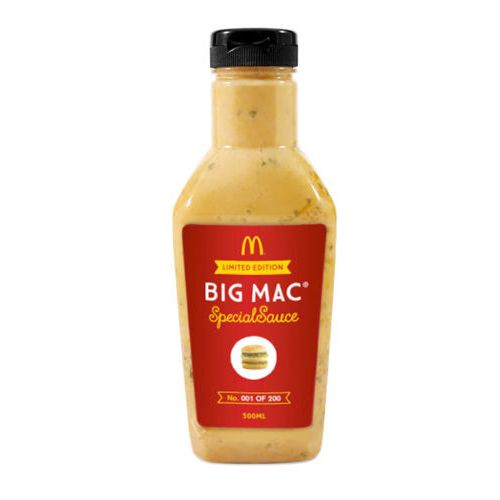 You can hear the jingle in your head now.
If re-creating "Special Sauce" proved the Achilles' heel of your DIY Big Mac dreams but you have loads of money to burn, today you have won. McDonald's Australia is rolling out the first-ever squeezable tubs of the condiment. Though there will be only 600 25-milliliter containers available to customers on a first-come, first-served basis. The chain has also unveiled 200 full-size, individually numbered commemorative bottles, the first of which it put on eBay last night.
The Big Mac's sauce has never been quite as mysterious as the KFC Original Recipe or the Halal Guys' white sauce. Actually, if you cared to, reverse-engineering was mostly a matter of figuring out how much mayo, pickle relish, mustard, white wine vinegar, garlic powder, onion powder, and paprika properly balanced out the proprietary mixture. The executive chef for Canadian McDonald's once spilled the beans and showed everyone how to make it at home:
Even still, it's not the real stuff if you make it at home, so bidding for the commemorative bottle has already gotten alarmingly high — to about $18,000 with more than a week of bidding left. It comes in some sort of special wood box: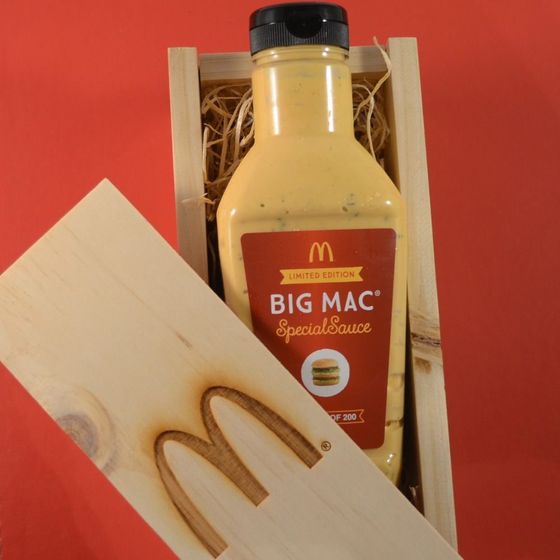 "It's going to be interesting to see just how much people are prepared to pay," says the company's Australian chief marketing officer.