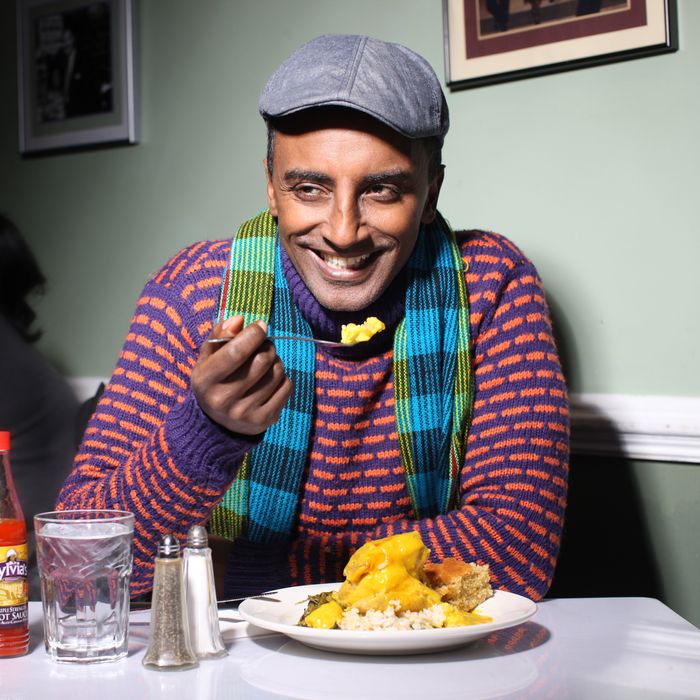 Samuelsson, at Sylvia's, which the chef says "has the feel that I want to carry on in my restaurants."
Photo: Melissa Hom
Marcus Samuelsson doesn't seem like the kind of guy who has a lot of free time: He's the owner of Red Rooster and Ginny's Supper Club, of course, but he's also working on a new Harlem restaurant (Streetbird, opening this spring), appearing regularly on television shows like Chopped, The Feed, and The Taste, and heading up the first-ever Harlem EatUp! festival, which starts on May 14. (And that barely scratches the service of his many, many projects.) But day-to-day, it turns out Samuelsson lives a fairly low-key life — or at least he did this past week — cooking breakfast with his wife, stopping for tacos in his neighborhood, and enjoying dim sum with friends after a soccer game.
Thursday, February 12
I wake up early every morning and make sure that I have plenty of time to go for a run, sit and have breakfast with my wife, and answer calls from Sweden — since they are already on the go with a six-hour head start. Today was a little different, though, because I was shooting Chopped. We start pretty early in the morning, and there's a full day of eating ahead, so I just grabbed a coffee on my way down to Chelsea Market.
The rest of the day was a roller coaster in the Chopped kitchen. I, of course, am not allowed to talk about the dishes we ate, but this was a holiday-themed episode. Chopped is different from other shows because you really eat, you don't just taste. It's a lot of food! On a normal filming day, I don't eat anything before or anything after.
But it happened to be Aaron Sanchez's birthday, so we did sneak out for a quick snack at Colicchio & Sons. I had just enough time for a salad, so I had the winter greens with quinoa and pumpkin oil.
After a couple of more hours on the Chopped set, Geoffrey Zakarian, Aaron, and I headed back out and ended up at Toro. I had a nice glass of red wine and the salt-cod fritters with tempura-lemon rings and aïoli. Salted fish is one of my favorite flavors, and anytime I see it on a menu, I have to order it, since it reminds me of the food I grew up eating in Sweden. I also had a few bites of the pork belly with haikuri turnips and fennel mostarda. The flavors were perfect. I ended the night with another glass of wine to toast Aaron on another year.
Friday, February 13
I woke up at my usual time, 6 a.m., and had a glass of grapefruit juice before going on a run. Lately, I spend my runs going over the menu for my new Harlem restaurant, Streetbird, in my mind. All I can think about is chicken: How to cook it? Who does it best? Should I brine it? Do I have the right seasoning? After my jog, I grabbed a muffin and headed to the office.
In between meetings, I headed downtown to tape the Meredith Vieira Show, where I demo-ed chicken and gravy, and discussed how to cook on a budget. I ended up snacking on some of that chicken, which held me over before I headed back uptown.
Before heading back to the office, I stopped quickly at Red Rooster and taste-tested the fermented batter we are working on for one of Streetbird's tacos. I have been eating more of these in the last two weeks than anything else, and I really think we've narrowed down the recipe. Streetbird's menu is going to be a celebration of Harlem's old-school hip-hop culture and what people are eating now — tacos, noodles, rotisserie chicken.
The afternoon was a long string of meetings — the kind that really build up an appetite. It was Friday date night, so my wife, Maya, and I headed downtown to one of my favorite restaurants to see one of my dearest friends, Jonathan Waxman at Barbuto. He makes the best roast chicken in town. If you haven't had it, go tonight. I paired that with their equally famous kale salad and a glass of Gruner, and our night was perfect.
Saturday, February 14
This is the longest amount of time in the last few months that both Maya and I have been in town, so we woke up a little late. Maya and I had doro wat and scrambled eggs for breakfast with Earl grey tea and toasted injera. Her sister visited recently, and we made enough doro wat to last for weeks, so we have it with everything. It's this spicy stewed chicken dish from Ethiopia that I never get tired of, and it's easy to heat up.
In the afternoon, she and I went for a walk before I had to go into the restaurant for Valentine's Day dinner service, and we grabbed some tacos at my favorite taco place on East 116 Street, El Aguila. I had a carnitas taco and a bite of Maya's vegetarian taco. The tacos there are the best because the tortillas are handmade, and they actually use masa. East Harlem is the spot for authentic tacos in Manhattan!
It goes without saying that I, like most chefs, spend Valentine's Day in the restaurant. It's a busy service, which means there is no time to eat, but only time to taste-test sauces, sides, and temperatures as plate after plate of yardbird, meatballs, or shrimp and grits fly out the kitchen.
Maya and I headed to Vinateria on 118th for a late Valentine's Day dinner. Another neighborhood spot. I wasn't too hungry, so I ordered the golden-and-red-beet salad with yogurt and crispy pistachios, and we split a bottle of the Sauvignon Blanc. I really love heading there for a glass of wine and something light to eat.
Sunday, February 15
Since Maya and I ate so late on Saturday, breakfast was more of brunch. We went over to the West Side to visit Melba's and split a plate of the French toast and over-easy eggs. I've known Melba for years, and if you want great food and the warmest kind of hospitality, her place is where to be.
I stopped for a coffee on my way to Chinatown to play soccer with my friends. After games, we always make a habit of grabbing a bite as a team. Today, we picked dim sum at Dim Sum Go Go, and I decided on pork-and-shrimp dumplings.
On my way back uptown, I grabbed a beer at Forgtmenot , this great little bar on Division Street that happens to be right by some of the best graffiti in the city. What most people don't know is that graffiti inspires me just as much as food. I'm always looking for ways to combine the two.
Maya and I had tickets to the NBA All-Star Game, and both agreed that we couldn't count on eating at the stadium, so we stopped at Giorgione on Spring Street. I had the linguine alle vongole — classic pasta and clams in a classic New York restaurant.
I took her to Barclays, which was the wrong stadium! That did not make me look cool. We missed the first half-hour, but it was okay. The game was a blast. I got away with only having a few beers, and was really happy to have eaten dinner beforehand.
After the game, we stopped by 67 Orange Street, a cocktail bar on Frederick Douglass Boulevard. Karl's [Franz Williams] spot is really intimate and familiar, and great for late-night drinks in my neighborhood. I don't have cocktails that often, but when I do, I have a Manhattan. Karl's version, the Upper Manhattan, is my favorite, and it's made with two different kinds of bitters.
Monday, February 16
I woke up and had a cup of coffee, as well as a piece of toast with avocado and sea salt on my way out the door.
I had a photo shoot in the afternoon at Sylvia's, and decided to stay for lunch. Sylvia's is one of those iconic New York spots that I am humbled to share my block with. It's the kind of restaurant that served as a gathering place for the past residents of Harlem, and has the feel that I want to carry on in my restaurants. Instead of the fried chicken, I had an iced tea and the chicken and dumplings — plain and simple, down-home delicious.
I spent the rest of the day planning and taste-testing our menu for Mardi Gras. There's always a battle over making proper gumbo. I tasted it over and over until it was just right.
Since our office was closed on Monday, I made it home a little early, and Maya had cooked dinner. She made lamb with Brussels sprouts and chickpeas, and on such a cold night, it couldn't have tasted more delicious.

Tuesday, February 17
One of the few things that I always keep in my fridge is Swedish cod roe. I had that on whole-wheat toast for breakfast with some avocado, and then grabbed a coffee on the go as I made my way over to the restaurant.
We delivered meals in Harlem through Citymeals-on-Wheels with Daniel Boulud and Herb Karlitz, so it was great to catch up with the both of them. I'm trying to get my team to start delivering meals, since it was a really positive experience, and the recipients were so truly appreciative.
Afterwards, Daniel came back to the restaurant, and we had to have some fried chicken downstairs at Ginny's. I love having a legend like Daniel at the restaurant, especially when he's eating my fried yardbird. He's a close friend of mine, as well as a mentor.
Rooster was in full swing for Mardi Gras, so I just had a taste of the gumbo before heading out. It turned out exactly as it should. I love when we have a big band upstairs, and everyone is feeling festive and dancing right at the bar. I headed over to Malecón and ordered the half chicken "Malecón-style," since it is my job to be obsessed with rotisserie chicken right now. It was really juicy and delicious.