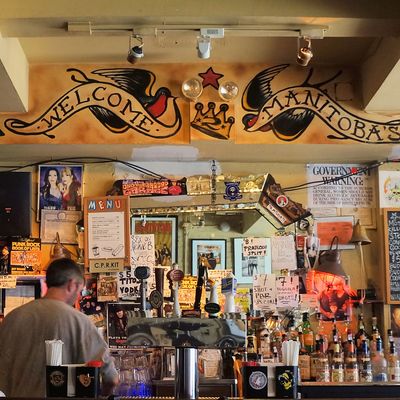 (Still) open for business.
Photo: Augie Ray/Flickr
Famously crusty Alphabet City dive Manitoba's, one of NYC's last bastions for punks and people who love them, isn't going anywhere after all. In mid-January, co-owner Handsome Dick Manitoba said that he'd been forced to settle a lawsuit "for a cumbersome amount" and would likely close as a result. "This is a battle cry for help," he and Zoe Hansen, his wife and co-owner, told everybody at the time. As EV Grieve reports today, the people listened.
The bar raised over $31,000 on Indiegogo from some 688 people in dozens of countries (they got CBGB photos and Dictators posters as perks), more than enough to "pay the man demanding money, fix the bar to the standards required, buy, package and mail many hundreds of perks, [and] throw my lawyers, who have thus far worked for NOTHING and asked for nothing, SOMETHING!" The owners bemoaned the "alarming rate" of East Village gentrification in their cry for help — these 30Gs ensure Manitoba's can keep standing in its way for the foreseeable future.
It turned out the lawsuit wasn't about noise complaints, but rather ADA compliance, filed by a man who DNAinfo reported has sued 37 other restaurants and bars, including next-door neighbor Casimir. Casimir worked in a compliant ramp as part of much larger renovation plans as it converts into the new French tapas joint Pardon My French.