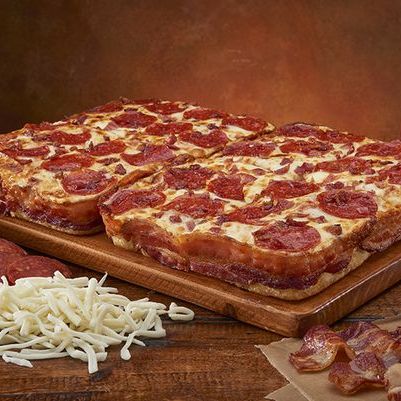 You really shouldn't be ordering two of these.
Photo: Little Caesars Enterprises
Just when you thought junk-food overload may have hit a saturation point — not to mention bacon overload — pizza chain Little Caesars has come along to announce a new Deep! Deep! Dish Pizza that includes three-and-a-half linear feet of bacon wrapped around crust. It rolls out nationwide this coming Monday. Bacon. Over three feet of it. Wrapped around the whole pizza.
In a statement, Caesars CEO David Scrivano just goes ahead and points out the obvious: "Every time you take a bite out of the crust, you'll get bacon." The cost is $12 — twice the price of Little Caesars' Soft Pretzel Crust Pepperoni Pizza, which the chain is decommissioning as an official crust now that bacon is in the mix.
And, in case it wasn't clear, this monstrosity is not healthy at all: A single slice has 450 calories and 23 grams of fat (even worse than the burrito you probably order at Chipotle). But it's safe to assume that the people ordering an entire bacon-wrapped pizza are not really worried about calorie counts. Coronary blockages might be a concern, though.
[USAT]