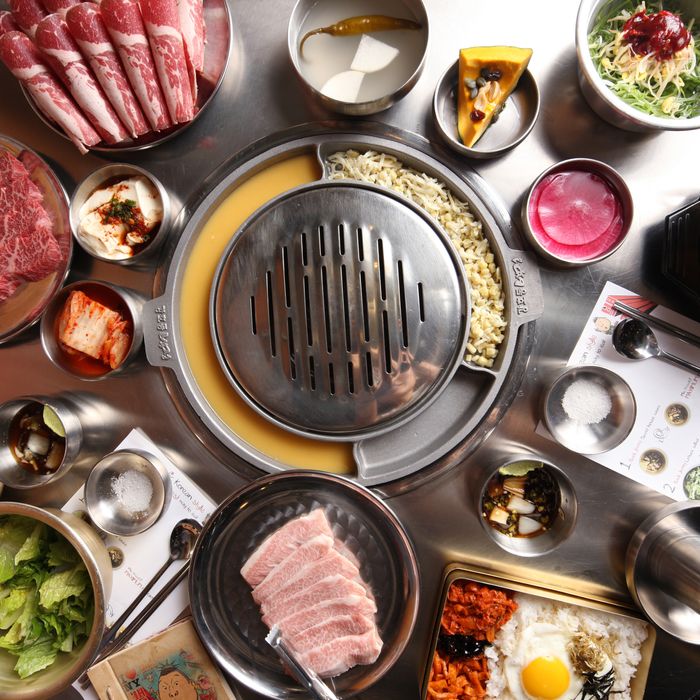 Korean barbecue = romance.
Photo: Melissa Hom
Dinner on Valentine's Day is one of those things that can easily slip into self-parody: Even otherwise-excellent restaurants can feel tempted to break out the whipped cream and take-home goody bags of corny love tchotchkes when February 14 rolls around. Don't risk it: Grub's suggestion, if you're not staying in and just opening some nice wine together, is to hit a restaurant that will be treating things like another Saturday night. And, in fact, lots of great places will even be taking walk-ins like it's no big deal. Here are 16 low-key spots where you're practically guaranteed a non-cheesy Valentine's dinner.
Pok Pok
The couple that eats chicken wings together stays together. And after dinner, you can continue the evening at Whiskey Soda Lounge.
Threes Brewing
Have you visited this new 8,000-square-foot brewery in Gowanus yet? There's plenty of beer, of course, plus Rucola is the current guest food partner.
Jack's Wife Freda
This relaxed bistro is perfect for a no-frills Valentine's Day dinner, complete with superb peri-peri chicken.
GG's
Spend your evening here with a Grandma pie, or preorder a heart-shaped one for $24.
Diner
There is a special menu — beef-heart tartare, sea trout stuffed with guinea breast — but the Williamsburg restaurant isn't taking any reservations, per usual, so you can stroll right in.
Kang Ho Dong Baekjeong
This new Korean barbecue spot recently opened a Manhattan flagship, and the tables in the main dining area are all available for walk-in diners. It's the ideal night to wing it.
Pies 'N' Thighs
Swing by the brand-new Canal Street location of the southern restaurant, where you can eat your feelings in the form of sourdough doughnuts.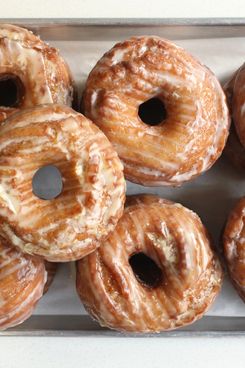 Mile End Deli
Nothing says "I love you" more than platters upon platters of smoked meat and pickles.
Mission Chinese Food
Show up early — very early — to find out what all the fuss is about, or at least have a drink at the bar downstairs.
Via Carota
Both Buvette and its new sister restaurant refuse to take reservations, which will work in your favor on Valentine's Day. In fact, on New Year's Eve, the former was as quiet as it's ever been.
Parm
Instead of boring old chocolate mousse, how about the restaurant's famous ice-cream cake? It'll be decidedly more low-key than any other of the Torrisi-owned spots.
Ramen Lab
If you're going to have a Lady and the Tramp moment, do it over a bowl of ramen.
RedFarm
An evening of dim sum sounds pretty much perfect, and unlike Decoy, reservations aren't required (or even accepted). Plus: The restaurant's offering a special chocolate pudding.
Roberta's
It's business as usual at the Bushwick pizza haven — which is always fun and lively, and never the least bit cheesy.
The Spotted Pig
The power move is to share both the brown-butter gnudi and the blue-cheese burger.
Mu Ramen
If you don't feel comfortable playing the evening by ear, make a same-day reservation at this smash-hit Long Island City restaurant.