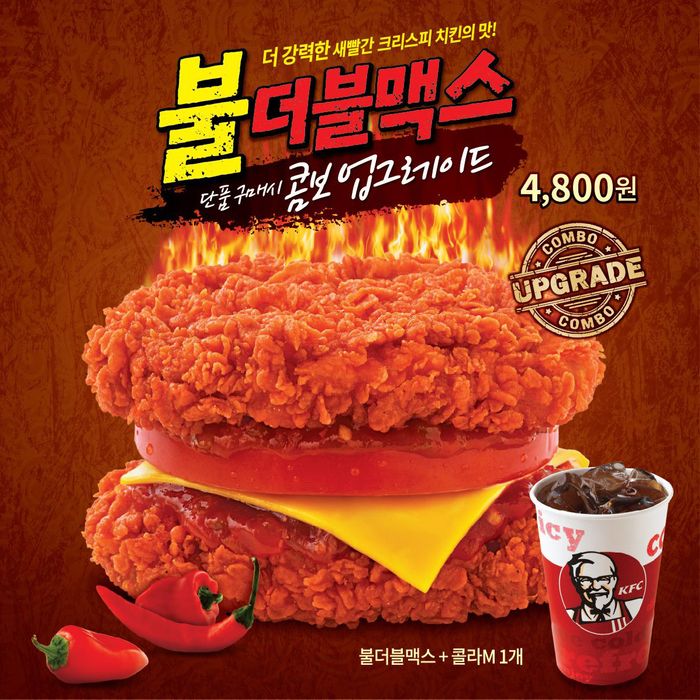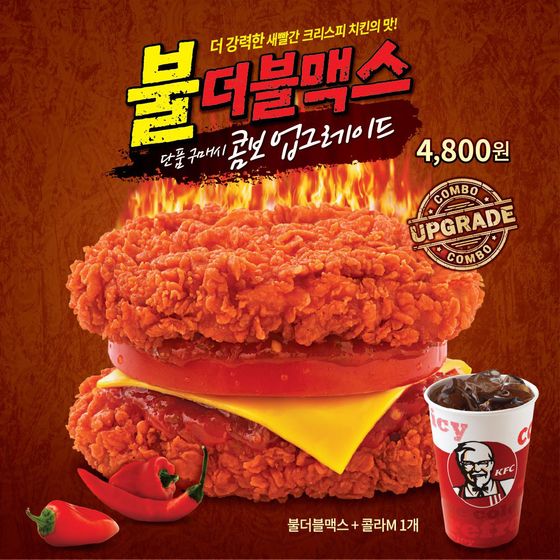 KFC Korea has added another entry to the chain's ever-growing line of Double Downs — something called the "Fire Double Maxx." As you'd guess from the name, the no-bread sandwich is big on spice: hot fried chicken, hot chili sauce, a slice of tomato, a slice of cheese.
First, the thing IRL:
흐ㅡ그흐그흐ㅡㄱ휴ㅠㅠㅠㅠ내사랑 불더블맥스ㅠㅠㅠㅠㅠㅠ pic.twitter.com/CY1zrVp1PO— 이미 죽어있는 사람입니다 (@NaNzsh) January 25, 2015

KFC 불더블맥스에 오리지널 한 조각 pic.twitter.com/xaCYDFnV81— Maxi (@nachthexeH) February 5, 2015

Spice lovers, take note: That red-orange-y color may understandably excite people familiar with Nashville hot chicken, an American culinary achievement that ranks right up there among the very best. Chef Sean Brock, of course, has become a sort of unofficial ambassador of the preparation, singing its praises wherever he can (as well as offering a version of it at his own restaurant). For the unfamiliar, here's Brock at Prince's in Nashville, which is one of the country's great hot-chicken Meccas:
Naturally, Prince's fabled recipe is top secret, just like the Colonel's, and if KFC sees fit to add this Double Down version to U.S. menus, it might have another big hit on its spice-covered hands.