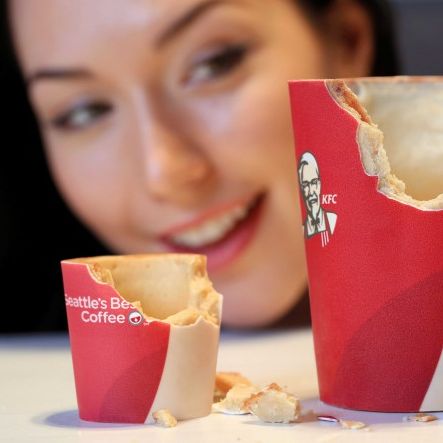 Surely one of many who cannot wait to eat their cups.
Photo: Courtesy of KFC
For its latest food-that-probably-shouldn't-actually-exist, KFC has gone beyond Double Downs and instead created edible coffee cups. (The gimmick is timed to the launch of Seattle's Best at all of KFC's U.K. stores.) So, what's the deal with this thing? The so-named "Scoffee Cup" is actually a cup-shaped cookie that's coated in white chocolate and sugar. Once your friendly KFC employee pours coffee in, the "cup" "slowly" softens as you sip — but hopefully not so much that you end up spilling now-sugary coffee all over yourself.
While the Double Down appeals to humanity's most primal, protein-craving instincts, this thing feels yanked from the head of Willy Wonka (or, ahem, Dominique Ansel, who introduced his own cookie cups like a year ago), but these things again go next-level because they are reportedly scented. "We've infused different cups with a variety of ambient aromas including Coconut Sun Cream, Freshly Cut Grass, and Wild Flowers," according to a rep for the food-scientist collective that created the cups for KFC. The smells "have a natural ability to evoke the positive memories we associate with warm weather, sunshine and summer holidays. Things that make everyone smile."
But don't go booking your plane tickets to London just yet to try one of these things. Metro, which broke the news, intimates they could be in U.K. stores by the summer. The delay is probably a good thing, because once this Pandora's box opens, who even knows what fresh-grass-and-chicken-scented horrors will follow.
[Metro UK]