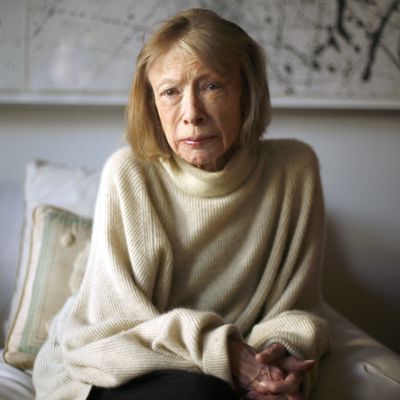 Goodbye to all that delivery.
Photo: Aristide Economopoulos/The Star-Ledger
Of all the possible rewards for donating to the Kickstarter campaign to finance the Joan Didion documentary, the one most appealing to Grub, of course, was her book of recipes. Fortunately, one of the backers — who shelled out at least $50 — has kindly shared a few recipes from the handwritten cookbook online.
They include borscht, deviled crab, artichokes au gratin, a parsley salad meant to serve 35 to 40 people, and desserts like crème caramel and shortcake — as if the general public needed yet another reason to love Didion. There's also good intel about Didion's party-planning tendencies, including whom she invited to eat and what she served: Patti Smith ate chicken hash with roasted yellow peppers, and Richard Roth enjoyed baked ham with Alice Waters's coleslaw — confirming that Didion is not only talented and stylish, but that she also has great taste in food.
And here's her recipe for crème caramel, which serves 12: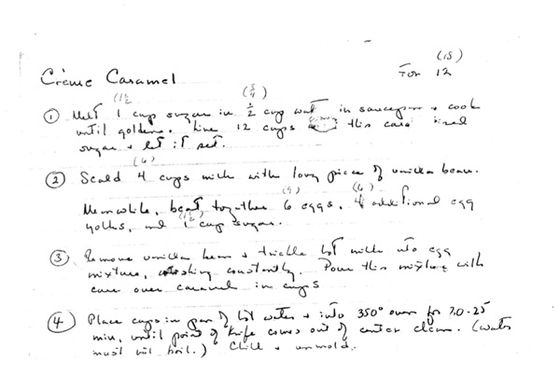 1. Melt 1 cup sugar in 1/2 cup water in saucepan and cook until golden. Line 12 cups with this caramelized sugar and let it set.
2. Scald 4 cups milk with a long piece of vanilla bean. Meanwhile, beat together 6 eggs, 4 additional egg yolks, and 1 cup sugar.
3. Remove vanilla bean and trickle hot milk into egg mixture, whisking constantly. Pour this mixture with care over caramel in cups.
4. Place cups in pan of hot water and into 350° oven for 20 to 25 minutes, until point of knife comes out of center clean. (Water must not boil.) Chill and un-mold.