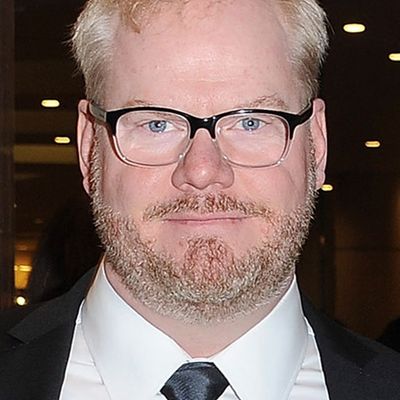 The company's new unofficial spokesperson.
Photo: Angela Weiss/Getty Images
That McDonald's "Pay with Lovin'" promotion didn't exactly roll out the way the chain probably hoped — given that stories quickly emerged from customers who mostly just felt humiliated when asked to "pay" for their meals by doing things like dancing or calling their parents. Of course, Jim Gaffigan realized quickly that there was some fodder there for a nice little Twitter joke.
But where Gaffigan saw fear, McDonald's saw opportunity.
@JimGaffigan Here's the deal: if you pay with Lovin' by doing 5 jumping jacks, everyone at your next US show gets McDonald's.— McDonald's (@McDonalds) February 2, 2015

So despite the fact that the promotion officially ended on Valentine's Day, the comic, Dad Is Fat author, and junk-food connoisseur "paid" with exercise as part of his show at the University of Kentucky over the weekend. If anything, it was a great way for Gaffigan to get the crowd on his side, since it meant McDonald's handed out fries and McGriddles to the entire audience, which now may be the largest, or only, group of people yet to actually be happy about this promotion.
Watch @JimGaffigan fulfill our Pay with Lovin' Twitter challenge. Reward: Free McGriddles & fries for entire audience pic.twitter.com/rLdPHoVigG— McDonald's (@McDonalds) February 22, 2015

Free McDonald's from the Jim Gaffigan show! #thankyouMcDonalds #GaffiganUK http://t.co/HJDDp035KZ— Kaitlin Lemaster (@KaitLemaster) February 22, 2015

Enjoyed Jim Gaffigan's standup show tonight. Thanks, @JimGaffigan & @McDonalds for the free food! pic.twitter.com/PKdkSgOaAD— Nathan Faulls (@trustfaulls) February 22, 2015

How did Jim Gaffigan end his show, he did five jumping jacks and we got free McDonald's!!!— Nicholas Cook (@ScapeGoat94) February 22, 2015

Normally, it would be disappointing to see a comic as beloved as Gaffigan side with a chain as reviled as McDonald's, but to be fair, he's not a fast-food apologist so much as he is a regretful consumer. "We know those commercials aren't realistic," he said in a nine-minute segment during his "Mr. Universe" tour. "I'd just like to see one commercial that showed people five minutes after that ate McDonald's — Uuggh. Now I need a cigarette…":