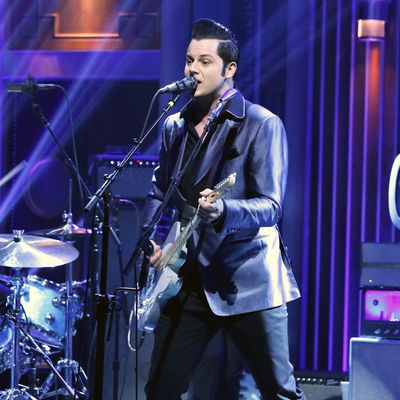 His band likes it chunky.
Photo: Douglas Gorenstein/NBC
First it was Morrissey canceling shows at venues that weren't willing to offer meat-free concessions, and now Jack White's booking agency has reportedly blacklisted the University of Oklahoma from all future performances after the school's campus newspaper published his contract and tour rider, which happens to include a recipe for the guacamole White's band wants served backstage, preferably around 5 p.m. The rider also states that they don't want it made too soon ahead of time, so as to avoid premature browning — and it had better be chunky.
The whole thing started as a result of White's performance at the school this past Monday. The Oklahoma Daily ran its story the night before, disclosing, among other things, that White was paid $80,000 for the show. Since White's performance, his booking agency — William Morris Endeavor — has notified the school that none of its artists will be performing there anymore.
But that all just feels like an aside to the actual story, which is the guacamole: In the original post, the school's paper also embedded the contract and the rider, and uploaded it to Google. And, as is the case with all riders, the list of snacks and drinks White and his band want backstage is fascinating. The list of stuff White wants in his dressing room is actually just mostly different kinds of water and booze, along with one pound of "freshly sliced, high-quality prosciutto," a package of beef jerky, and "Aged salami (whole) + a sharp knife to cut it."
The band, though, wants guac. And not just any guac. The rider specifically calls for "1 bowl of FRESH HOME-MADE GUACAMOLE" and helpfully includes the full recipe, which you can find right here, should you want to fire up your copy of Lazaretto and give it a try this weekend:
Jack White's Band's Chunky Guacamole

• 8x large, ripe Haas avocados (cut in half the long way, remove the pit—SAVE THE PITS THOUGH—and diced into large cubes with a butter knife. 3 or 4 slits down, 3 or 4 across. You'll scoop out the chunks with a spoon, careful to maintain the avocado in fairly large chunks.)
• 4x vine-ripened tomatoes (diced)
• 1/2x yellow onion (finely chopped)
• 1x full bunch cilantro (chopped)
• 4x Serrano peppers (de-veined and chopped)
• 1x lime
• Salt & pepper to taste
• Mix all ingredients in a large bowl, careful not to mush the avocados too much. We want it chunky. Once properly mixed and tested, add the pits into the guacamole and even out the top with a spoon or spatula. Add 1/2 lime to the top layer so you cover most of the surface with the juice. (The pits and lime will keep it from browning prematurely.) Cover with plastic wrap and refrigerate until served. Please don't make it too early before it's served. We'd love to have it around 5 pm.
This post has been updated with new information throughout.