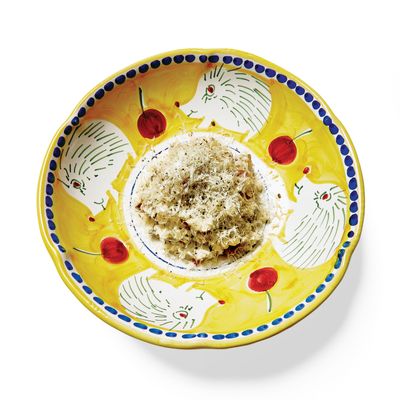 Santina's guanciale e pepe rice.
Photo: Bobby Doherty/New York Magazine
When you see rice listed on the menu at Santina, the new Italian restaurant from Mario Carbone, Rich Torrisi, and Jeff Zalaznick, you think risotto. But Santina's rice is something new. "The goal was to invert risotto," says Carbone. The rice in question, a short-grain sushi-style variety, is steamed in a rice cooker, then quickly tossed in a sauté pan with guanciale and pepper and finished with grated Pecorino — a riff on the Roman pasta dish spaghetti alla gricia. Unlike pasta or risotto, though, the effect is light and practically spalike, which is a pretty neat trick coming from the team famous for the gut-busting excesses at sister restaurant Carbone.
Mouse over or tap the image to read more.
On the menu at Santina, $16; 820 Washington St., at Gansevoort St.; 212-254-3000.
Photo: Bobby Doherty/New York Magazine
*This article appears in the February 23, 2015 issue of New York Magazine.
Related: What to Eat at Santina, Major Food Group's New Spot, Opening Monday at the High Line