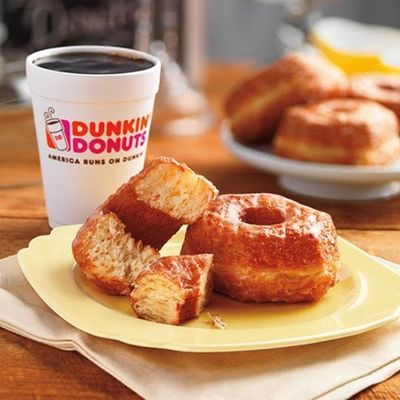 Here to stay.
Photo: Dunkin' Donuts/Facebook
It only took three months for Dunkin' Donuts to declare its Cronut knockoffs — the so-named "Croissant Donuts" — a massive hit. The chain will celebrate selling the 8.5 millionth-ish one — a unique milestone — by permanently enshrining the pastry on its menu. The chain's "DDelicious" version of the flaky glazed ring got mediocre-to-okay reviews when it debuted last November, but now it's got a permanent place on the menu, even though it was originally intended to be a temporary item.
There's more: No doubt realizing it has undercapitalized on this success, Dunkin' now promises its faux-nut's platform will "expand" in coming months. What does that mean? Well, the first move will be testing out a new flavor in New Jersey stores — "Boston Kreme." Meanwhile, the February Cronut flavor at Dominque Ansel Bakery is cherry blossom ganache and sour cherry gelée — a high-end combination that Ansel probably doesn't have to worry about Dunkin' Donuts swiping anytime soon.