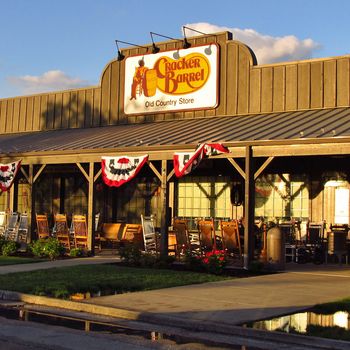 Maybe they'll serve mac-and-cheese burritos?
Photo: Jasperdo/Flickr
Just yesterday, Grub Street pointed out that, at this late stage, someone, at some point, has given nearly every kind of food imaginable the Chipotle treatment in hopes of hitting it big. But it looks like Cracker Barrel has found a market segment that has yet to be Chipotlified: its signature brand of country cooking that grandma and grandpa settle in for during the five o'clock early bird special.
Indeed, the Tennessee-based chain of restaurants that look like old-timey general stores announced its plans to open a "fast-casual" version as part of "an overall strategy to extend the brand." The first of this breed is expected to colonize strip centers by July 2016.
The company isn't saying much else yet, except that customers will be in for "a different type of guest experience" — which, of course, assumes they want that. Cracker Barrel restaurants do about $3.4 million in food sales, but what they're known for are rocking chairs and the general store, whose quirky tchotchkes, lotions, packs of bacon, and anachronistic audiobook rental service pull in another $900,000.
So what's the draw of an Old Country Store without the frills? And what kind of food will they be serving, assembly-line style? Time will tell.
[NRN]