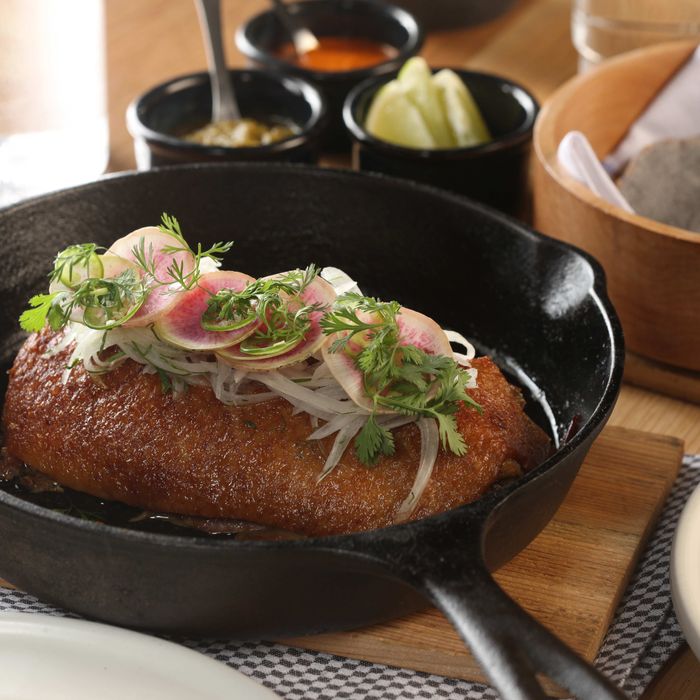 It's well worth $59.
Photo: Melissa Hom
After tallying up a string of excellent reviews and sporting a dining room that's basically always full, Cosme is officially a smash hit. And the standout, must-order dish is Enrique Olvera's duck carnitas — a feast of tender shredded meat and fresh, warm tortillas. In fact, the duck itself takes nearly four days to prepare — at one point, it's even cooked in Mexican Coke — and the $59 price tag can feel like a bargain (this spread will feed three people, easy). So Grub asked chef de cuisine Mariana Villegas, who worked with Olvera at Pujol in Mexico City before moving to New York to open Cosme, to explain the cooking process, step-by-step. Here's what she had to say:
The breed of the duck that we use is called Rohan, and it's a specific breed that only our purveyor gets. Now that it's become so popular, we're getting almost all of the Rohan ducks that they have. It's a mix between the Mallard and the Peking ducks.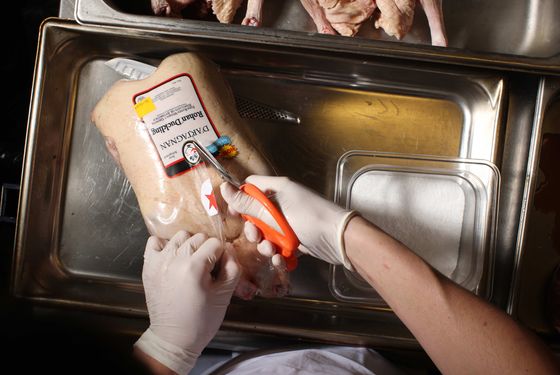 We prep them for curing by salting them very well. All the salt will actually penetrate the meat on the inside, not just the skin. It will also help it dry out, because salt exacts moisture.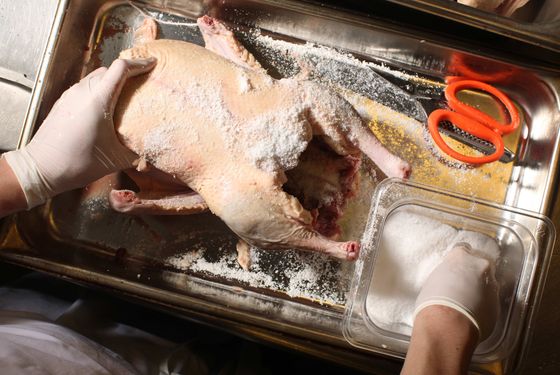 Then, we hang them to cure for three whole days. The hanging will help season the meat: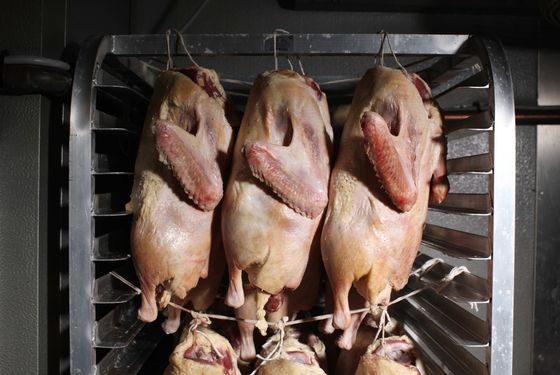 We crisp the skin in a broiler, and then we sear the ducks.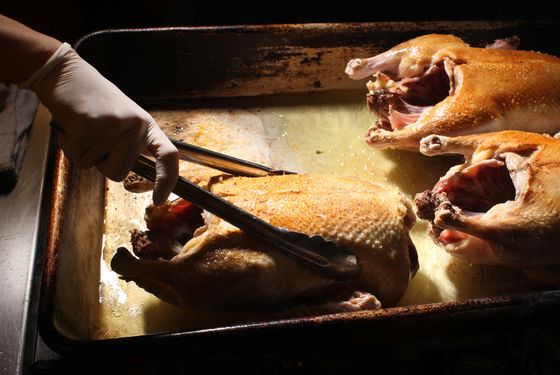 We get them nice and golden-brown.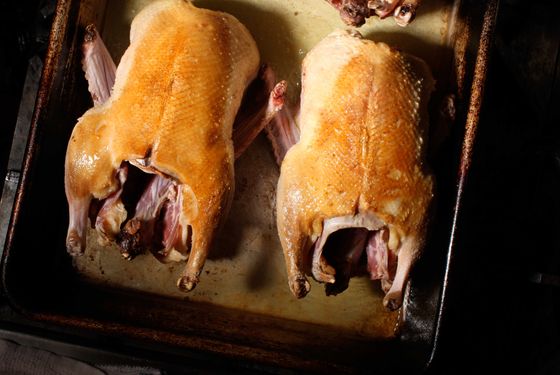 In the same pan, we have a nice fond. We take the duck out, put the meat in hotel pans, and sautée some onions, garlic, tomatoes, ancho chili peppers, orange, and both condensed and evaporated milks.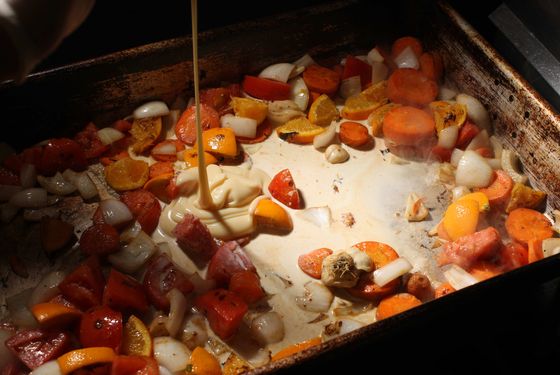 And we put some Mexican Coke in there. It's a tradition! My partner, Daniela [Soto-Innes], had some experience making carnitas before in Mexico City, where she's from. I'm from the northern part of Mexico, and it's not as popular there. She had seen Mexican Coke used before, so we tried it, and liked it. Not only is it fun, but it adds that great taste of cane sugar.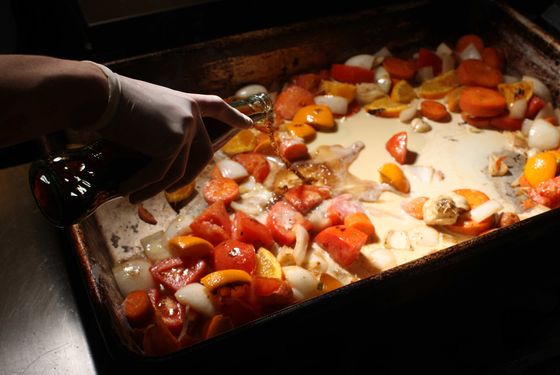 We pour the mixture on top of the duck, and cover it with duck fat. It's cooked overnight in the oven, until it's nice and tender. We are here until very late, so the team at night pops the duck in the oven, and the morning team takes it out, cools it off, and then de-bones the meat.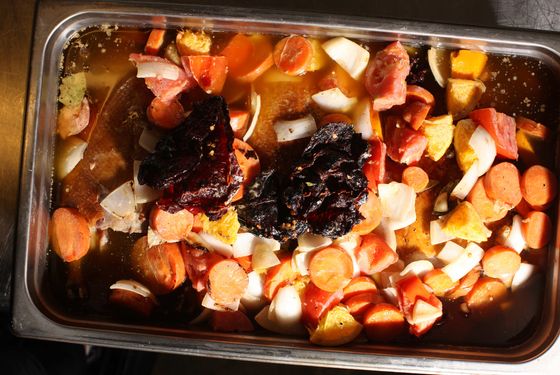 Then, the duck is portioned into halves, so each customer gets half a duck. The carnitas are heated in a warmer at a very low temperature, and then crisped in the broiler, so the skin gets crispy. Then it gets julienned and garnished with white onions, lime juice, cilantro, and radishes. The dish is meant to be eaten like a taco, with our heirloom single-origin corn tortillas on the side.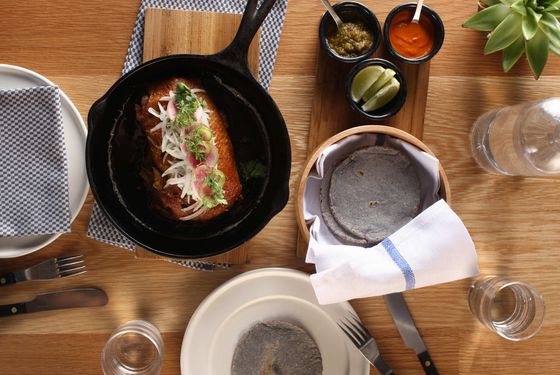 It's a lot of work, for sure! Our duck cooks are our heroes.