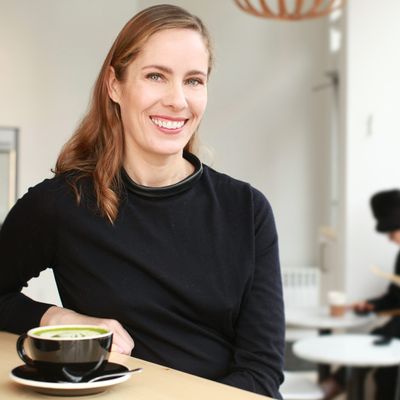 Chalait is Muhlke's favorite new matcha spot.
Photo: Melissa Hom
Like any food-media gig, Christine Muhlke's role as executive editor of Bon Appétit requires a lot of eating. And Mulhke — who's also worked at Sassy, the New York Observer, and T Magazine, as well as authored cookbooks on Manresa, Le Bernardin, and Hartwood Tulum — is nothing if not diligent. This week, she split her time between New York and Los Angeles, while dining at Alma, Sqirl, Rustic Canyon, Little Park, and Cosme — just to name a few. Read all about it:
Thursday, January 29
Breakfast at home: steel-cut oatmeal with raisins and banana, a mug of Bellocq Etoile des Indes green tea, a glass of homemade kombucha, and my son's unfinished Greek yogurt with homemade granola. I do the make-ahead oatmeal thing: boil for a few minutes, then keep it covered, and let sit overnight. In the morning, you have perfectly cooked oatmeal. No stirring, no timer.
Five or so years ago, a friend turned me on to kombucha. It fixed my stomach, which is all I'll say. But I got tired of spending $5 on a bottle. One night at a BA event, I somehow started talking about kombucha with Rick Moonen, who is obsessed. He insisted on FedExing me his "mother" — a scobie — from Vegas. I'd just left the New York Times and was convinced I was going to editor hell — though this gift was definitely under $25. I've been making it ever since, and have given mothers to other chefs and anyone who asks. Hey, want a scobie?! My husband makes a huge batch of granola every other month. It's not too sweet — maple syrup, honey, olive oil, flax seeds, wheat germ, golden raisins, and currants — a riff on the Rose Bakery recipe. I have baggies and jars of it stashed everywhere I might need a snack.
On the flight to L.A., I ate two oatmeal cookies from Food52 that I baked with my son during the "blizzard." You brown the butter, and create a raisin paste rather than stir in whole raisins. The result is rich and radically chewy — a new favorite. Then, two mini Moro blood oranges that I grabbed in a panic during pre-blizzard shopping. They're obviously trying to cash in on the clementine thing, except they have that deep, smoky mineral flavor of real blood oranges — not those bland munchkin hybrids.
Next, a little container of couscous, my son's leftover steamed broccoli, and some spice-crusted carrots from a Bobby Flay recipe. We just shipped a book of Bon Appétit's The Year's Best Recipes, and I read this recipe so many times, I had to make it again, during the blizzard. Say what you will, that man likes big flavor. To drink: two airplane teas — black — and two Kleen Kanteens of water.
Within 90 minutes of landing, I was at Night Market + Song, drinking a glass of Minerale Plus, a natural wine from the Loire, and preparing my handkerchief for the spicy Thai surge. We're doing something with the chef, Kris Yenbamroong, and I wanted to taste as much of the menu as I could. So I sat at the bar with a book and had six dishes: pomelo salad with wok-roasted coconut, fried shallots, perfectly briny Sea Monkey-size shrimp, and more; fried octopus with chile oil and fried basil with sriracha; spicy wangs (I can't say "wings"); grilled pork shoulder marinated in coconut milk and turmeric with cucumber salad; grilled chicken prepared in a similar way, with a blistering papaya salad; and super-comforting rice noodles with chicken, egg, baby octopus, fermented radish — all with the best wok flavor. As I was interviewing Kris, I was writing with one hand, blowing my nose with the other. And I had a glass of Shiraz.
It's only relatively recently that I've learned to not finish what's on my plate. I grew up in the Midwest, so I'm a member of the clean-plate club. When I know I'm going to be killed, and it's not in a tasting format, I'll try to eat no more than half. At Night Market, I took a lot home, and I gave it to my friend.
Friday, January 30
I started with a cup of genmachai tea at POT Cafe in Roy Choi's hotel, the Line. My mother-in-law's almond bun looked good, but I was about to make my first trip to Sqirl and knew it would get intense.
As soon as people I trusted started raving about the scrappy, breakfast-all-day place in Silver Lake, I was dying to go. Following chef Jessica Koslow on Instagram only intensified things. Her food has that combination of hippie and to-hell-with-it that is exactly how I want to eat. Think grain bowl with backbone and technique — and, of course, a beautifully poached egg. I went to one of the dinners she did at El Rey (another favorite) the week before and couldn't wait.
The line wasn't too bad, since I got there around 9 a.m. I ordered the (wood-) sorrel rice bowl with poached egg and added avocado; the famous thick-cut burnt brioche slathered with ricotta and strawberry-thyme jam; a little Swedish-style cardamom tea cake; a warm sticky toffee pudding-y moment called a malva pudding cake; turmeric tonic made with lemon juice and ginger; and a chicory latte with housemade almond milk. There were so many other things I wanted to try, like the famous "kabbouleh," which we ran the recipe for and I made three times in three days (if you're going to deep-fry brown rice, you might as well batch up). But I had a panel to moderate in less than two hours, and my minibar had already been cleared to fit the Thai food, which I was saving for my friend Rob. It was all so powerfully flavorful yet pretty — like everyone in line, dear lord, L.A. is eating NYC's fashion lunch! — and that turmeric tonic tasted just like California. I will definitely start making that.
In the green room before the chat with Neil Perry, I filled my canteen with spa water. Plastic makes me angry.
Lunch at Josef Centeno's latest downtown hang, the Ledlow, with Rob Haskell, whom I met when he was a society writer for W back when there were still socialites. Now he's a psychiatrist (so proud!), but he remains one of my favorite food snobs and competitive cookers. I started with a vanilla lemonade, and then we shared sunchoke remoulade with tangerines, a crudité board of raw and grilled vegetables, a porchetta sandwich with cheddar and kale slaw, plus slaw-slaw, and a crab salad with many of the same ingredients as everything else we ordered. I know there was more, but (a) I was underwhelmed, and (b) I left my notebook in the seat pocket on the flight. I usually try to leave a 25 percent tip, but did not feel so compelled.
Stopped by the Verve coffee bar that had opened that day (thanks, Instagram!) and got a chai. After a recent trip to Australia, where cafés are making their own blends and steeping them with housemade nut milk, I've been eager to find a similar dedication here. Bluestone Lane on Greenwich Avenue does a pretty version. Otherwise, I mail-order the mix that's roasted and blended in-house at West Juliett in Sydney. If I could beam that place to my neighborhood, I would. This chai was from concentrate. I nibbled some of the Sqirl cardamom cake that I'd squirreled away in my purse.
At the L.A. Art Book Fair, I stopped by Mina Stone's demo to launch her cookbook, Mina Stone Cooking for Artists, at the Gagosian booth. She's the in-house chef at Urs Fischer's studio and works with Gavin Brown and the like. I had some of her lovely Eastern Med food when she catered a friend's birthday and have been eager to do a story with her. There she was, slicing olive-oil cake in a silk jumpsuit. Urs dusted some powdered sugar on top of my slice and I bolted to an Uber — I was already late for dinner.
Thanks to OpenTable, I got a 6:15 p.m. table at Alma. My jet lag is my reservation gain. My dear friend Julia Leach agreed to brave the nine-course menu. I was excited to start with a glass of apple-pear-quince cider from Cidrerie du Vulcain. At Momofuku Ko a couple of months ago, Jordan Salcito had poured me a glass of their pear cider — made by a Swiss biologist who apprenticed with the legendary French cider producer Eric Bordelet — and it was so ethereal, my friend and I stopped talking and crossed our hands over our hearts.
My favorite course at Alma was the crab dumplings wrapped in nasturtium leaves. Props to Andrew Knowlton for rating it "America's Best New Restaurant" two years ago. Alma is across the street from the Ace Hotel, where I'd seen Thurston Moore getting out of his rental car that afternoon, and where Patti Smith was performing that night. Ever the Sassy fangirl, I was praying either of them would come in. Then again, I've only read the first few pages of Kim Gordon's memoir …
Saturday, February 1
Another place I've been insta-stalking is Gjusta in Venice. To call it Gjelina takeaway is underselling it: Chef Travis Lett's deli-counter-of-dreams is sneakily radical. There are cases of pastries, of breads, of house-smoked fish, of housemade charcuterie … and then you get to the pizzas, salads, vegetables, frittatas. Everything looked so good, and the lines were swirling, so I took a number and jumped in with my crazy New Yorker line-maneuvering energy.
I got a baklava croissant (I know, right?); a slice of cracker-crisp pizza with ricotta, herb pesto, and hen of the woods mushrooms with an arugula salad; half a loaf of seeded rye; and a game-changing chai latte (house blend!) with almond milk. Then I realized that there were specials boards above every case and panicked. What was I missing?! I took another number and ordered eggs with beans and greens.
It made me think about the golden retriever I once had. She was always begging for food. You could feed her a steak, and two minutes later, if you had a slice of pizza, she'd look at you as though she were starving. My then-boyfriend would always say, in her voice, "I'll never eat again." I am a golden retriever.
Then Travis came over to talk about a story that Bon App is working on, and he sent me off with a box of pastries. Have I mentioned that I love my job? Hey, BA, can we please relocate to Venice?
Julia, amazing friend that she is, took me to a spa for a relaxation intervention. I had some spa water and some spa fruit. Reminder: Acidulated apple slices are good. Where's the goat cheese? We made our way through the Gjusta haul throughout the afternoon: a slice of rhubarb-raspberry pie was hoovered without cutlery in the parking lot of the Paramount Ranch Art Fair, spilling pink goop all over my shirt about 12 seconds before I was introduced to Band of Outsiders designer Scott Sternberg. Not the look I was going for. I ate the intense chocolate-avocado pudding in the car. In the parking lot of Hidden Treasures vintage store in Topanga Canyon, we set upon a kumquat pastry with sheep's-milk cheese like we were eating next to a dumpster. What can I say? I'm spoiled.
Pre-flight dinner was at Rustic Canyon Wine Bar. Jeremy Fox is so talented: Man knows his vegetables, and he's not afraid of a flavor power chord. I've enjoyed following him on Instagram, especially his staff meals. After a glass of Gamay and some lavender-sugar Marcona almonds, I had a dish of beets and berries with assorted "dirts" (dehydrated beet juice, pistachio crumble), then made it through half of a giant pork scallopine topped with burrata and served with polenta. Squeezing the grilled lemon over everything was key. Oh, and we shared an acid-green bowl of posole with clams and Rancho Gordo hominy. It was bright, briny, spicy, perfect. I was ready to pass out on the plane. Mission accomplished.
Sunday, February 2
I swore I wouldn't be that mom who eats whatever her kid doesn't finish. Well, that happened. A couple of spoonfuls of his leftover homemade yogurt and homemade granola and a glass of, you guessed it, homemade kombucha. My husband made "noise," which is what my son calls smoothies. This was leftover apple cores, ginger, leftover banana, and parsley stems.
Then we went to Chalait, my favorite new matcha spot, for matcha lattes and bircher muesli. I've been making matcha for five or so years. As a tea obsessive, it's the next level of geeking out on gear. I used to order it from Kyoto (cheaper, believe it or not); now I buy Ippodo matcha at my favorite lunch spot, Kajitsu, or order from Panatea, which sells the best I've had.
Back home, my husband made avocado toast on the Gjusta bread. He used lots of Aleppo pepper and lemon juice, as well as an infused chile-citrus oil. The carrot-endive-watercress salad was most welcome. My husband is an amazing cook. He trained with Chez Panisse-rs Seen Lippert and Mona Talbott, so he definitely knows his way around a salad. He also made a huge vegetable tagine — potatoes, chickpeas, turnips — and our son helped him make couscous with raisins.
Monday, February 3
Before I could get to the oatmeal, I opened my drawer and saw an open bar of Mast Brothers Brooklyn blend. So, a couple of squares. I made a pot of barley tea — Ippodo makes one-pot bags that are great hot or iced — and reheated oatmeal. Snack was an apple and two mini blood oranges. Then, there was a pot of Smoky Earl Grey, which is lapsang souchang meets Earl Grey. I beg friends to bring it back from Fortnum & Mason in London, and then ration it.
Lunch was leftover tagine and couscous — but not too much, since there was a tasting at 3 p.m. After a crazy couple of weeks, the BA test kitchen is finally ready in the new World Trade Center offices, so the daily tastings are happening again. Every recipe that appears in the magazine is tested at least five time — sometimes more than ten — to make sure it works. I taste everything two or three times. (Have I mentioned that I love my job and am spoiled?) A few editors sit at a table to try the food and talk about each dish: Is it working, does it fit with the issue, would you make it at home? We can be brusque for the sake of time — it gets pretty Top Chef at times.
Today's tasting was Bangkok street food. Senior editor Alison Roman nailed the dishes on the first try, so they'll go straight to final. Food director Carla Lalli Music, restaurant editor Andrew Knowlton, and I had thirds, since we knew dinner will be a wash.
Soon, we were at a table in the ballroom at the Marriott Marquis for the ASME awards with spinach salads in front of us. Then came rubber chicken. I ate maybe two bites. But I ate half of the dessert, since I remembered it being the only semi-decent thing about last year's meal. (Last year, I was seated near Anna Wintour, so I only took a bite … ) We were nominated for six categories and didn't win, but that's cool. We took home a few last year.
We had our after-party at the Happiest Hour. Ordered a Manhattan. The bar food was way better than it needed to be: excellent smoked fish dip with Ritz crackers; fried salt-and-pepper broccoli with ranch dipping sauce; a smoky cheeseburger and some fries with magic powder. Is it nutritional yeast, we wondered? The Aussie chef came out and told us that it was mushroom powder from Chinatown and then brought out the bag. Also, the onions on the cheeseburger were caramelized in bacon fat. Right on.
Tuesday, February 4
Same old oatmeal. I made a matcha latte with almond milk for the web meeting. I didn't hold back during a work lunch at Little Park, Andrew Carmellini's new, extremely well-timed restaurant nearby, even though I knew there would be a tasting at 3 p.m. After a beet juice, I had Noma-esque beet tartare with rye breadcrumbs and horseradish cream, then split a celery-root schnitzel with mustard, apple, and cheese (it worked), and spinach pasta with wild mushroom sauce.
The tasting was Thai noodles, fried octopus, and paella. None of the recipes were right for the issue: Either too tricky or requiring ingredients that are hard to find. Still, I had thirds of the noodles. With the tastings here, you just keep going back for more. The real problem, for me, is that I'll take leftovers back to my desk.
I nibbled the discarded sweet-potato skins from my son's dinner, and then, after he went to sleep, I ran over to Cosme to meet writer David Prior: I managed to get a reservation that happened to coincide with their three-star review, which was fun. I had a Paloma (tequila-grapefruit cocktail) while waiting for our table, then we shared Hamachi crudo with fermented serranos and black lime — elegant and unexpected — and octopus with smoky charred avocado and blue corn. Charred avocado! Need to figure that out at home.
We also split the epic duck carnitas. I made five or six tacos and didn't skimp on the tomatillo sauce and lime. Everyone is talking about those carnitas, but my husband makes tacos every weekend (I make the tortillas) from whatever leftover meat we have, so these aren't as special as I'd anticipated. I'll say it again: I'm spoiled.