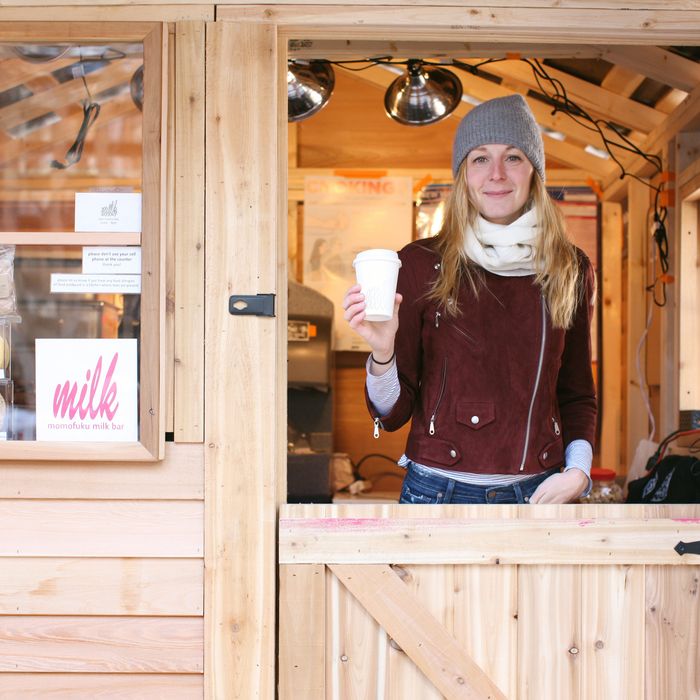 "I built Milk Bar over the span of six years by finding every free moment to push, push, push."
Photo: Melissa Hom
Even by Christina Tosi's already-busy standards, 2015 is already proving to be particularly exciting and hectic for the chef-owner of Momofuku Milk Bar. Fox just hired her to join the judging panels on MasterChef and MasterChef Junior, and she's already filming the former in Los Angeles. She launched a Milk Bar pop-up in Madison Square Park on Saturday, and she's also prepping a new bakery in Washington, D.C. And that's not all: Tosi's second cookbook, Milk Bar Life, comes out on April 7. This weekend, Grub caught up with Tosi in a very rare moment of downtime in New York to talk about all of her new projects.
First, let's talk MasterChef. Did you know right away that you wanted the job, or did you have reservations?
I don't have a lot of free time, but I have a few TV shows that I watch late at night. Funnily enough, MasterChef has always been one of them, so when I got the call, I thought it was a prank. It was like, "What? No! I just watched that last night on TV!" Then, when I was actually offered the opportunity, I went through a bunch of waves of whether I should or shouldn't do it. It was an emotional process: New York is my home, so even trying to imagine myself in L.A. for a month was really hard. I was like, "I want to be the curmudgeon East Coast person in sunny L.A.!"
Because you're such a curmudgeon!
Yeah! Just for the solidarity of all my New Yorkers, you know? I was concerned with the amount of time that it might take up and take away from my time in New York, and from my time at Milk Bar. But I built Milk Bar over the span of six years by finding every free moment to push, push, push. I shared the news with my team to try and figure out, and they got super mad at the prospect of me even considering not taking the opportunity. No matter how strong of a leader or manager you are … This was still a really big fear of mine. Having them be the locomotive — like, "Get out of here for a few weeks! Or a few months!" — nothing could be a prouder achievement for all of us. That's what really sealed the deal.
And I didn't start Momofuku, Dave [Chang] did. He saw something in me when I started working for him, and he believed in me, and he pushed me to create Milk Bar and build Milk Bar. I think being able to make it all the way to the point where a national network is asking you to come on to be a judge as an authority on food is a huge sense of pride for what I've done, and what Dave has done for me and the Momofuku team. He does everything he can to support young talent. It was important for me to be able to give that back, and get to be a face that stands for that and means that.
Pastry chefs are rarely represented on these types of shows — so that's a huge accomplishment, too.
I think having someone that lives and breathes desserts all day and all night brings a different perspective. It helps structure challenges. If you're the best home cook, you'd better be able to roast me a New York Strip mid-rare, but you'd also better be able to bake me an apple pie.
So how is filming going? What's your dynamic like with the other judges?
We just started filming MasterChef's sixth season about two and a half weeks ago. All the judges give each other shit, which I like. Comfortably, but respectfully. I've really found a great groove in it. Everyone has an amazing sense of humor. For me, it's the only way it's really worth it to work so hard — when you can cut through any serious, stressful moment with a ridiculous joke.
MasterChef Junior will be so much fun to film!
I'm so excited for the kids. I have a ton of nieces, and, like, surrogate kids. I'm, like, the creepy aunt to any friend that has a child. I always want to bounce around. I think it's largely because I really don't ever want to admit or acknowledge that I am a grown-up, and I'm so excited to start filming Junior for that reason. Seeing MasterChef Junior when it aired in season one, I remember feeling so refreshed and so encouraged. I felt so much better about the state of humanity! These children are amazing; they're so sweet and so lovely. To be around them, even just watching them from home, makes me feel so warm and lovely about the people in this world. Not to be too sentimental!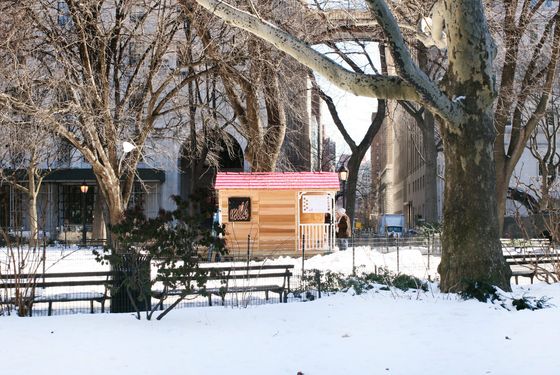 Okay, let's talk about this new Milk Bar pop-up. It's like a cabin landed in Madison Square Park, Wizard of Oz style. How did this come about?
They said, "Hey, we'd love to invite you for a few weeks to sell Milk Bar goods, but we really want hot chocolate. It's February, it's cold, we have these amazing art installations, but it's hard to stay out here for too long without a warm drink!" We already sell hot chocolate at Milk Bar, so I got super crazy about it. We came up with this really great Cereal Milk hot chocolate that's made with white chocolate. And then we made a hot apple cider that's swirled with miso-butterscotch, which is a sauce that I created when we first opened Ko to pair with the deep-fried apple pie and sour ice cream. I have a bunch of other flavors up my sleeve, too.
How long will this stick around?
We don't have an exact end date … In my heart of hearts, I would love for it to be forever. I don't know that that's the case, and it's probably, most likely, not the case. But I'm a dreamer.
You also have the Milk Bar Life cookbook coming out in April. What's your writing process like?
Writing a cookbook takes a lot out of you: You pour so much of yourself into it, and then you turn it in and you edit, and turn it in again and edit again. Then, there's what feels like an eternity of waiting. Finally, you get to talk about it! The book is the response to a question that we often are asked, which is, "Where do you guys get inspiration? Where does it come from? How do you come up with new recipes?" It's sort of, like, "Well, we get inspiration from everywhere!" That kind of always feels like a cop-out answer, but it really is true. I wanted to try and write a cookbook that explained how we approach life: It's with a sense of humor, a sense of heart, and a sense of down-home, old-lady retreat to your grandma's kitchen.
And you have a whole chapter on slumber parties!
Yeah! It's okay to be a grown-up and handle your business, but to also say, "I don't ever want to grow up! I don't ever want to be too old for a slumber party! I don't ever want to be too old for a grill-out, or a bonfire. I don't ever want to be too snotty about food that I can't go into my grandma's recipe rolodex and find some amazing inspiration for a new dish." Even if you have great technique, or love fancy restaurants, you can also love going to the grocery store and being like, "I'm gonna throw these three ridiculous things together and make this amazingly delicious concoction because I think food supersedes highbrow and lowbrow." That's our approach to anything and everything at Milk Bar, and that's the story behind Milk Bar Life.
Do you have anything else in the works?
We're opening in D.C. sometime in the summer, which will be really fun and interesting. It'll be our first U.S. outpost outside of New York City. That, for me, will be like a trip home. That's where my family still is, and where my friends are, and I think my mom secretly hoped when I moved to New York City that maybe one day I would move a little closer to home. So that's another exciting project, but right now, I'm focusing on going back and forth between L.A. and New York for MasterChef!