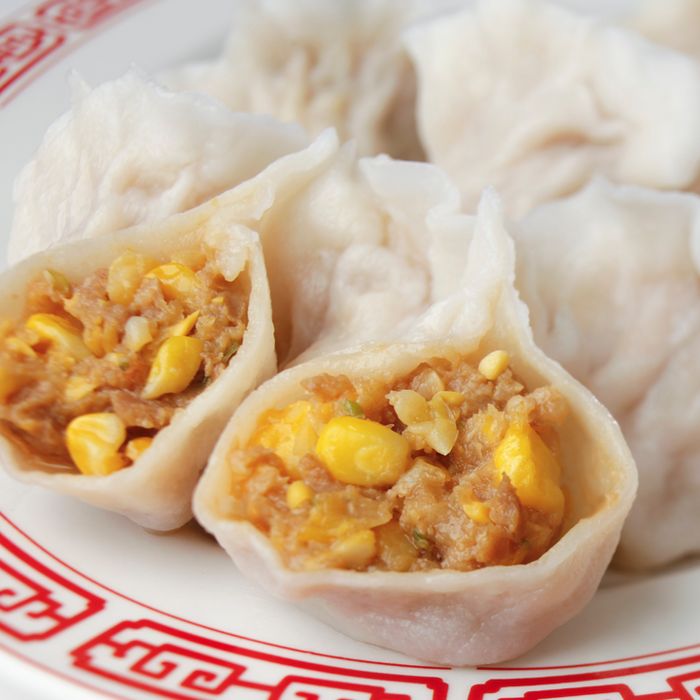 Dumpling Galaxy has a Thursday-only special.
Photo: King Yip
The Chinese New Year is nearly upon us, and come February 19 restaurants all over New York will celebrate. But instead of going to one of your usual haunts, capitalize on an interesting restaurant special. There's branzino for two at Tuome, Chinese porchetta at Fung Tu, smoked wild-boar congee at the Beatrice Inn, a whole lamb leg at Hot Kitchen, and much more. Here are 14 stellar dining options — all of which should bring you good luck:
Annisa
This West Village restaurant will offer a six-course tasting menu on February 18 and 19 for its annual celebration, including dishes like silken tofu with sea urchin, seared foie gras, and a slow-cooked goat.
Cost: $108 per person
Beatrice Inn
Don't expect the usual menu here: Chef Angie Mar is completely transforming the menu for the holiday, with dishes like smoked wild-boar congee and five-spice oxtail.
Cost: À la carte, $12 to $34
Buddakan
You can choose from a variety of options: The Meatpacking District restaurant will host a dim sum brunch with live entertainment on February 22, and on February 21 there will even be dumpling-making classes.
Cost: $85 per person for dumpling class; à la carte for dim sum brunch
Dumpling Galaxy
With any two orders of dumplings — options include codfish with roe and preserved egg with pine nuts — diners will receive one free order of vegetable dumplings on the 19th.
Cost: $7 to $8 for an order of dumplings
Fung Tu
This trendy Lower East Side spot will serve a special three-course à la carte menu from February 17 all the way through March 5. Dishes include scallop wontons in celery-mushroom broth and Chinese porchetta.
Cost: À la carte, $19 to $24
Hot Kitchen
The holiday menu includes eight new dishes, like braised sea cucumber and diced rabbit with red chili peppers. If you book in advance, you can reserve a whole leg of lamb.
Cost: À la carte, $9 to $28
Louro
On February 19, at 7 p.m., the restaurant will serve a three-course menu filled with lucky ingredients: goat stew, a whole fish cooked in black-bean sauce, orange cake with pomelo ice cream, and more.
Cost: $45 per person
Oriental Garden
Reserve a spot at David Chang's favorite Chinatown restaurant, which can easily accommodate big groups. Special holiday menu options include items like crab meat with bird's-nest soup and suckling pig with jelly fish.
Cost: $588 to $788 for spreads that feed eight to ten people
Pasar Malam
On Thursday, the Malaysian-influenced Williamsburg restaurant will amp up its regular menu with dishes like a Chinese New Year salad with pomelo, candied melon, persimmon, and pickled cucumber.
Cost: A la carte, $19 to $29 for specials
RedFarm
Both the Upper West Side and West Village locations will offer specials on the 19th. Dishes include turnip cake sautéed with flowering chives, wok-braised shrimp wontons with ramen, shrimp-stuffed crispy chicken, and a surprise dish called Buddha's box of good fortune.
Cost: À la carte, $15 to $37.
Tao Downtown
On Thursday, the scene-y restaurant will offer specials like fried-oyster lettuce cups with truffle aioli, and a surf-and-turf composed of lobster with chickpea-miso-butter gratin and Wagyu strip with roasted butternut squash.
Cost: $30 to $100 for specials
Tuome
This new East Village spot has a few different takes on the traditional good-luck dishes: a whole branzino for two, uni-topped pork shumai, and a lobster spring roll with lovage dip.
Cost: À la carte, $18 to $46
Xi'an Famous Foods
This New York favorite won't offer specials at any of its locations, but it will host a musical celebration at the Music Hall of Williamsburg on Saturday the 21st. Vendors include Pok Pok, Otafuku, and Nom Wah Tea Parlor.
Cost: General admission to the show is $50; à la carte dishes cost only between $1 and $4.
Yunnan Kitchen
The Lower East Side restaurant's six-course family-style meal, to be served on the 19th, has tea-smoked Buddhist-style chicken, lamb-and-pumpkin dumplings, and bottomless Tiger beer for a truly lucky new year.
Cost: $105 per person