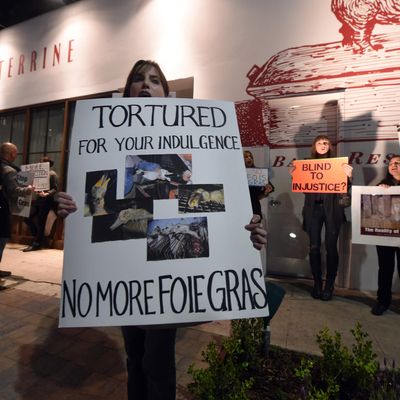 The fight isn't over yet.
Photo: Frederic J. Brown/AFP/Getty Images
As largely suspected, the state of California says it fully intends on appealing the U.S. District Court's ruling last month that once again made foie gras legal in the Golden State.
Attorney General Kamala Harris, who now has her judicial legacy to consider since she's eyeing Barbara Boxer's soon-to-be-vacant Senate seat, defended the ban yesterday and confirmed that her office will carry the fight to the next legal wrung — the Ninth Circuit Court of Appeals, just one shy of the Supreme Court. The court ruled last month that, regardless of California's feelings about the ethics of force-feeding ducks to fatten up their livers, the ban was unconstitutional because it walked all over the federal government's regulatory authority.
Naturally, the confirmation from Harris is being celebrated by supporters of the ban, who are "confident" the ruling will get thrown out on appeal because the force-feeding practice runs afoul, as it were, of the federal Poultry Products Inspection Act. The Animal Legal Defense Fund is preparing for the fight already, saying in its statement, "[We] hope that the attorney general will hasten this result by expediting the appeal."
[LAT]